Event tracking is yet another handy little feature that you'll find in Google Analytics. What is event tracking? Event tracking is being able to track the number of times a button is clicked or how many emails are submitted on a form which can take your Google Analytics to the next step. Check out our blog post on it to find out.
What events can I track?
With event tracking, you can track the following events:
Button clicks & File downloads.

If you have multiple buttons on a page, you can track which buttons are being clicked. Similarly clicks on File blocks are also tracked.


Slideshow clicks.

If you have a slideshow with multiple images, you can track which images are being clicked.


Image clicks.

If you have multiple images on a page, you can track which images are being clicked. This applies to both your blog and your website proper.


Email form "sends".

You can track how many times users submit an email form via your website without having to send them to a different (confirmation) page.

How do I turn on event tracking?
As long as you have added your Google Analytics Web Property ID (Or UA code) into your Rocketspark website then event tracking will automatically be enabled for you. Click here to learn how to setup Google Analytics.
Where do I view my event tracking statistics?
To view the event tracking report, log into Google Analytics and click on the Reporting tab for your website. Then go to Behavior > Events -> Overview on the left-hand menu. Done!
You may want to also click on the Event Label or Action option to show the appropriate details you need.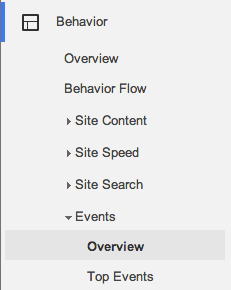 How does Event tracking work with Goal Tracking?
You can set up goals in Google Analytics with event tracking. An example where this is useful could be that you want to see where traffic that has signed up for your newsletter has come from to see if an ad campaign has been successful at driving conversions.
To do this, follow the steps below:
In Google Analytics, go to Admin:

Under View, select the view you want to set a goal for (the default is All Website Data) and click Goals:


Click on New Goal and select Custom:

Click Continue, give your goal a name, select a Goal slot ID and select Event as the Type.

Now enter the conditions of the goal. A table of Categories, Actions and Labels built into Rocketspark is provided below. Once you've selected the conditions of your goal, click Verify to check your goal against data from the past 7 days. Once you're happy with your goal, click Save.

Table of Values
| | | | |
| --- | --- | --- | --- |
| Object | Category | Action | Label |
| Forms | Email Form | Sent | Name of the form |
| Buttons | Button | Click | Page:PageName - Button Text |
| File Download Blocks | File Download | Click | Page:PageName - File Block Text |
| Images | Image | Click | Page:PageName - LinkTo:/local url of page/ |
Don't have Google Analytics? Learn how to get started here. If you're wanting to track eCommerce activity, have a look at this help guide: How to set up Ecommerce Tracking in Google Analytics.