Google has released a new version of Google Analytics which allows you to track key metrics which were not previously recorded. This new version is called GA4 or Google Analytics 4. 
For most people with a pre-existing site that has Google Analytics set up, this will include a Universal Tracking code, as of July 1 2023 Google Analytics will stop processing hits to UA tracking codes. Now is the time to start switching over to GA4.
We will outline the steps to upgrade your Google Analytics account from a Universal Tracking tag to a Google Analytics 4 account in a few steps. There will be 2 stages to this, first, we will move your current UA tracking code so that it will still collect data for the time being and then we can link the new GA4 code.
Note: Currently when shifting to GA4 we can not link the traffic graph on your dashboard. You will need to visit Google Analytics to see your visitor traffic. 
Watch the video or follow the steps below:
Stage one: move your current tracking code.
Go to your Rocketspark dashboard -> Go to Get Found SEO. Copy the U-XXXXXXXXXXX-X code from the Google Tracking Code area.


Using the following code, replace the

red

text/code with your UA- code and paste it into the Custom <head> tracking code area

<script type="text/javascript"> 
gtag('config', '

UA-XXXXXXXXX-X

');
</script>



Stage one is now complete and we can start to create your new GA4 property.
Stage two: Creating your new GA4 property.
Go to your

Google Analytics

property

.

 Go to the

Admin settings in the bottom left-hand corner. 



 Click on the GA4 Setup Assistant in the second column.





It will prompt you to now create a new Google Analytics 4 property, you will be able to click on Get Started.


This will pop up with more information about what this is creating. If you have your Google Analytics connected to Google Tag Manager you will be able to tick the checkbox to send data to your existing tags. (if you do not have Google Tag manager this will not be clickable)



You can then click to see your new Google Analytics 4 property.



Then click on the new data stream created, this will show no data received currently as it is a new data stream.



Here you will see in the top row that there is a measurement ID (starting with G - ), you will want to copy this code for our next step.  




Go to your Rocketspark Dashboard

->

Get Found SEO area and paste this code into the Google tracking code and click Save. 



A pop up will show to let you know that the analytics code was saved and the analytics graph is now disconnected, unfortunately at this stage, we will not be able to link a GA4 property graph.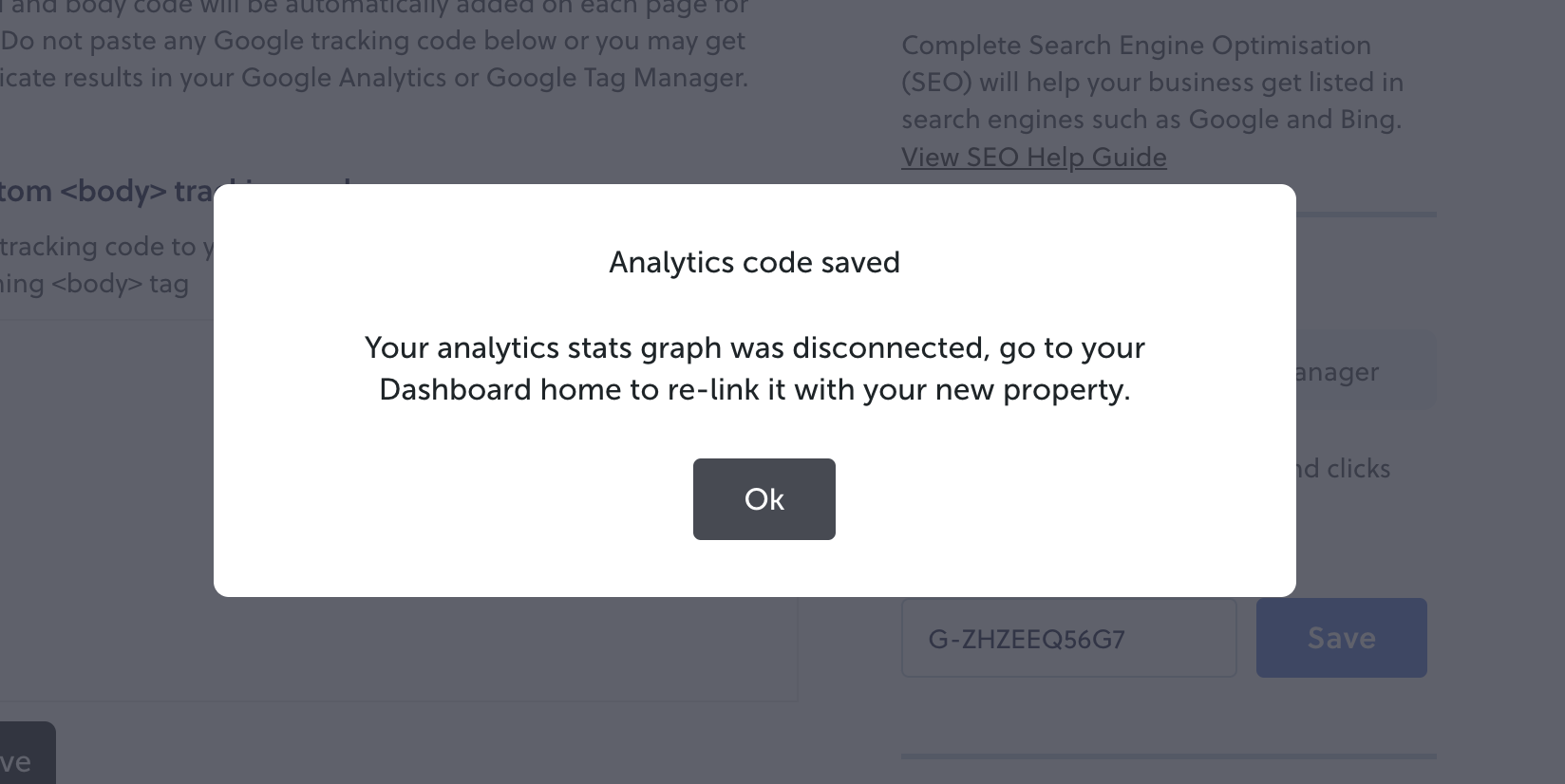 You are now connected! The data can take some time to start showing so it is best to come back after a few hours once it has had some time to calibrate. If you go back to your Google Analytics account you should be able to see some new metrics that you can track on your website. 
If you have any trouble upgrading from a UA tracking code to a GA4 code, please get in touch with us at support@rocketspark.com.