Want to give your customers a little extra incentive to buy? Coupons are a great way to motivate select customers by offering special discounts.
If you give a coupon code to a customer, that customer can get the discount just by typing the code into the Coupon code field in their basket. 
What kind of offers can I use a coupon for?
You can use a coupon for two kinds of offers:
Percentage-off discount:

A certain percentage off the

total

purchase amount (before shipping) e.g., 50% off.

Choose to apply this discount to all products or narrow it down to a specific Category, Brand or Tag.

Amount-off discount:

A specific dollar amount off the final total e.g., $50 off. Great for Gift Vouchers.
Other coupon features:
Single-use coupon: Give the coupon to a specific customer who can use the coupon once.

Multi-use coupon: Give the same coupon to multiple customers and customers can use the coupon multiple times.

Single-use per customer coupon: Give the same coupon to multiple customers and each customer can only use the coupon once. Learn more about this type of coupon on our blog.

Create smart coupons for specific brands, product categories and tags. 

Set a start and end date that the coupon is valid for.

Set a minimum purchase amount, required for the coupon code to be applied to a basket.

OTHER SPECIAL MENTIONS:
Create a site-wide promotion/sale: Creating promotions in your online shop
Free shipping for orders over a set order value:  Find out how to setup free shipping here
How to do special pricing in your Rocketspark shop:  Find out how to setup special pricing here
 
How do I set up a coupon for my online shop?
Login to your website's dashboard using your login details.
Click Manage Store
Click Coupons & Promos
Click Add a coupon

Fill in the required details (Outlined below*)

Click Add 
*The information that you'll need to know for setting up your new coupon code:
Campaign Title:

An internal description field for your reference.

Coupon Type: Multi-use will let the coupon be used by multiple customers on multiple orders between the start and end dates. Single-use can only be used once, great for giving to a single customer. Single-use per customer will allow the coupon to be used by multiple customers, but only once per customer, great for sharing on social media or via email campaigns. 

Discount Type:

Either a percentage-off or an amount-off discount (see

"What kind of offers can I use a coupon for?"

above for an explanation).

​

Already discounted/promotion products: Set whether the coupon can be used on baskets with products that are already discounted due to being on promotion.

Min Purchase amount

(optional)

:

The minimum amount a customer must spend in order to qualify for the coupon.

Start and End Dates: Select your dates accordingly that the coupon can be used within.

Discount Amount:

The percentage or dollar amount of the discount (e.g., 25% or $25).

​Coupon Code

:

The actual text/numerals that a customer must enter during the basket/checkout process in order to have the

discount applied (e.g., NEWCUST or SALE25OFF).

​

 This is what you give to your customer to use when they checkout.
Restrictions: Choose if you want the coupon to apply to specific Categories, Brands or Tags.  A product will qualify for the coupon if it matches ANY of the selected categories, brands or tags.
Promotional pricing FAQ's
Is there a way to schedule a site-wide sale or promotion?
Yes, please find our help guide here on Creating a promotion.


Is there some way of permanently showing my products are at discount?
For permanent offers, you can change the product's price and use the Price Comparison Label to show what the original price was.  Set the price comparison label in Shop Settings/Currency Details.   To make it easy to find the special offers you can set up a product tag called 'Special offers' so that people can easily discover these specials.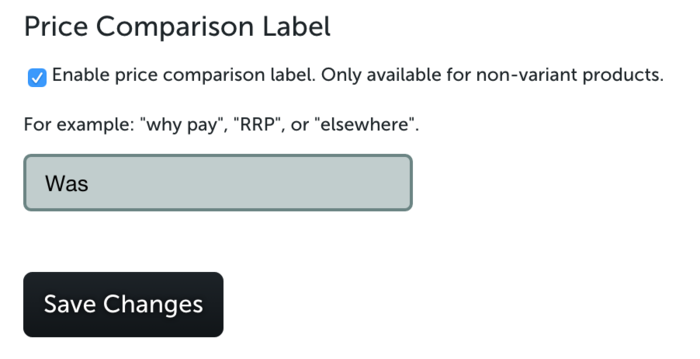 Is there a way of setting up 2-for-1 offers on certain items?
There are two potential options for offering 2-for-1 specials.
Create a special bundle product that has the correct price and shows two products in the picture. When purchased you can identify this as a 2-for-1 deal and ship the correct products to the customer.
The second option is to create a 50% off Coupon which is restricted to a TAG. Firstly tag the 2 for 1 product with a unique tag (you may want to hide this tag on the main Shop list). Once this is done you can create a coupon that is restricted to this specific tag.
Can I create different discount codes for specific product discounts?
It is possible to create a coupon code that can only be used on a single product. You must firstly tag the product with a unique tag (you may want to hide this tag on the main Shop list). Once this is done you can create a coupon that is restricted to this specific tag.

How can I create a link to special offers?
It's a great idea to have a link that takes visitors to your special offers.
Set up your special offer products with a 'Special Offers' filter.  See this guide for how to set up tags
Go to your shop and select the filter for your special offers.  All of the products that have been tagged as 'Special Offers' will appear.
Copy the URL (website address of the page)
Create a link as either a text, picture or button link (insert link to our guide on links) and paste in the URL for the special offers and then delete your Rocketspark shortname from the address so that the URL just looks like /shop/#tags=2151.  Stripping out the Rocketspark shortname will tell your site to go to the correct page on your proper domain on your live website.
Can I see what orders one-time use coupons have been used for
Yes, in the Coupons area of your dashboard you can see a list of coupons and beside the one-time use coupons, you can see a link to the order which used the coupon.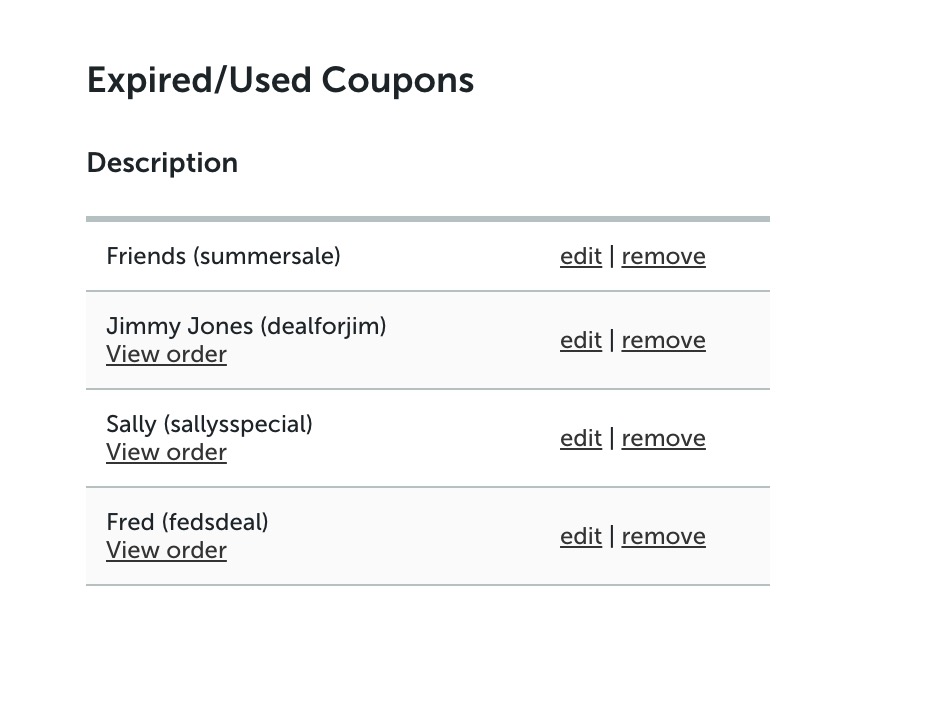 Can I reactivate expired coupons?
Yes, you can, simply click edit on the coupon and adjust the date range. If a coupon is used and you want this customer to use this coupon code again, you can edit and change the coupon code so that you can create a new single-use coupon with that code.
Can I create a coupon for the first week free on subscriptions? 
You can create a first-week free coupon as long as it includes at least $0.50 for shipping as the Stripe minimum order value is $0.50. However, we would recommend creating a coupon for a value such as 50% off as this still allows for a great marketing campaign and allows you to retain some overhead costs.