The Shipping Rate Field is very important for your products if you are wanting to charge for shipping! When you enter your shipping rate in this field for all of your products, it will pull through from the Shipping section in your Dashboard. This will then add the shipping rate to the overall price of the order.
Please note that this is an optional field for each of the products.
You will be able to see this when you are editing the product:
When you click on the dropdown menu, all of your shipping rates that have been within your Rocketspark Dashboard, Shipping section. Here is a guide that explains this if you need it - How do I set up Shipping Rates?


If the shipping rate is not set when a customer purchases this product, the default of 'no shipping' will be charged unless there is another product in the order which has a shipping rate set.
This Rocketspark blog article outlines some best practices for configuring your shipping rates: The secrets of a successful shipping strategy—ecommerce shipping rates explained.
Quick Tip: You can change your default shipping rate in your Dashboard -> Manage Store -> Shipping. So when new products are added to the shop, this shipping rate will be applied but also if there are products already in your store this shipping rate will be assigned to these products as well.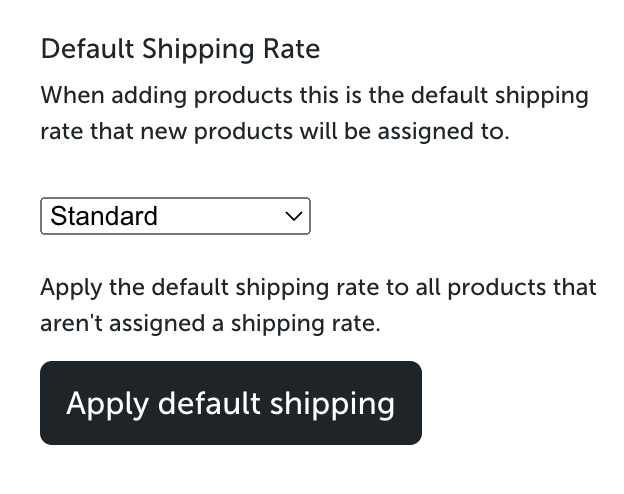 Other Related Articles:
Read More about Shipping
Free shipping for orders over a set order value