This is an optional field.

Select the relevant shipping rate that you want this product to use. Depending on the customer's order and shipping address this is used to calculate the shipping amount.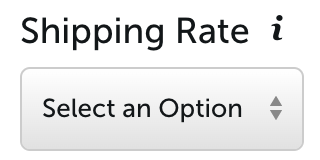 If the shipping rate is not set when a customer purchases this product, the default of 'no shipping' will be charged unless there is another product in the order which has a shipping rate set.
This Rocketspark blog article outlines some best practices for configuring your shipping rates: The secrets of a successful shipping strategy—ecommerce shipping rates explained.
Quick Tip: You can change your default shipping rate in your Dashboard -> Manage Store -> Shipping. So when new products are added they automatically have your default shipping rate applied.

Other Related Articles:
Read More about Shipping
Free shipping for orders over a set order value