Connect your store with Mailchimp eCommerce so you can send automated emails to customers and potential customers
Integrate Mailchimp Ecommerce with your online store to gather information from your customers at checkout for the purpose of creating powerful email marketing campaigns that'll boost online sales. Mailchimp Ecommerce has a high level of functionality to enhance your marketing efforts but at first, it may seem a little overwhelming so our help guide focuses on our top 5 recommended Mailchimp eCommerce automation.
Mailchimp Ecommerce is available while you're on our 30-day trial, thereafter it's available on Rocketspark's Ecommerce Grow and Pro plans. See how to change plan.
Note: If you don't have an online store but still want to connect a newsletter signup form on your Rocketspark website to Mailchimp > see our guide for adding a Mailchimp newsletter signup form.

Our top 5 recommended email automations to boost sales in your Rocketspark eCommerce store.
Recover abandoned carts for customers who put an item in their shopping cart but don't follow through on the purchase. This means any customers who put at least one item in their cart and make it to the checkout, enter their email, but then do not complete payment will be saved as a statistic and you as the shop owner can choose to send out/automate emails to this person/lead. Abandoned carts are cleaned up after one week unless the abandoned cart belongs to a registered user on your site in which case carts are cleaned up after two weeks. Registered users are those with a Customer Account.
Product follow-up/review

emails are sent after a contact/customer purchases certain items from your online store. You can ask them to review the product/s, then u

se this insight to follow up with them by sending them information about new products that could be of interest to them, best sellers.
Thank first-time customers after they've made their first purchase with an automated Thank you email and use this opportunity to turn them into repeat customers.
Reward your best customers with sales announcements or special coupons. See how to create a discount coupon code for your store. Note: When you add a promo code block to a Mailchimp automated email, you are only allowed to use "multi-use " and "percentage" coupons. Learn more about when to use the different types of coupons on our blog.
Win back lapsed customers with an email to those who haven't purchased from your store in a specific timeframe. This type of email has proven

effective in helping businesses generate triple the number of orders per recipient than a bulk email.
First, connect your Mailchimp account
You'll need to have a Mailchimp account. Sign up here if you don't have a Mailchimp account.


Mailchimp offers a free version of their services, however, if you are needing something more advance they have paid options available too.

Log into your Rocketspark Dashboard and navigate to the Email Marketing section in the left-hand side panel.

3. Click on Connect Mailchimp and you'll be linked to the screen where you can enter your Mailchimp Username and Password. Click Log In.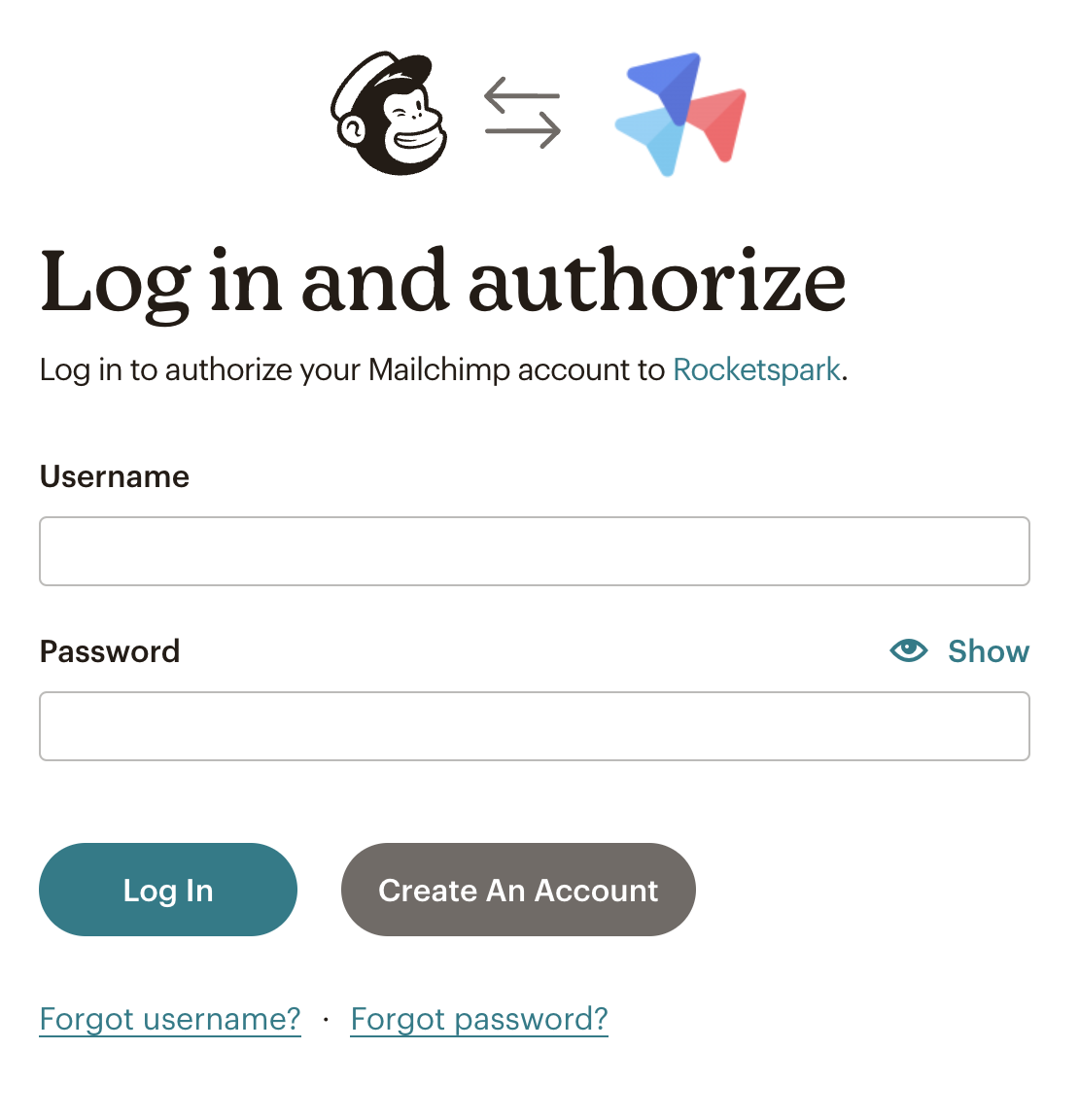 4. You will then need to click on allow to finish connecting your Mailchimp account with Rocketspark.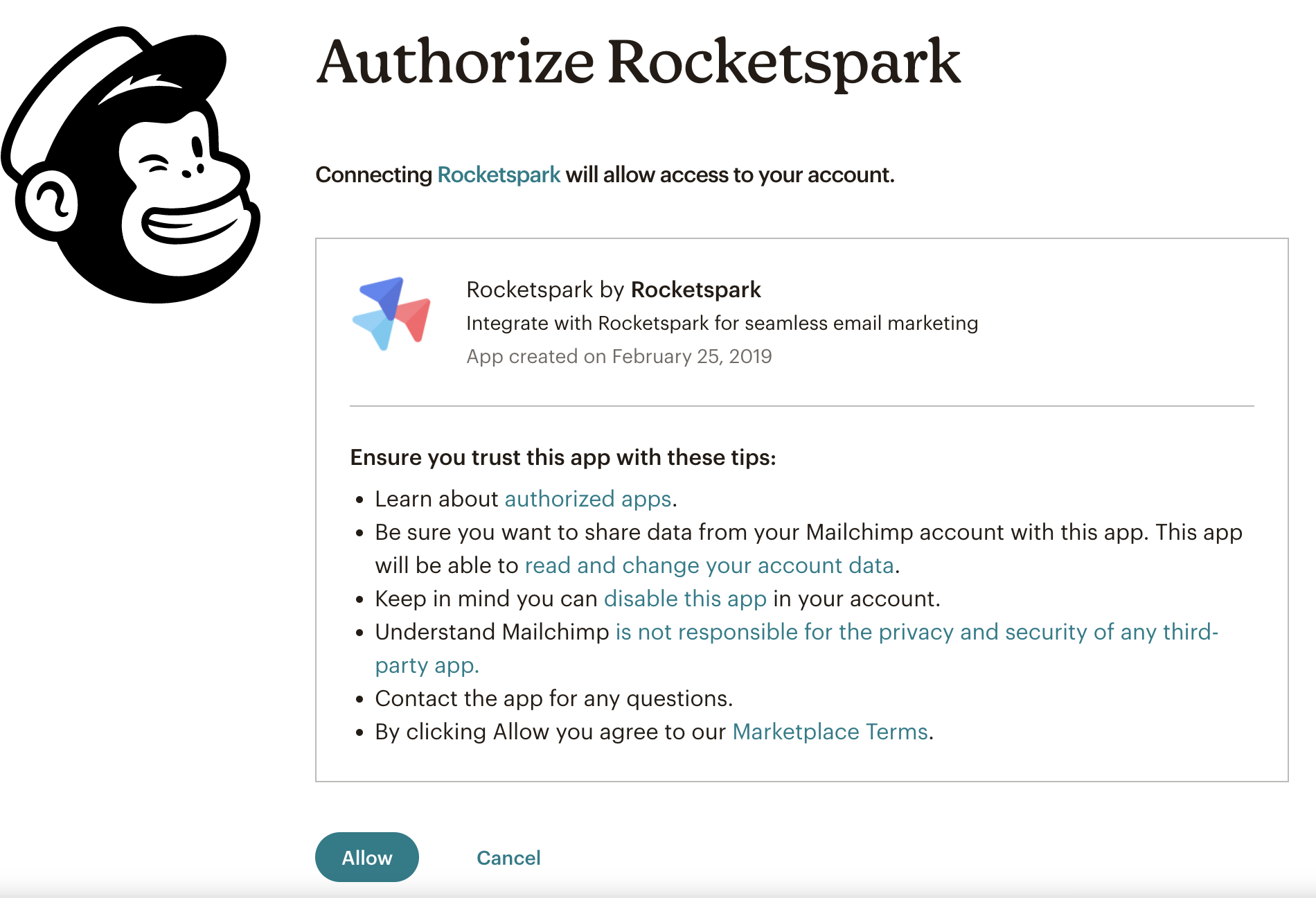 Note: If you want to link to a different Mailchimp account, you can disconnect your current Mailchimp account and repeat step 1-3 for linking to your new account.
By clicking Allow, in the previous step, you'll be redirected back to your Email Marketing page on your dashboard. This page will have been updated to show that your Rocketspark website is now connected with Mailchimp.

Now connect your Rocketspark store
with Mailchimp
eCommerce
You need to connect your Rocketspark website with your Mailchimp account to enable the flow of information from your website store to your Mailchimp eCommerce account.

1. Under the Email Marketing tab in your Rocketspark dashboard, click on the Connect button, alongside Connect Mailchimp eCommerce.
NOTE: You won't see the 'Connect Mailchimp Ecommerce' button on the Email Marketing page unless you are currently on our 30-day free trial or on Rocketspark's Ecommerce Grow or Pro plan.
2. Click the dropdown to select your Rocketspark store then click Connect Mailchimp. This step links your store with Mailchimp (you need to have your store set up beforehand).
3. Connect your store to Mailchimp.
If you haven't connected your store to Mailchimp before, you'll need to do the following:
Click the dropdown and select Create a new audience.
Name your audience and click Connect Mailchimp.
If you already have a store set up in Mailchimp, select your store from the dropdown and click Connect Mailchimp.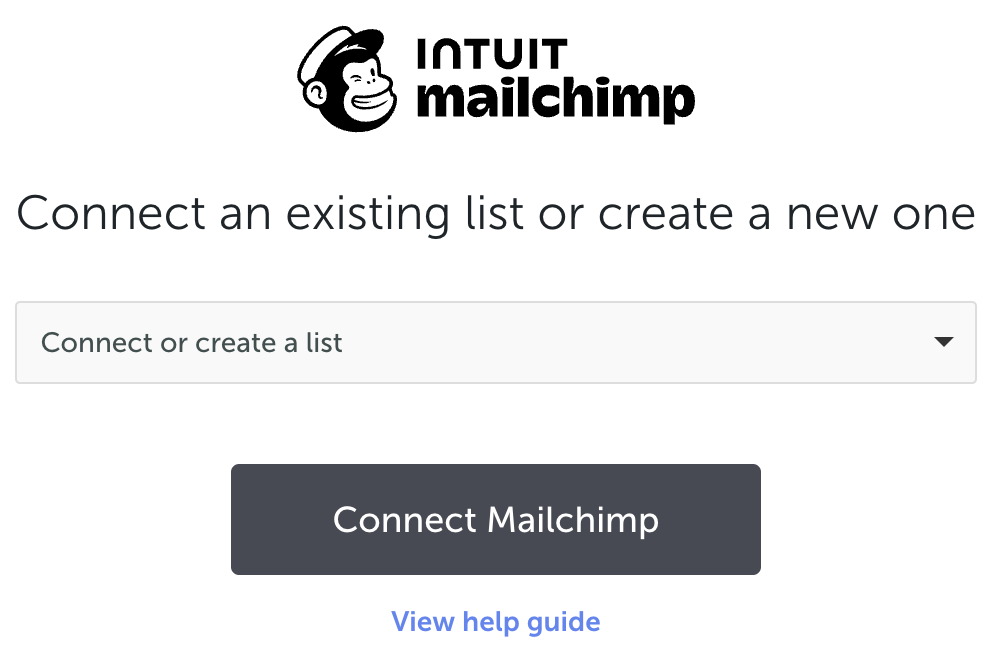 If you're using Mailchimp's free plan, you're only allowed one audience, and therefore can only create one store. When you choose create a new audience from the dropdown, it creates a new list and then creates the store. You can't connect/create a store without a list, every store must be tied to a Mailchimp audience/contact list to facilitate the transfer of data.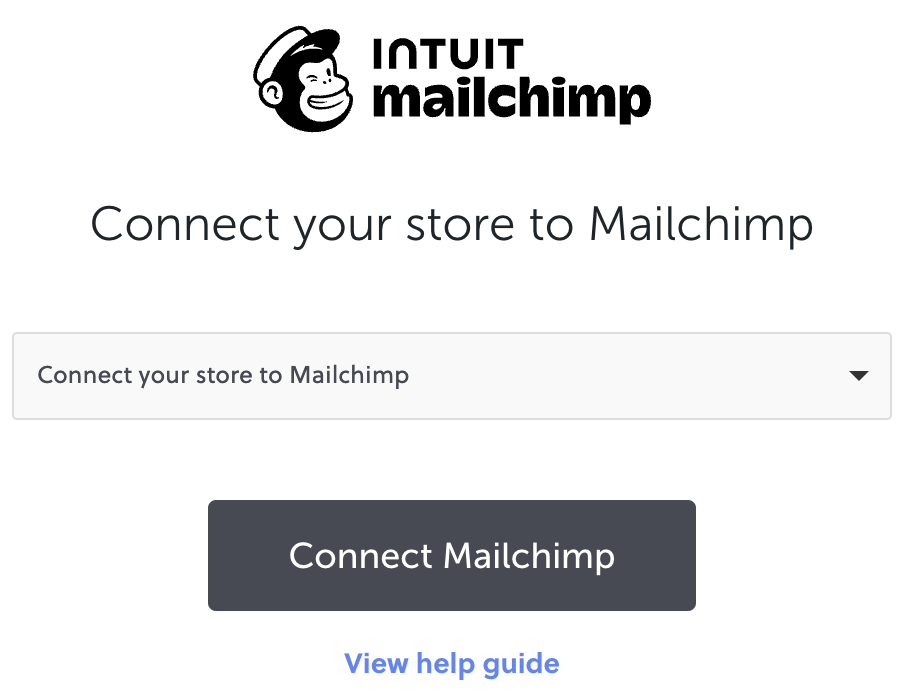 4. In your Rocketspark dashboard under Ecommerce Integration, set the top slider to the right to send customer and purchase information from your store to your Mailchimp account.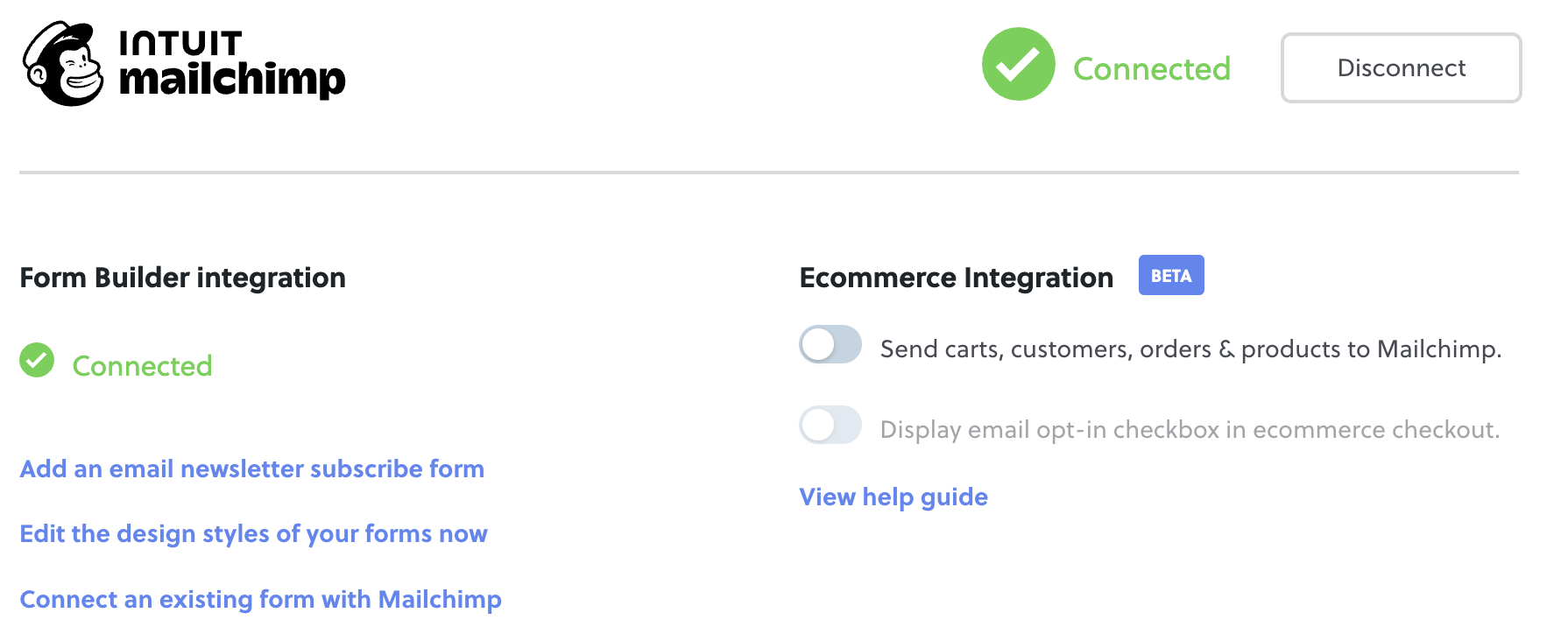 We recommend you set the second slider to the right to add a checkbox at your checkout to give your customers the option to opt-in to your email marketing. If a customer doesn't opt into marketing emails/newsletter etc, they'll still be added as a contact in Mailchimp audience, without a "subscribed" status. Mailchimp won't allow you to send marketing messages unless the customer has subscribed - learn about contact types. A profile-like page for that customer will be created so you can keep track of when items were purchased, emails opened, etc by that customer.
Learn more about creating and maintaining your audience/contacts in Mailchimp.

Set up Automated emails in Mailchimp
Open Mailchimp.

Log in.

Go to Campaigns on the left-hand side menu.



Click on Automations

in the view by type section.


\


You will then be able to click on Create An Automation.


You will then be given a list of different automations you can create, then click on the Ecommerce tab

.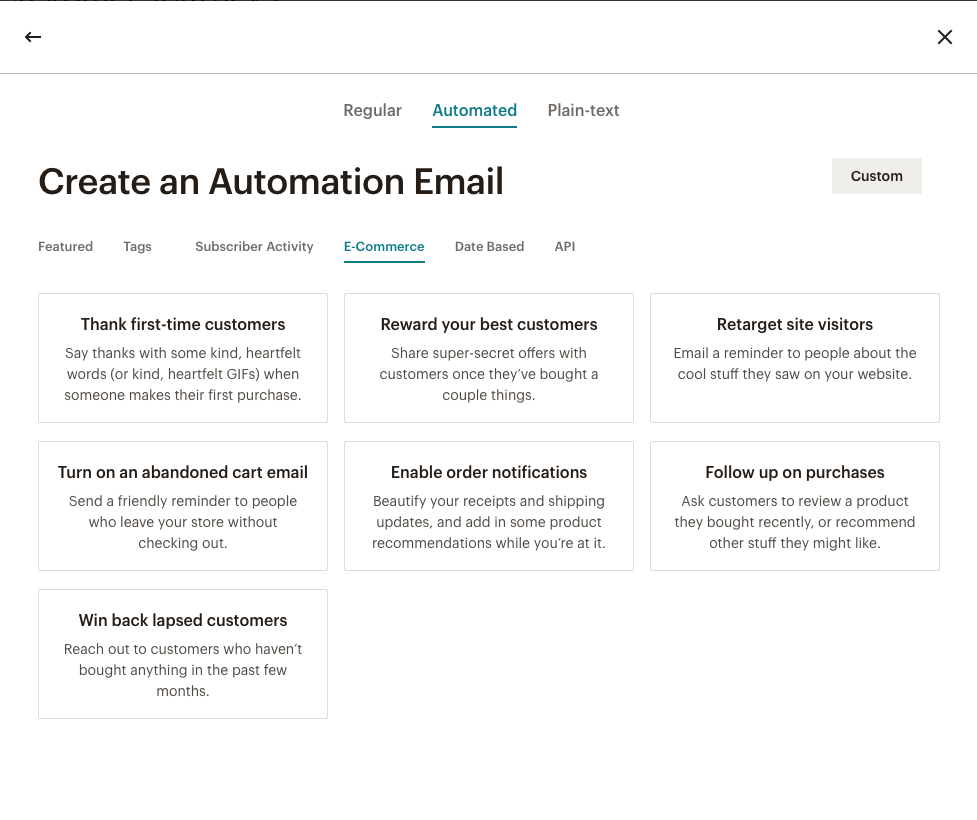 See Mailchimp's full help guide for how to set up automated emails.
Note about Mailchimp's Enable order notifications feature.
Although we do support Mailchimp's
Enable order notifications emails (
Order Confirmations, Shipping Confirmations, Order Invoices),
we
don't
recommend you use them because your Rocketspark store already sends confirmation/order notification emails to your customers for purchases made.
If you use Mailchimp's Enable order notification emails, your customer will receive duplicate emails, which they won't appreciate. With a little clever thought you may still choose to use this functionality whereby the email from Rocketspark is transactional and the email from Mailchimp could provide some helpful information related to the product they've just purchased.
When setting up order notification emails you'll get the following techie looking warning message from Mailchimp which you can ignore:

Rest assured we pass the necessary data to Mailchimp. If you are tempted to click Mailchimp's link about verifying the data you'll be sucked into a vortex of technical specifications for developers which we work hard to shield you from.
Measure your Mailchimp Ecommerce results
See the Mailchimp reporting dashboard for measuring the results of your eCommerce campaigns. results.
We also recommend that you utilise Mailchimp's connection with Google Analytics to provide good monitoring of campaign conversions which will be great for measuring the effectiveness of your Mailchimp campaigns vs other marketing activity.
See Mailchimp's guide for connecting Mailchimp with Google Analytics. Where the Mailchimp guide prompts you to set up conversion tracking please refer instead to our guide for how to set up ecommerce conversion tracking with Google analytics and then return to Mailchimp's guide.
Turn on Recovery for abandoned carts
If you are wanting to turn on the recovery for your abandoned carts you can do so on your Mailchimp dashboard.
Additional Mailchimp Features on Rocketspark
Add an email signup form popup. Follow Mailchimp's guide for how to add an email popup your last step will have the heading "Publish your form". Rocketspark is a connected site with Mailchimp eCommerce so we set up the form popup code automatically for you after you click Save to publish your popup and you can ignore the instructions for adding code to your website. If you are not using Mailchimp Ecommerce follow our guide for how to manually add a Mailchimp email form popup.