Recurring subscriptions are a way for buyers to create automatically repeating orders with a store.  Subscriptions are an additional feature to be enabled on your store and then you can set which products are eligible to be purchased on subscription.  When buyers add eligible subscription products to their cart they can choose a delivery frequency from the options you have provided such as weekly, fortnightly, monthly, every 2 months, every 3 months or every 6 months.  Their first order will send straight away, then on the renewal date their payment card will be charged automatically and you'll be notified that another subscription delivery is ready to send.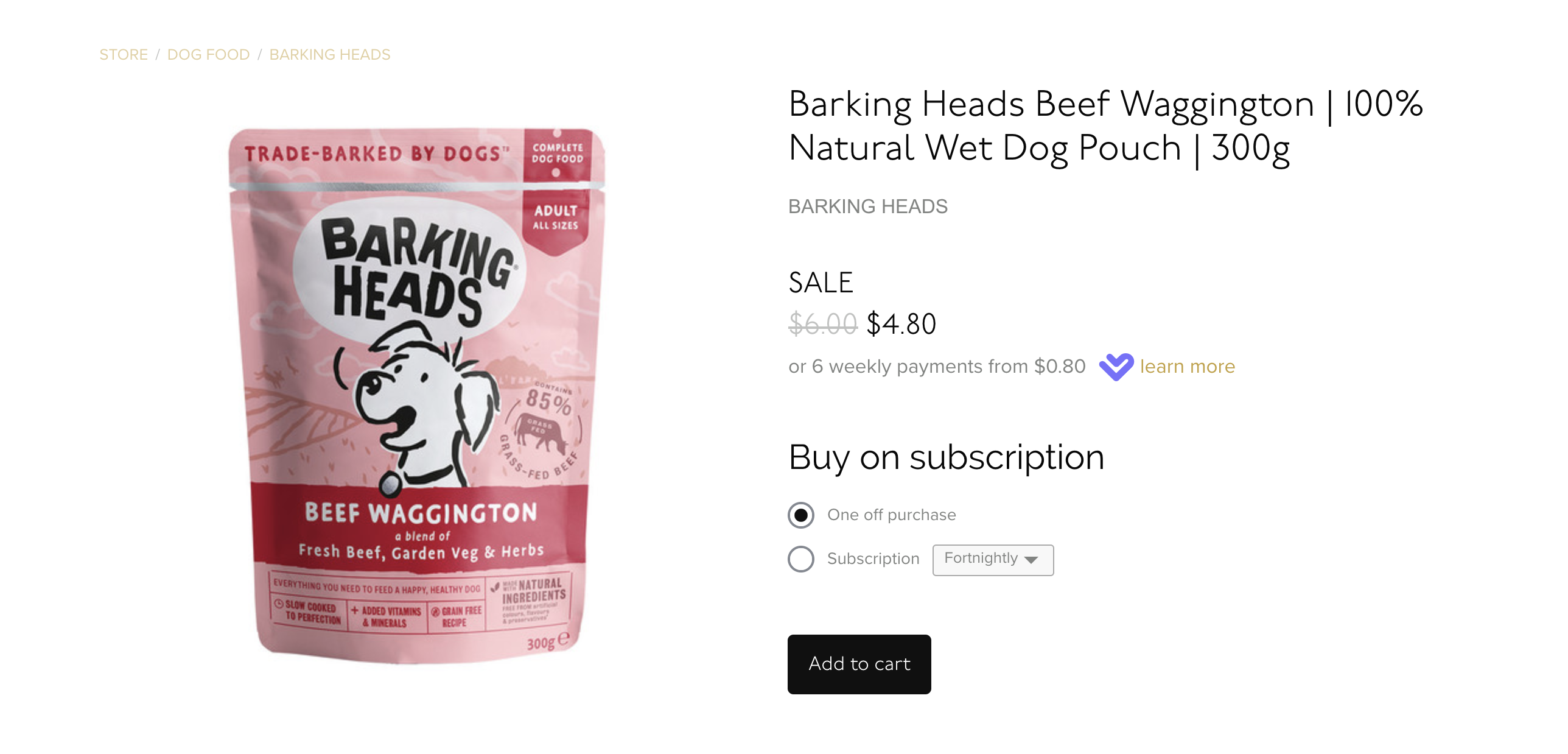 Are subscriptions right for my business?
Subscriptions are great for any business that has consumable products that someone might want to regularly refill/replace on fairly regular cycles.  Eg, coffee pods, dog food, pool chemicals.
You can also curate your own bundle of goods as a single product that you can sell on subscription such as food or beauty boxes.
Developing a subscription solution is a large and complex development. The initial launch features are quite simple and designed to get you underway with selling subscriptions.  We'd love you to share your experience of what you like and don't like to help us develop the next stage of our subscription functionality.
SET UP SUBSCRIPTIONS
How can I get recurring subscriptions?
Recurring Subscriptions is currently in beta but you can request access with the Rocketspark team to enable it for your business.
Recurring subscriptions pricing
The pricing of Rocketspark's recurring subscriptions features are still to be decided but while it is in beta there's no extra charge on top of your existing subscription.  However, after the beta ends there will likely be an additional charge for recurring subscriptions.
Set which products can, can't or must be purchased on a subscription
You can set subscription eligibility at the product level on the edit product page for each product — so you can choose if a product can't be purchased on subscription (suitable for products you know are on clearance and are end of line), subscription only products that can't be purchased as one-off orders or products that can be purchased one-off OR on subscription and the buyer chooses.


MANAGE YOUR SUBSCRIPTION BUSINESS
Editing subscriptions: Store owners
Store owners can manage subscriptions by doing the following for a customer:
Pausing or cancelling a subscription

Edit address details

Edit variant/quantity

Remove product from a subscription

Change delivery frequency
Store owners can't:
Add products to a customers subscription.

Update customer credit card details on their behalf.

Restart a cancelled subscription
Editing subscriptions: Buyers
Buyers can manage subscriptions by doing the following themselves:
Add or remove products from an existing subscription

Pause a subscription

Restart a paused subscription

Cancel a subscription - a permanent deletion of the subscription

Edit address details

Edit variant/quantity

Update their credit card details

Change delivery frequency
Buyers can't:
Restart a cancelled subscription.  They just need to purchase a new subscription.  
Stock availability planning for subscribers
On the subscriptions home page you can choose from two display options:
Upcoming deliveries
This will show you a runway of your upcoming deliveries with a useful traffic light system for stock availability, giving you a visual gauge of upcoming stock issues that you can sort out before they become a problem.  

Important: The stock is not ring-fenced for upcoming subscriptions so stock levels could get affected by one-off purchases.  The traffic light system gives you a quick temperature check of stock levels for subscribers. This might show multiple deliveries from the same subscription and you can see a delivery number count to see the sequential order of deliveries from the same subscription.




All subscriptions
This is a way to see just each subscription as a line in the table itself.  It also shows you the lifetime value of that subscription so you can see your most valuable subscribers quickly.



In addition to the runway of upcoming deliveries, you can also export a CSV stock report of stock that is available vs stock that will be required for subscription deliveries within a particular date range. 


Coupons and Promotions with Subscriptions
Promotions (no coupon code involved)
Promotions automatically apply to both one-off purchases and subscriptions.  You can exclude either one-off purchases or subscriptions from a promotion by tagging your subscription products and using tags on the promotion to specify which products it applies to.  Each time the subscription recharges it will check if the promotion still exists and hasn't reached its end date. If it has expired, the next recharge won't apply the promotion discount.

Single Use Coupons (coupon code involved)

Single use coupons will only apply to the first order of a subscription.

Multi Use Coupons (coupon code involved)

Multi use coupons will apply to the first order and subsequent orders until the coupon reaches its end date or it gets deleted by the merchant.  If the coupon is edited, eg if the discount amount changes, then those changes will apply to any subscriptions that are using that coupon.
Subscription FAQ's
Can buyers do mixed carts by adding one-off items and subscription items to their first purchase?
It is possible to add subscription products and one-off products to your first order.  Then from the second recurring order, you would only pay for the subscription products and the one-off item would only exist in your first order.
What payment gateway can I use with subscriptions?
Currently, Subscriptions is only available with Stripe. Contact the Rocketspark support team to register your interest in using subscriptions with other payment gateways.
What delivery frequency options can I choose to offer?
You can choose to offer the choice of one, some or all of the following delivery frequency options on your store and this is set store-wide for all subscription-eligible products: weekly, fortnightly, monthly, every two months, every 3 months, every 6 months.  Giving people the choice means they can tailor the frequency to how quickly they might consume those products.
Can buyers have multiple subscriptions with my store?
A subscriber can have 1 of each subscription frequency that you offer.  So if you offer fortnightly subscriptions and monthly subscriptions, a customer could have a maximum of 1 fortnightly subscription and 1 monthly subscription.  The delivery dates would be based on the anniversary of the start of the subscription.
Can I bulk apply subscription eligibility status to all products?
When you turn on Subscriptions, none of your products will be eligible to be purchased on subscription by default.  You can either enable this on a product by product basis, bulk-update using the CSV import feature, or contact the Rocketspark support team and request a bulk change.
How do I use the CSV import to set a product's eligibility for subscriptions?
First download your product CSV file from the "import & Export" screen in dashboard. Open this file using Excel, Numbers or another similar program. Identify the column for "buy_on_subscription. Edit the current value for each product to either "canBuy", "cantBuy" or "mustBuy" depending on your preference. Then use the CSV import feature to save your changes to Rocketspark.
Can I sell bundles or items such as food boxes or beauty packs
You can create the bundled product as a single product for customers to purchase in your store.  You could then use the three variants available in the store to enable customers to customise their pack.  
An example food box:
Variant One: Box Size = Small, Medium, Large, Extra Large
Variant Two: Preferences = More Veggies, More Fruit
Variant Three: Organic Status = Organic Only, Not Organic
Can I use subscriptions to sell services, digital or any non-delivered products?
This version of Rocketspark's Subscriptions feature is designed for the recurring delivery of physical products.  You could use Rocketspark Subscriptions to collect payment for services or digital products but you would need to manually fulfil the order to your customer.  Register your interest in service or digital product subscriptions by contacting the Rocketspark support team.
I only deliver to specific areas - can I auto-verify a valid address before subscribing?
Currently, you can use Rocketspark's standard delivery address options to verify regions or areas that you deliver to but there isn't a way to create a geographical ring fence around detailed delivery areas.  Register your interest in this feature by contacting us.
What happens when a buyer's subscription renews?
When someone's subscription renews, Rocketspark checks that stock is available and then charges the card for the amount of that order.  The order is created with the store and they then ship the product to the customer. When the subscription is processed the subscription orders will appear in your usual order reports in the same manner as one-off purchases do.   
What happens if items in a subscription are out of stock?
Subscription orders with out of stock items are blocked due to the stock issues and that delivery goes on hold until either the product comes back into stock, the merchant or buyer removes that item from the subscription or the next delivery tries to occur.
What happens if someone's automatic payment fails?
The Rocketspark system will automatically try recharging their card for 5 days.  At that point, if the card hasn't successfully recharged that order will cancel and the subscription will try again with the next delivery.
Can someone add a coupon to their existing subscription?
Currently, there isn't a way to add a coupon code to an existing subscription. If you want your subscriber to change to a discounted rate with a coupon you would need to cancel their subscription and they would need to create a new subscription using the coupon code.
If a product goes on promotion, do subscription customers get that discount?
Yes. Any subscription orders generated during the time the promotion is running will automatically get promotion discounts that apply to the qualifying products in the subscription.
What happens if I remove a frequency option?
If you try to remove a frequency that has customers using it, it will warn you. If you proceed anyway then those existing subscribers will be unaffected and the previous frequency option will remain for those subscribers, even though not available to new subscribers.  If you want to remove those frequency options also from current subscribers you would need to cancel the customer's subscription and ask them to create a new subscription.
How is shipping calculated on subscription orders?
Shipping is recalculated automatically as changes are made to the subscription products and quantities, delivery address, or shipping prices. The final shipping price is determined at the time the subscription renews using the same logic used in the checkout. If the store has "Free shipping over $100" enabled, adding/removing products will affect whether free shipping is given. The shipping price shown to the customer in their my-account area is always up to date based on the items in the subscription and the current shipping rules.
What happens when a customer restarts a paused subscription?
When restarting a paused subscription, the next delivery date will occur in line with the normal cycle. Eg if a monthly subscription is usually delivered on the 18th of the month, then the next delivery date will be the next '18th' in the calendar after the restart date.  The system will not 'catch up' on orders that were skipped while the subscription was paused.
What happens if I edit a product that is used with a subscription?
When you edit a product in Rocketspark, a blue warning message will appear saying that the product is being used on active subscriptions. It is up to you (the merchant) to notify the customers if you are making changes to products that are on active subscriptions. This would be especially important if the price of the product is increasing.
What happens if I delete a product that is used with a subscription?
As with editing products, you will be warned if a product is used on active subscriptions. If you are deleting products it is up to you (the merchant) to advise customers of the changes.
When a product is deleted it will be removed from all subscriptions and the subscription totals will update accordingly. If that product was the only product on the subscription, the subscription will be paused.
What happens if I edit or delete a product from outside of Rocketspark?
If you are editing products from Vend / TradeGecko / CSV import, then there is no warning message if the product is being used on active subscriptions.
What if I need to remove a shipping region that is used by subscriptions?
The Rocketspark dashboard will not allow you to delete a shipping region that is being used on active subscriptions. Before you can delete the shipping region, you should switch these subscription customers to a new shipping region, or cancel those subscriptions.
What emails does Rocketspark send automatically to subscribers?
Order confirmation for first and subsequent recurring orders.

Payment declined email up to 5 times when subscription renews

Order cancelled email if the payment fails for 5 consecutive days

Credit card expires soon email, sent approx 2 months before the card expires

The credit card has expired email, sent once the saved card has expired