A DKIM record is a specially formatted DNS TXT record that stores the public key the receiving mail server will use to verify a message's signature. A DKIM includes a name, version, key type, and the public key itself, and is often made available by your email provider. This record is added to authenticate your legitimacy as a sender and it also helps build up your long term sending reputation.
An example of what these records look like in the image below: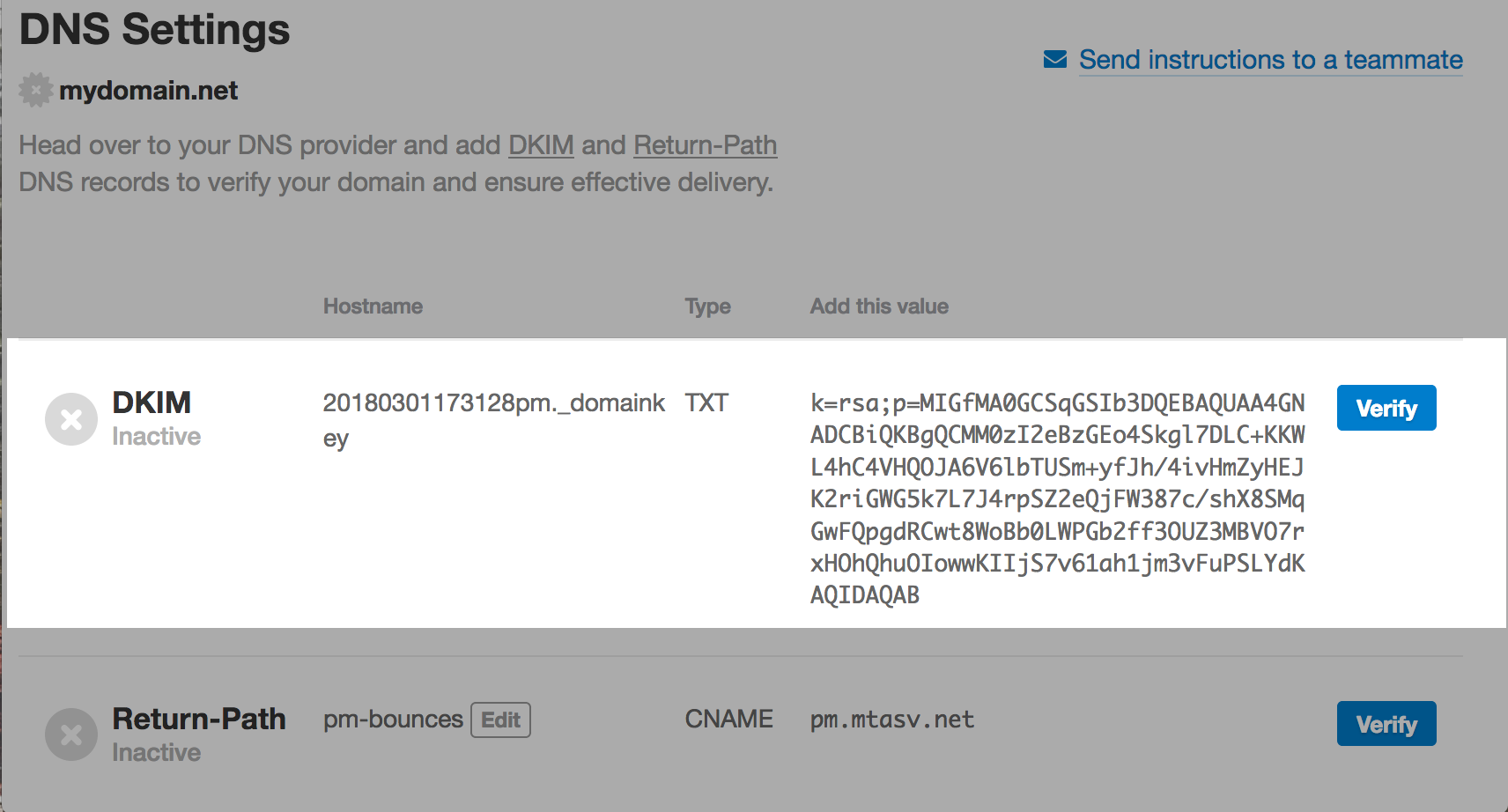 If you have your emails with Rocketspark, you will need to contact the support team and they will be able to provide you your DKIM record which can then be added to your domain name. Otherwise if your emails are hosted by another provider, like Microsoft365, you will need to reach out to them and they will be able to provide the DKIM record for you.
Steps to add the DKIM record in Rocketspark:
1) When you are in your Rocketspark Dashboard, and head to the Domain Name section.
2) Once you are there and you see your Domain name in there, click onto the edit pencil icon that can be found next to the Domain name.
3) If you are unable to see the DNS records within section, you will be able to click onto a button that says "Edit Advanced DNS Settings"
4) When you are entering your DKIM record, make sure it is a TXT type record and it looks like the screenshot below:

Something to Note:
These records can only be 255 characters long when entered within any domain name provider so this means that it must be a 1028 bit record otherwise, you will receive an error.
If you are entering this record onto the Rocketspark platform and you receive the error below:

This error is stating that there are too many characters within the record and that it cannot be accepted into the system. Most domain name providers including Rocketspark only accept the 1024-bit records since these smaller records will fit within the 255-character limit.
The way to fix this, is to go back to your email provider and let them know you need a 1024-bit DKIM record for it to be able to save.
If you have any questions, please feel free to contact the Rocketspark support team at support@rocketspark.com.