You can set up Laybuy in your store so that your customers have the option to pay in 6 interest-free weekly payments which can make your products easier to access. See below for how to set up Laybuy for merchants. 
How to set up Laybuy with your Rocketspark e-commerce?
When you enable Laybuy on your store, all eligible products are automatically toggled on, however, you can remove Laybuy as a payment option for certain products.
Go to the Payment Gateway page in your Rocketspark Manage Store

Head to Payment Gateways

Click the button to Create a Laybuy account

Complete the Laybuy merchant application. Laybuy aims to process your application within 48 hours and will provide you with a Merchant ID and an API key


Return to your Payment Gateway page in your Rocketspark ecommerce settings


Click the "Use existing account" button and enter your Laybuy Merchant ID and API key


Enable Global Pay, we recommend you enable Global Pay at Laybuy. Follow our guide here for further steps.


To remove Laybuy on certain products in your store, see the relevant help guide here.


We recommend that you now complete a test transaction to confirm that everything is working.
What is the process for customer purchases with Laybuy?
On every product page, buyers will see a label under the price about the 6 interest-free weekly payments but they add the product to their cart as per usual purchases.



Your customer chooses to "Pay by Laybuy" at checkout, for purchases up to $1,200 initially and pays for their first instalment upfront



Laybuy will pay you the full amount of the purchase within 48 hours, less a small transactional fee as a percentage of the purchase price - there are no further costs for your business


You ship the goods to your customer
Your customer will pay for the rest of their purchase in 5 more installments


Can customers exceed their Laybuy limit?
You can shop and spend more than your limit if you have a sufficient balance on your debit or credit card to complete the purchase.
However, if you exceed your limit this will change the way in which you will be required to make payments to Laybuy as the excess must be paid at the time of your first instalment.
For example, if you have a limit of $120 and want to purchase an item for $200, your designated debit or credit card will be charged $80 on the date of purchase. That is, the $80 "limit excess" and your payments for the next 5 weeks will be $24 per week.
What is Laybuy? 
Laybuy is a new service that shakes up the traditional layby purchasing model. Unlike a traditional layby (or layaway) purchase, your customer takes delivery of the goods upfront and pays for their purchase in 6 interest-free weekly payments. Laybuy guarantees to pay you for the purchase within 48 hours less their service fee and Laybuy takes on the credit and fraud risk.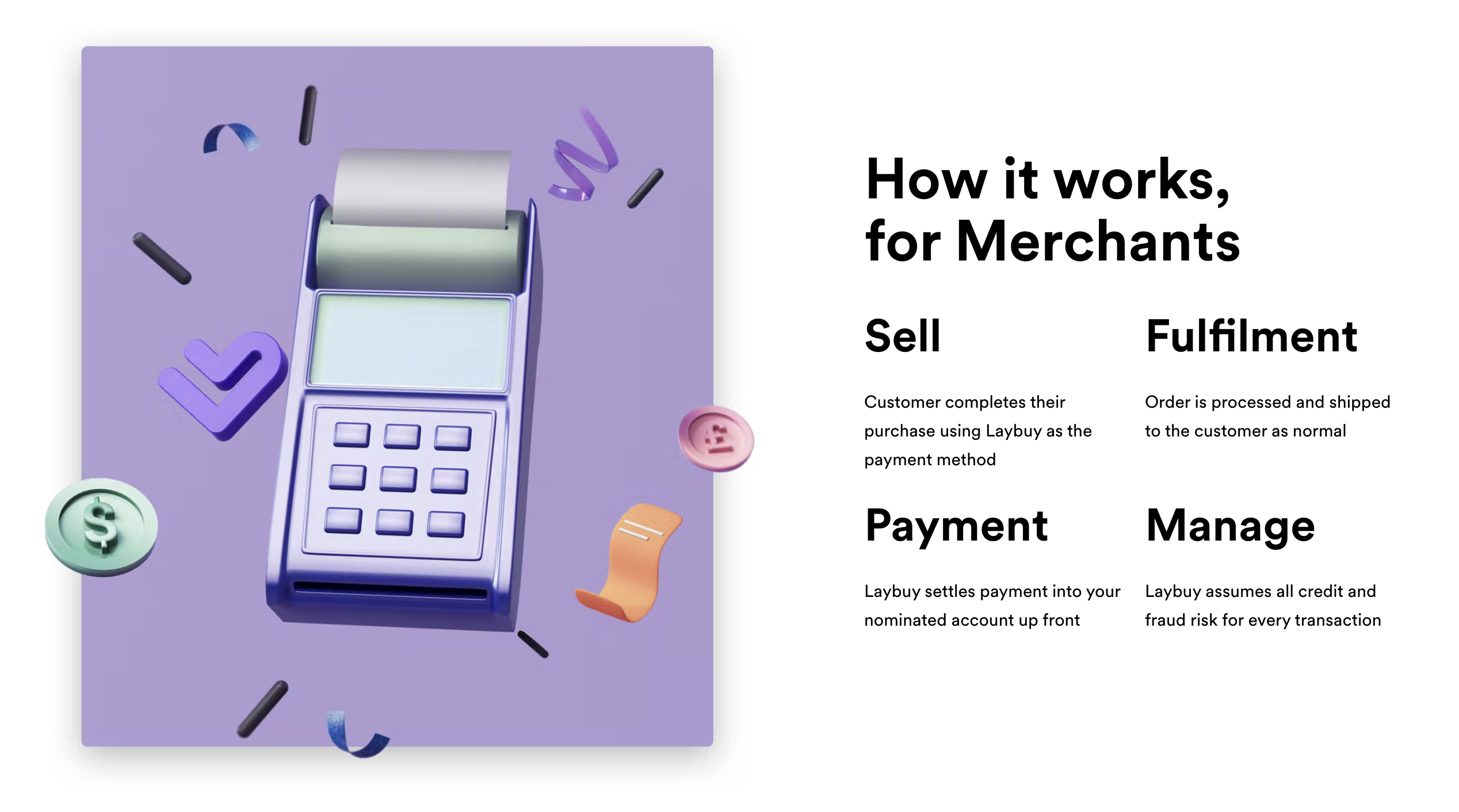 Laybuy can sit as an option alongside traditional card and bank deposit payment methods in your e-commerce checkout and provides your clients with a convenient payment option. Laybuy's clients have seen order values, conversion rates, and new customer acquisitions increase by an average of 30%.
See our Laybuy e-commerce launch blog to learn more about the benefits of Laybuy.  
Learn more about Laybuy for merchants
Check out www.laybuy.com/our-merchants to learn more about Laybuy.  Please note that Laybuy is not an option for Groceries, Alcohol, or Firearms.
If you're shopping online and want to learn about Layby for shoppers check out What is Laybuy - for shoppers?
Please note that these may change depending on Laybuy. If you do note these instructions are wrong, please feel free to let support@rocketspark.com know.