What is Afterpay?

  
With Afterpay, retailers are now able to gain access to a large and growing segment of shoppers who are increasingly using buy now, pay later services as an alternative to credit cards. Afterpay is a payment gateway available to your customers in New Zealand, Australia and the USA. (Afterpay is called Clearpay in the UK) In this help guide, we will show you how to set up Afterpay as a merchant. 


How to activate Afterpay on your Rocketspark store?
When you enable Afterpay on your store, all eligible products are automatically toggled on, however, you can remove Afterpay as a payment option for certain products.
1. Open your Dashboard and click on Manage Store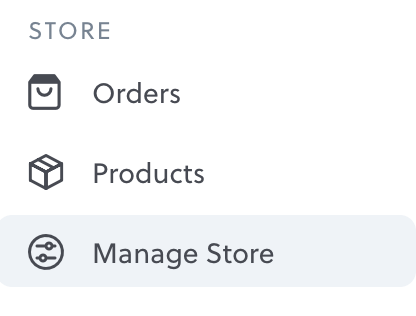 2. Now click on the Payment Gateway tab in your store settings.


3. Next to Afterpay, click Set up new account or if you already have an Afterpay account, select Use existing account.

4. When you click on Setup new account, you'll need to click on 1. Create a new Afterpay merchant account in the pop up window.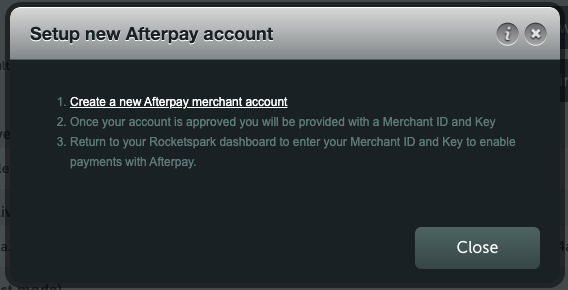 5. Complete the Afterpay merchant application. Afterpay will provide you with a Merchant ID and Secret Key. This process may take several days/weeks to complete depending on your application.


6. Return to your Payment Gateway page in your Rocketspark store settings.


7. Click the Use existing account button and enter your Afterpay Merchant ID and Secret Key, then Save Changes.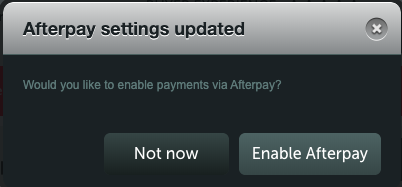 8. Select Enable Afterpay, all eligible products are automatically toggled on, however, you can remove Afterpay as a payment option for certain products. See the help guide here.


We recommend that you now complete a test transaction to confirm that everything is working.


What is the process for customer purchases with Afterpay?
On every product page, buyers will see a label under the price about the 4 interest-free payments but they add the product to their cart as per usual purchases.



Your customer chooses Afterpay as their payment method, and they'll be required to pay their first instalment at the time of purchase.


Afterpay will pay you the full amount of the purchase. 

Settlement payments to you will be made based on the processing time agreed (typically within 2 business days)

, less a small transactional fee as a percentage of the purchase price - there are no further costs for your business.


You ship the goods to your customer.


Your customer will pay Afterpay for the rest of their purchase instalments, so there's no risk to you.


Restricted goods
Afterpay restricts certain categories of products from being sold with their platform. In general, if your shop sells mostly restricted items then your application won't be approved. However, if you sell mostly approved items with just a couple of restricted items, then you will need to disable Afterpay for just those items.
This list is from Afterpay and is correct at the time of publication but may change in future.
Gift cards

Perishable goods

Alcohol in bulk or hard liquor

Tobacco

Recreational drugs or equipment to facilitate drug use

Weapons

Ammunition

Explosive materials or instructions for making explosives

Pornographic material, experiences, and digital content

Gambling-related content

Medicines

Products that enable dishonest behaviour

Consumer electronics

Grocery

Forward delivery of goods/services over 90 days from the purchase date

Ongoing services (eg subscriptions)

B2B

Goods or Services that infringe third party intellectual property (without limitation) counterfeit goods and pirated content
Afterpay has a feature called Cross Border trade, which allows retailers to trade online with Australian, New Zealand, and the United Kingdom shoppers. They simply provide the customer with a breakdown of the payment plan into 4 instalments in their local currency and settle to the retailer in their local currency.
However, to enable Cross Border Trade the retailer will need to reach out to their BDM to discuss rates and facilitate the integration.
More information on Afterpay?
See How to set up Afterpay as a Shopper. 
Read about how Afterpay works for your customers.