Rocketspark offers a number of payment methods to suit both you and your customers. You can use card payments via a payment gateway (eWay, Windcave, Stripe, PayPal, Afterpay and Laybuy), PayPal payment via a person's PayPal account, and bank payment via bank deposit. Each method provides a slightly different experience for your customer, below are images detailing how a customer will view each payment method.
eWay
Stripe
Windcave (Payment Express / DPS)
PayPal
Bank Deposit / Direct Credit
Afterpay
Laybuy

If you need help setting up one or more payment methods here are our other support guides. These include setup instructions and pricing details for each method.

We recommend that after you have set up any payment gateways you run a product test before setting your shop live. This way you can check that everything is set up and processing correctly. This will generate an order in your order history (Note this cannot be deleted for tax purposes), for more information you can have a look here.

eWay
eWAY is a payment gateway that allows shoppers to pay you via credit or debit card. Their fees are reasonable, and setup is somewhat simplified as you don't need a merchant account with your bank. Funds will appear in your bank account the following business day. Here's where you can get started setting up your eWAY payment gateway.

The payment screen is also simple and clear: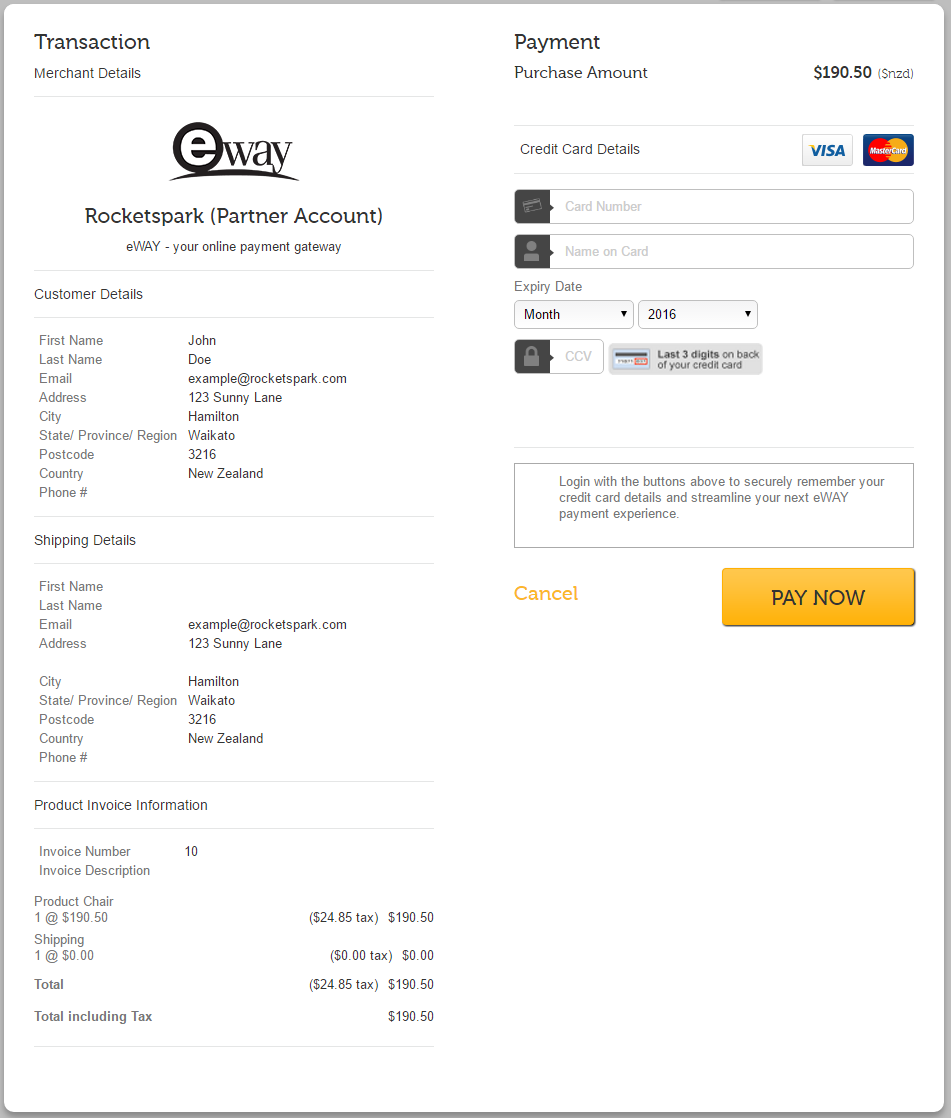 Stripe
Rocketspark is using the latest version of Stripe, which is compatible with Strong Customer Authentication (SCA).
Stripe is a payment gateway notable for it's an easy-to-use interface and quick setup and so it's a good fit for eCommerce stores and for subscription-based services. (Click here to learn how to add Recurring Subscriptions to your Rocketspark website store). As there is no merchant account required, it's possible to have your Stripe account up and running within minutes without any 'account approval' delays. There are also no monthly fees, and the per-transaction fee is very reasonable. At checkout, your customer will be automatically redirected to a smart payment page (that's quick and easy to use) to enter their payment details.

Stripe will transfer funds to your bank account on the schedule you specify (daily / weekly / monthly) and it will take a few days for funds to arrive.

Here's where you can get started setting up your STRIPE payment gateway.

Windcave (Payment Express / DPS)
Windcave is a long-established gateway used and trusted by thousands of businesses worldwide. It's a reliable way for customers to pay you online using their credit or debit card.

Funds will appear in your bank account automatically, usually the next business day or within a few days depending on who provides your merchant account.

In order to use Windcave for your gateway, you will need a merchant account with your bank. If you are already processing credit cards in your offline shop, you may already have a merchant account and this simplifies the setup process. If you don't already have a merchant account, Windcave will assist you with getting one. See Windcave merchant account options.

Here's a good place to get started with setting up your new Windcave account.

With Windcave your customers will be taken to a Windcave payment page with your branding. The payment page is simple and clear.



PayPal
PayPal is a very large and popular payment method, used by millions of websites and customers. Because there is no direct connection to the bank with Paypal, the setup process is simplified and you can be setup and taking payments within 10 minutes. Unlike most credit card gateways, you will need to manually transfer any money you receive via Paypal to your bank account. This will take around 3-5 working days for payment to arrive, and while this process isn't automatic, it's quick and easy to do.

Paypal's no-monthly-fees pricing model has traditionally appealed to small businesses, though other payment gateways are now very price competitive in this regard.

PayPal allows shoppers to pay using either PayPal funds or credit/debit cards. One challenge with PayPal is that the user interface can be a little confusing to some shoppers, and you may find some shoppers abandon their PayPal shopping cart more often than with other gateways as customers think that they have to pay with a PayPal account when they want to use card payment. Here's where you can get started setting up your PayPal payment gateway.

Here's what the PayPal payment page looks like: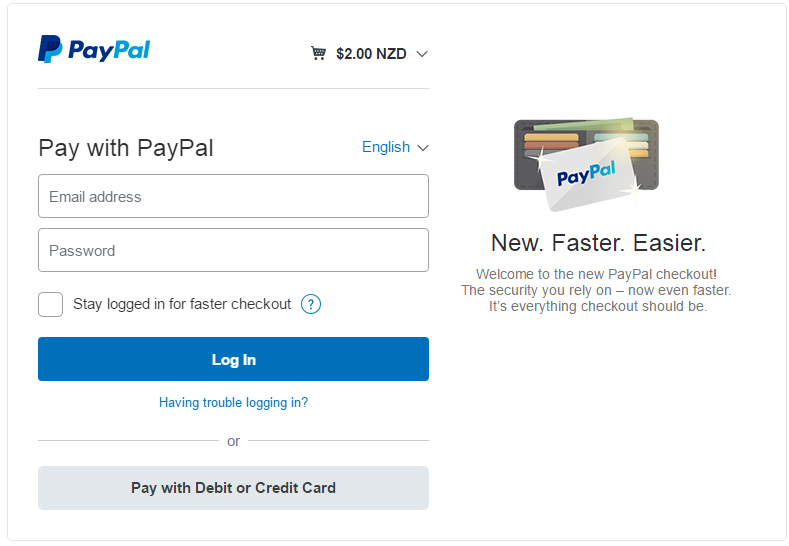 Bank Deposit / Direct Credit
The Bank Deposit (aka Direct Credit) payment option allows shoppers to make payment via their online banking, without a credit card. This allows shoppers who don't have a credit card (or don't have funds available on their credit card) to still buy from your shop.

Even if you already have credit card payment option enabled, it's often a good idea to allow bank deposit payments as well as credit card payments to give shoppers more choice on how they pay.

When a bank deposit order is placed - the shopper is given a bank account number to make the payment to and a reference number to include when making payment. This is so you can identify the payment on the bank statement.

The bank deposit payment option is very easy to setup, and there are no additional fees - although you will need to allow for a little extra admin time to check that payment has been received before shipping the order. Here's where you can get started setting up your Bank Deposit / Direct Credit payment gateway.


Afterpay
Afterpay is a buy now pay later service in which you can get the product now and pay it off over 4 - interest-free payments. Customers will have to set up an account with Afterpay before they start shopping.
Afterpay is available in New Zealand, Australia, and the USA. In the UK the version of this is Clearpay.
You will be paid the total amount upfront (minus Afterpay's fee) Afterpay take on the full risk of repayment so that you don't have to. Take a look at our help guide here for some further information on Afterpay: how to set up Afterpay
Laybuy
Laybuy is another buy now pay later option where you get to pay over 6 - interest-free payments.
Laybuy will pay you the full amount of the purchase within 48 hours, less a small transactional fee as a percentage of the purchase price - there are no further costs for your business
Take a look at our help guide here for more information on Laybuy: how to set up Laybuy