You can add an Elfsight Widget to your site via our HTML/Code Block so the widget appears on your website. This help guide will show you how to add an Elfsight widget to your website. Elfsight has a wide range of widgets that you can embed, they have a large range of templates so that you can easily find a template that matches your site.
Getting widget from Elfsight
You can take a look at the widgets that they have to offer including the most popular widgets on Rocketspark: Elfsight Widgets Please note that as Elfsight is a third-party integration that there may be costs involved with using their services.
Once you have found the widget that you are wanting, for example, I have chosen the pricing table widget. Here I will be given the option to choose the template that I would like to use: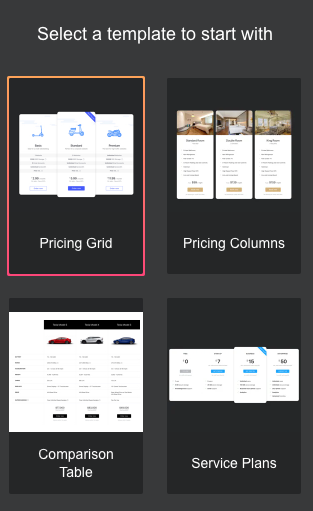 Once you have chosen the template that works for you, you will be taken to a page where you can edit the layout, content and appearance of the widget.


Embed Elfsight Widget
Once you have customised your widget to display the information you are needing you will be taken to the next page where you can choose your payment options for the widget you have chosen. Once payment has been completed you can then download the HTML code.
Once you have the code from Elfsight you can easily enter this into your website using an HTML code block on your page.
You can add in as many as you need but we suggest limiting the number of widgets that you have per page to two so that the page speed is not affected.
Extra for experts
If you are needed to add in a font that Elfsight does not offer you can add this into the custom CSS in Elfsight before adding it to Rocketspark. If you would like more help with this please feel free to contact the Rocketspark support team.