If it is your first time shopping with Afterpay you can check our information below on how to set up Afterpay. 
What is Afterpay?

 
With Afterpay, you can buy what you want today, pay for it in four equal installments (due every 2 weeks), interest-free when you pay on time. You'll pay your first installment at the time of purchase, and the remainder over time.
Afterpay is integrated with Rocketspark.
This means that anyone with a Rocketspark eCommerce website (online store) can enable Afterpay on their website and in doing so, can offer their customers the option to pay by Afterpay.
I want to shop, how do I sign up to Afterpay?
There are two ways to sign up.
Afterpay is available to people who:
Live in New Zealand; Australia, the USA, and the UK. In the UK Afterpay is called Clearpay.
Are at least 18 years old;
Are capable of entering into a legally binding contract;
Have a valid and verifiable email address and mobile number; and
Use a New Zealand, Australian, or USA credit or debit card to make the purchase.
You do not need to register prior to making your first Afterpay purchase. 
Make your first Afterpay purchase
When you are making a purchase with a store that offers Afterpay,
1. Choose Afterpay as your payment method at checkout. If it's your first time using Afterpay, you will provide payment details as usual to complete your purchase. 
Once your first order is approved, your Afterpay account is created.
2. Now visit www.afterpay.com to set up a password.
Sign up on the Afterpay website
1. Visit www.afterpay.com
2. Click on Sign Up

3. Enter your email address.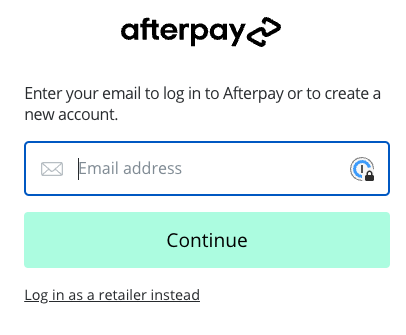 4. Enter your phone number.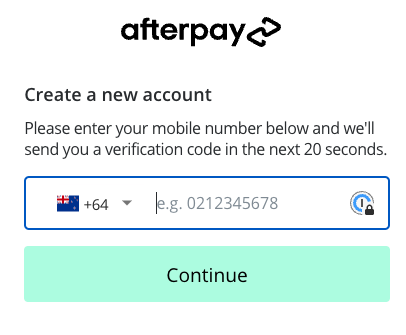 5. Click Continue to set up a password.
6. You'll be prompted to enter the 6-digit verification code sent to your mobile number.
7. It will first ask you to enter in your personal details and then you will be able to enter your credit or debit card details.
Once your Afterpay Account has been set up you'll be able to make purchases using Afterpay by simply entering your log-in details upon checkout in a store that offers Afterpay as a payment option.
Make shopping even easier by downloading the Afterpay APP - available at APP store and Google Play.