When your domain is suspended, it means that the registry suspended your domain name because you failed to verify your email address or the contact details have been modified for the domain and still requires verification. This applies to all gTLDs (Generic Top Level Domains) such as .com, .net, .org, .info, etc.
There is a 15-day window during which you have to verify the transfer or register of your domain name. If you missed the 15 day period and failed to complete the verification process, your domain name will be suspended. In this guide, we will tell you how you can easily fix your suspended domain.
After transferring, registering or changing contact details of domain with Rocketspark, you need to verify that you own it via the link in the email that we sent you.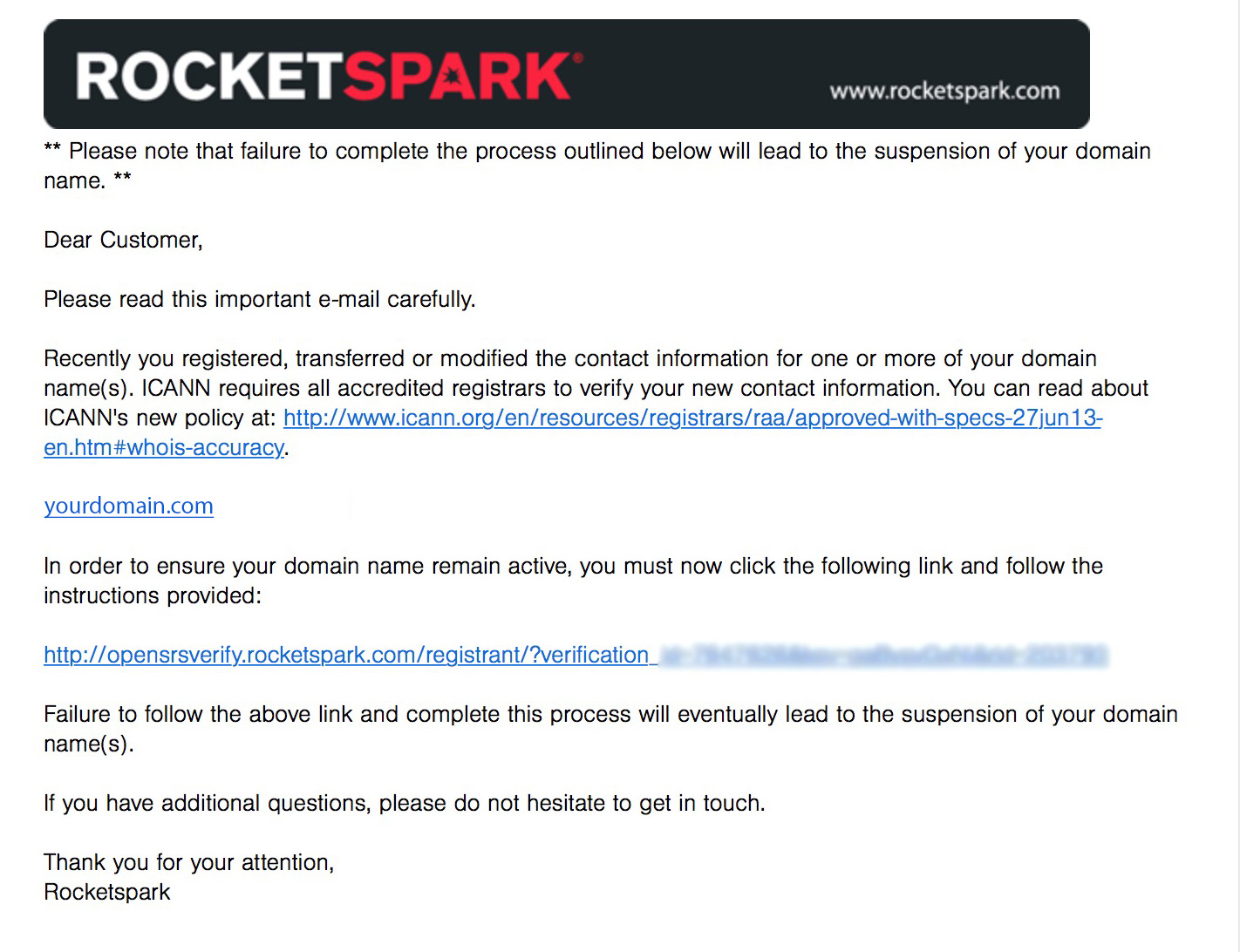 After clicking the link, you will be directed to a page that displays the contact information for your domain. This includes the email address, first and last name that you used to register the domain. There is also a link to the domain name terms and conditions. You will need to click on the "Verify Information" button to indicate that you agree to the terms and conditions and that the contact information provided are correct and up to date.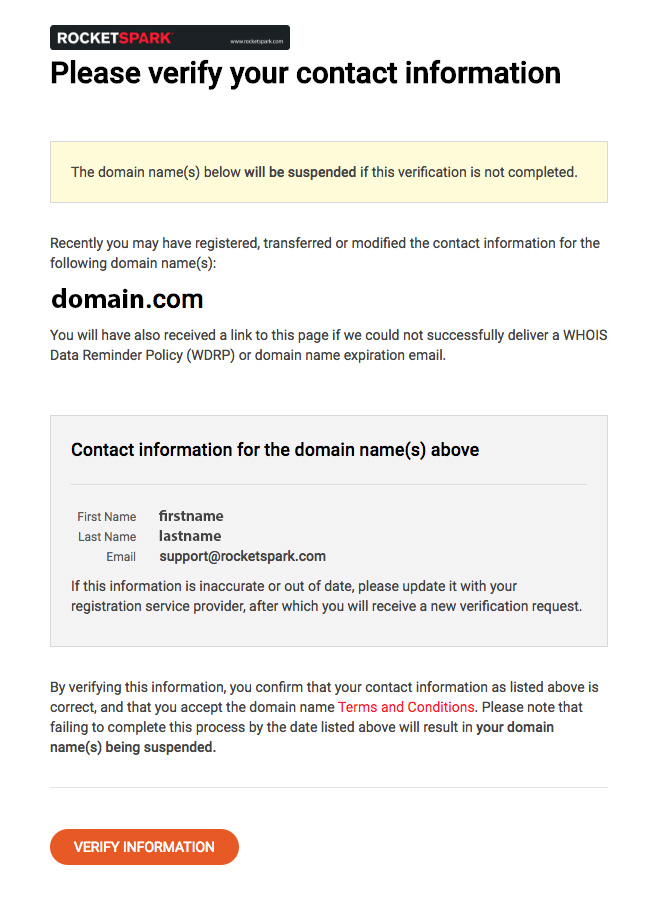 To fix your suspended domain:
Check the domain's contact email address
The verification link will be sent to the email address you provided when you registered or transferred your domain. Make sure that you have provided us with a valid email address by checking your domain contact details in your Rocketspark Dashboard. You can check that the contact details are correct by following these steps:
1. Log in to your Rocketspark Dashboard.
2. Click on the the hamburger menu (three-lined icon) on the top left corner of the dashboard to open up the side menu. Click on Domain names.
3. In Domain Names, go to the Contact Details tab. Here, you will be able to see and edit your domain contact details.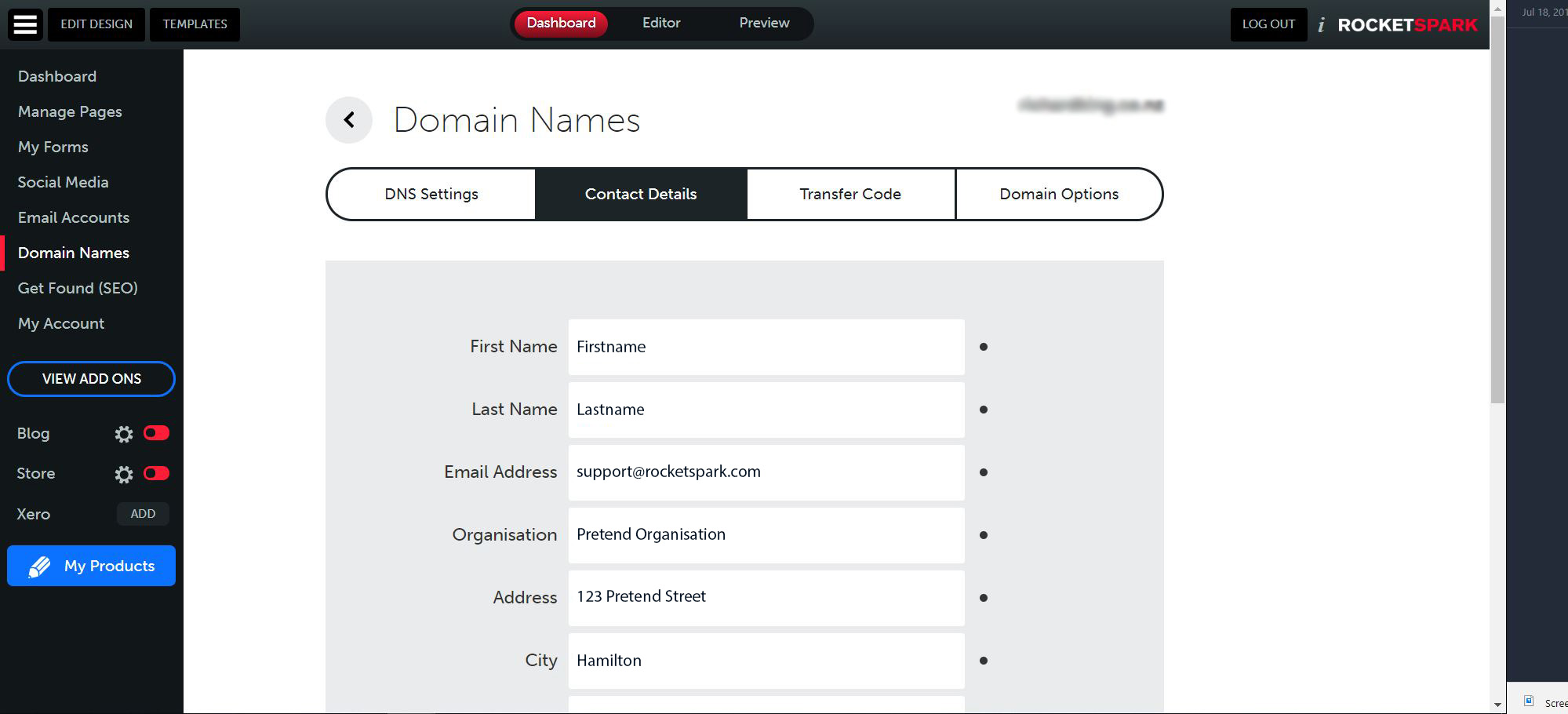 Note: When changing your domain contact details, you will have to verify your domain once again, and without a timely response to the verification email, your domain will be suspended again. So make sure that you verify it within 15 days.


Check your inbox and look for the verification email that we sent you. If you cannot find the email in your inbox, there is a chance that it ended up in your spam folder, so make sure that you check your spam folder as well. Once you find the email, click on the link to start the verification process.


Contact us to resend the verification email
We need to know that the domain owner email address is valid before we can resend the verification email, so check that you have provided us with the right email address. You can check and edit your contact details in your Rocketspark Dashboard. Just log in to your dashboard, click Domain Names and go to the Contact Details section. If the email address in Contact details is correct, flick us a message on our website or email us at support@rocketspark.com or call us at 0800 762 538 to resend the verification link to your email.