What is a linked stack?
When you copy a stack to another page or add a recently copied stack from your My Stacks area, the content and design of those linked stacks will reflect each other completely and are labelled as Linked Stack. This help guide will show you how you can link stacks and edit them.
To edit a linked stack:
To edit a linked stack, click the edit button on that stack.



When you edit the content of a linked stack, you get two options:





Edit just this stack:
This disconnects the content of this stack from other linked stacks, so your content edits only apply to this stack. The design settings for this stack will remain linked so you can maintain things like colour and font settings.




Edit all linked stacks:
Any content or design edits you apply to this stack will automatically apply to all other linked stacks.


What is a linked design?
If you have a linked design stack, the content is unique to that stack and you can edit the content freely like any other stack. However, the design (stack specific fonts, colours, backgrounds, spacing etc) is linked to other stacks on your site.
To edit a linked design:
Click the linked design icon in the stack controls for that linked design (in a similar way to editing stack-specific design settings).




Change the stack design settings and click save.
Your stack-specific design settings will then apply to all linked design stacks.
How to completely unlink all aspects of a stack's design and content
If the stack is a linked stack, click to edit that stack and choose to Edit just this stack to convert it to a linked design.




Then click the linked design icon at the right of the screen in the stack controls.




Then click the button to unlink the design of that stack.



Your stack's content and design will now be completely disconnected from all other stacks.


Linked Stacks FAQ's

Can I revert the content of a design linked stack to being a linked stack?
You can create a linked stack again by copying the version of the stack with the content you want to be linked and removing the unneeded design linked stack/s.
How can I see where a copied stack is used elsewhere on my site?
If you click to add a stack and go to My Stacks, you can see recently copied stacks.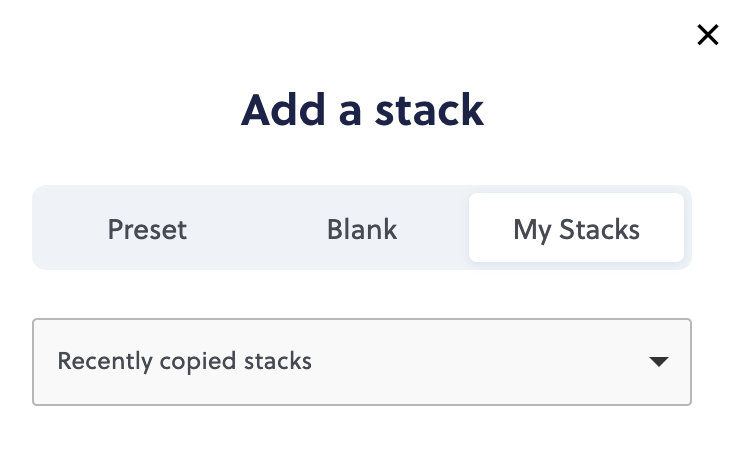 Mouseover a copied stack thumbnail, then click the info button and you can see a list of pages where a copied stack exists.



Can I use a linked stack as a footer?
You are best to use the sitewide footer feature for this that automatically adds the last stack on your page as a footer to every page on your site and the content and design become linked.
View sitewide footer help guide