A blog slider allows you to display multiple blog posts in a sliding window on a website page. Up to 12 blog posts can be displayed, you can have your 12 most recent blog posts showing or specific posts through the use of a tag. Each article has a read more option which will redirect a visitor to the relevant blog post. Below is an example image, the initial display shows three blog posts with arrows allowing a visitor to your website to cycle through the list of posts included in the blog slider.
The blog slider is fully customisable and you can choose what you want to hide and show, you can also adjust the fonts and other design concepts to match your website.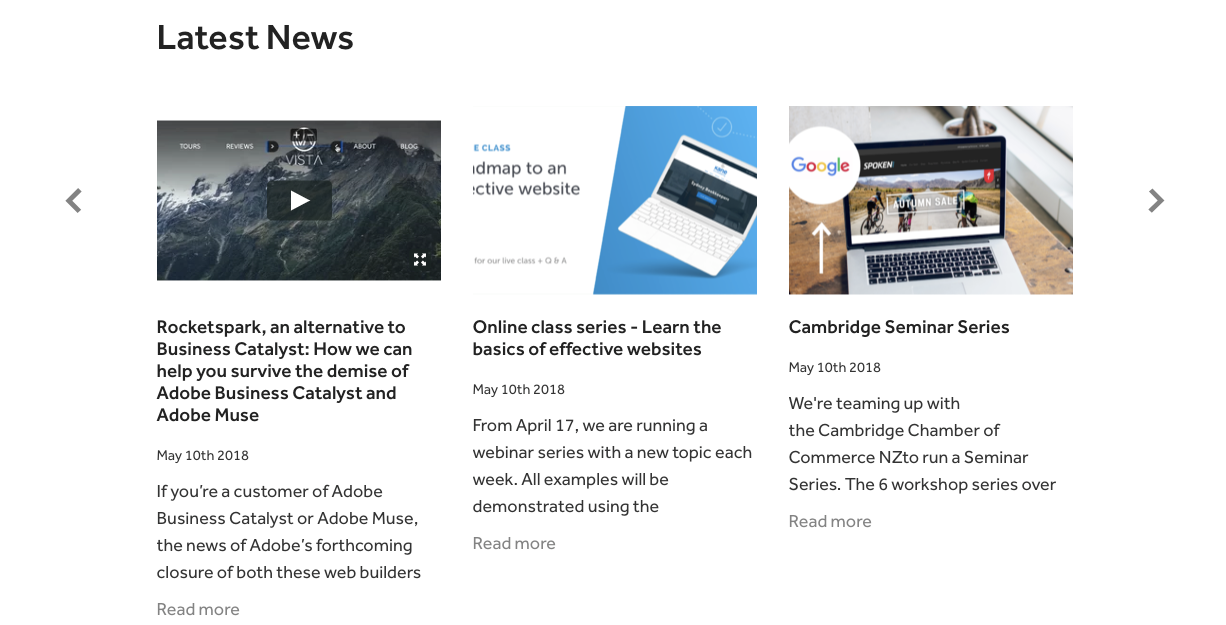 How to add a blog slider to a page
In order to add a blog slider to your website, you must have active blog posts. To learn how to add a blog post to your website check out our guide here.
Log in to your Rocketspark dashboard. If you are unsure of how to do this then follow our login guide here.
Click the Editor button to bring you to the website editing controls.

Click the Add Stack button above or below the stack where you wish to add it.
Scroll down in the side panel to Blog Slider and select that stack.

This will add in a blog slider with the most recent posts appearing first.

How to change blog slider styling
Hover over the blog slider you are wanting to change the styling of and click on the colour wheel on the right-hand side.

A slide-out menu will open on the left-hand side in which you can change the stacks background, the fonts, what appears in the slider, and the spacing between the blog slider and other elements.

To change the font family and size, click on the Slider Fonts drop-down and change the font and size to your desired specification. You will see the changes being made live to your blog slider.
To change what content you want to appear on the blog slider click on the Slider Content drop-down menu.

From here you can select and deselect what you want to appear on the blog slider. You can also change the alignment of the text and what posts appear by tag.
To only have some posts showing in your blog slider, assign a specific tag to each blog post. Check out our guide here on how to add blog tags. You can then select your desired tag from the drop-down menu you want to display.