You may have a few questions about Scheduled Ordering, here you will find our most frequently asked questions - if you have any other questions that are not outlined below feel free to contact us. 
Related help guides:
How can I set up options that customers can choose from?
Rocketspark has a variants feature that enables you to set up to three types of variants per product.   For example, you might create an omelette and want customers to choose the type of fillings they can choose.
Can I change the way people select how many items they want to buy?
Some merchants have products that might have high quantities or an individual item and you'll want to be able to let your customer enter a specific quantity and the standard dropdown quantities are not suitable.  
See these guides for:
Can I set a minimum order value? We don't want orders that are too small.
We don't have a minimum order value feature.  Our friends at Elspeth initially just stated on the page "Minimum order of $16" as a workaround.  However, by using the minimum order for free delivery feature and setting their delivery cost to be reasonably high most people go for the free shipping and those that do pay for delivery generally order at a level that can still make sense to pay the delivery fee for.  Elspeth no longer states a minimum order amount.  
With eCommerce, there can be a high rate of dropout at the checkout if the delivery options are too complicated.  
Is there a way to cap the number of orders that can be placed within a certain timeframe so we don't get overrun with orders at peak times?
Yes, you can now limit the number of orders you allow per time slot (for every 30 minutes). 
For more information please see our help guide on How to limit the number of orders per time slot.


Is there a way to cap the amount an individual can purchase? 
We don't have an order cap but in the product title and description, you could state that a maximum of X items can be purchased per customer.  If you did see someone go crazy with their ordering you could contact them to discuss options.  
I want to sell add-on products. Any tips on how to make this really clear through the buying process? 
One way to do the add-on products for a specific date would be to set up the date-specific versions as variants, Enabling Product Variants - Editing variants, or as separate products and use the related products feature: About adding Related Products.  
How do we restrict orders to the geographic area that we will deliver to?
The way to restrict people is to have a sub-region for the areas you deliver to which the customer will be required to select at checkout.  See How do I add shipping rate Sub Regions
How do I get people to confirm T's and C's?  
T's and C's are something you set up in your shop settings and the opt-in to terms is automatically added but you can choose whether to make them a required selection.  Due to the nature of food allergies, we'd recommend you have the terms enabled and have clear terms and conditions.  
Our sample terms were created by commercial lawyers in NZ and UK and are a great starting point for you to cover the basics.  
Editing your shop's terms and conditions
How do I invite people to opt-in to receive marketing emails
We have a really nice integration with Mailchimp eCommerce which provides the opt-in at checkout plus abandoned cart messages and even automated product recommendations.  It's a sophisticated solution but to start with just get the opt-in set up like that is very simple: How to connect your Rocketspark store with Mailchimp Ecommerce?
Learn more:
What if my store is temporarily closed on a certain day?
Using the weekly schedule, untick the days that online ordering will be unavailable.  However, as this is only a 7-day roster, you will need to do it after the last instance of that day.  For example, if you are closed on Monday the 27th, you will need to untick Monday in your schedule after the preceding Monday otherwise you will also be closed for orders that day.
There is also no need to manually turn off your shop outside of trading hours. With Scheduled ordering, they will only be able to select the days and/or times you have set up. - Having your shop online all the time allows customers to continue ordering for future dates in the next week you have set up and allowed. 
How can I temporarily disable online ordering?
To disable online ordering you can put your store into Catalogue-only mode this will disable people from being able to add items to their cart and checkout to buy.  This could be useful if your store is temporarily closed or you are unable to offer pickup and delivery.
Can I offer a different pickup schedule than the delivery schedule?
In the current version of Scheduled Ordering, it is the same weekly schedule for both pickups and deliveries.  We are actively listening for feedback for future developments though, so if your pickup and delivery schedule are significantly different, please let us know.

I only deliver out of town once a week, can I offer different delivery schedules for different delivery areas?
Currently, all delivery areas share the same delivery schedule.  However, the best option would be to set the delivery schedule based on the most regular deliveries.  Then using the delivery message feature in the checkout, display a notice if they choose a delivery that says:
"We only deliver to X, Y, and Z out-of-town locations 1 day a week on a Thursday.  Orders placed for these locations will be delivered on the next available Thursday."
Is it possible to delete the region from the checkout? I only deliver to my local town so the region is not relevant.
It's not possible to delete the region from the checkout but you can relabel it to say something else in the store preferences area if you want to use that field to capture some other customer information.

Can I specify the exact minimum wait times?
Yes, if your products take days, hours, or minutes to prepare, you can have an exact wait time set up in your Store Preferences -> Scheduled Ordering section. 
Can we sell vouchers in our store for pickup and delivery?
Yes.  Create a single product in the shop as a voucher and set up a variant for the voucher amount so that people can choose different amounts of the voucher to make up the total value and a variant for delivery type (email, post, courier track, and trace).  
You might also add a third variant to ask people if they want to combine the totals into a single voucher or leave them as individual voucher amounts so that when you create the coupon code in the shop you know whether to create it as one code or multiple codes.
It's not possible to treat vouchers differently to food orders, so buyers can choose a pickup or delivery time but you could add a message in the checkout to say that if buying a voucher, delivery will be by courier in 2-3 days delivery time.
Our coupon code feature can be used to create unique voucher codes for gift vouchers and for special offers.  See our guide for creating coupons.
Can I show a cart icon in a bar at the top of my page?
Yes, this is called the contact bar and can be activated once your store is live.  Make sure the contact bar is on and shop search icons ticked.
How can I change the order of products in the store?
The store defaults to ordering the items in alphabetical order but if you want certain items to show first you can choose to feature a product by clicking on the Star in your shop products area in editor mode. This will allow your starred product to show first.
Can I change the order of my products in my shop?
Can I get someone to design my site for me?
Yes! We have a great network of design partners around the world who can design the website for you and once completed they hand you the keys to your site so that you can do the ongoing updates very easily such as when you have menu changes. 
Learn more about getting your website designed for you.
Is there a way to add items to the cart with a single click?
Most food service providers are opting to use the list view in their shop rather than the grid view.  The list view provides an add-to-cart button.  Note: if a selection of a variant is required such as 'Gluten Free' the customer will still be taken to the product page to make their selection.
See how to change to list view for your shop.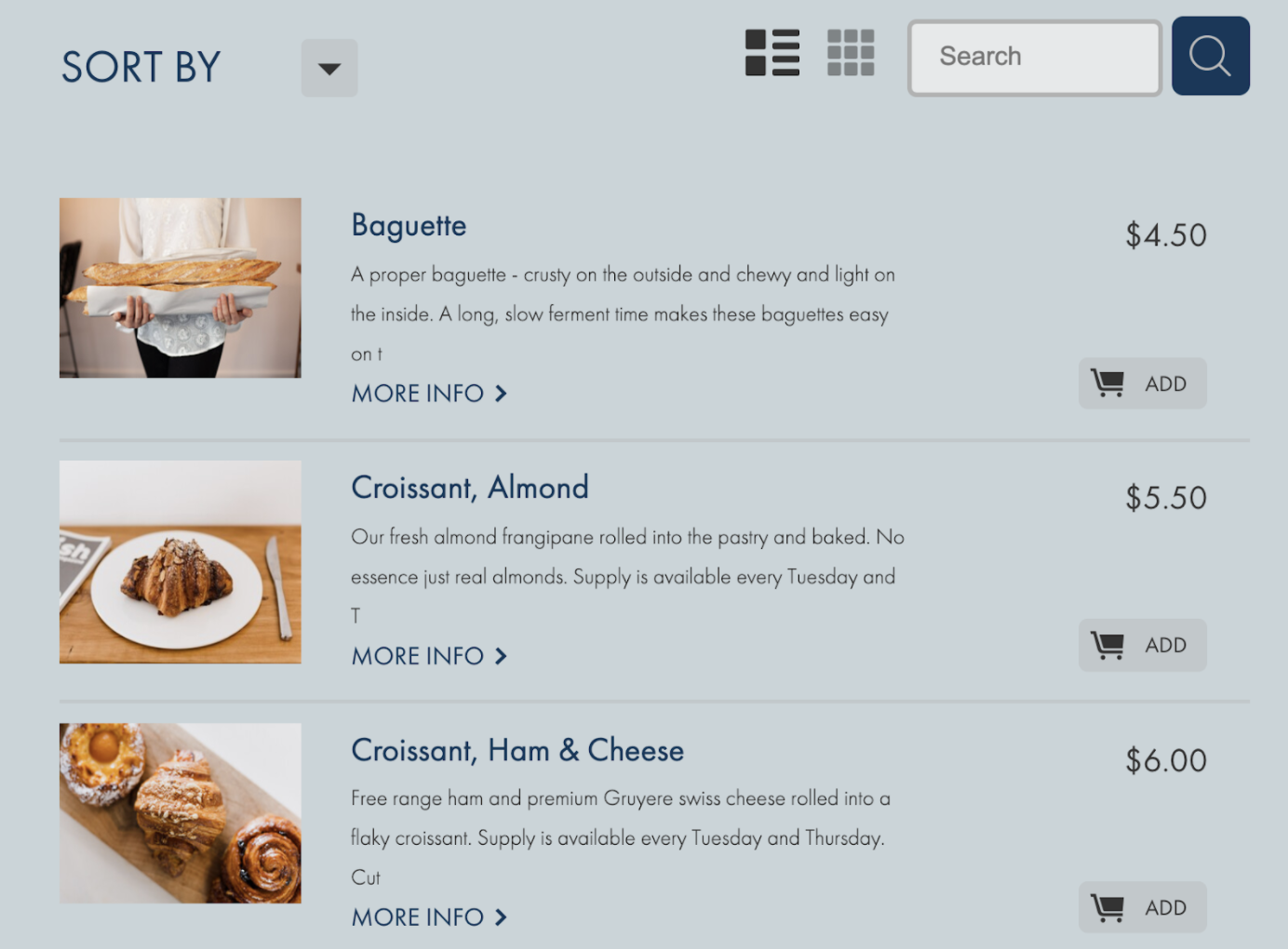 We also have a great feature where you can create a nice grid gallery and create add to cart links for each image.  You can even get clever and add quantities and variants.
I'm a baker.  How am I best to collate my orders into batches to bake?
You can export your orders from your website for the current period and use a spreadsheet to make an order list of the products sold.  A pivot table is a good spreadsheet tool to consolidate your orders.  
Can I sell on subscription with Rocketspark?  And does it work with Scheduled ordering?
Yes! Rocketspark has a feature where you can sell on a subscription.  Subscriptions are for recurring orders so the orders will renew at the frequency you make available for the customer e.g. weekly, fortnightly.  Their card will then be renewed.

Learn more about selling on subscription with Rocketspark
Scheduled ordering works with subscriptions.  So you could set deliveries as only available on a Thursday for example.  Or Thursdays and Tuesdays.  You can also set a minimum wait time of X days so people can't place their first order within that timeframe if you need some advance warning to be able to prepare their items.
Editing your weekly delivery schedule won't affect existing subscribers, just the scheduling of a new subscriber's first delivery.
Date and time work for the first order if you have that enabled but for subsequent renewals, it will be day only (not date and time).

If Scheduled Ordering is enabled on the website, the website is set to "date only" mode in-store preferences and the customer's subscription is either weekly or fortnightly (2-weekly), then your renewal dates will instead be equal to your store's delivery/pickup day minus the specified minimum wait time. Renewals always happen in the early hours of the morning, see this help guide for more info on how this works: How do I make my subscription orders all renew at the same time?

You can also manually change the subscription renewal dates for recurring subscriptions. For example, you could have Saturday and Wednesday products and then set the future orders to renew a certain amount of days before the delivery date. e.g. see how these guys do it: https://www.sixtoedfoxorganics.co.nz/shop/product/256528/Farm-Value-Box-Large/


How am I best to capture dietary requirements?
There are a few approaches you can take to ensure dietary requirements are catered to: