Google My Business (previously Google Places for Business) puts your business on the map—literally. In just five minutes, you can make sure your potential customers can quickly and easily see your business's location on a map, as well as your store hours, phone number and other handy information, making it an essential tool for attracting local customers. Here is how to set up a Google My Business listing: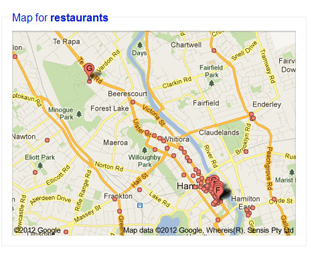 Visit the Google My Business registration page and click "Get on Google" in the top right.


Sign into your business's Google account. If you don't already have one, click "Create an account now" and follow the prompts.


Once signed in, you'll be taken to a page with a search field (and a section of the world map). Type the name of your business into the search field and hit "enter".


You might find that Google suggests a few businesses already in its database. If one of those suggested businesses is yours, click on it (this will take you straight to the verification process—skip to step 7). If none of the suggested businesses is yours, click the option, "No, these are not my businesses" (or, if no suggestions are offered, click "I've correctly entered the business and address").


From here you're given a form to fill out.


Complete your business's street address, phone number etc.

The "Category" field is where you indicate the industry you're in. Simply type in your industry and select the most relevant match from its suggestions.

If your business offers delivery, does call-outs or otherwise operates at customers' own locations, tick the "I deliver goods and services to my customers at their location" box and complete the other fields that subsequently appear.


Once the form is complete, click "submit".


You now need to go through the verification process, whereby Google contacts you to check that you're a legitimate business and that you're authorised to claim its listing. You'll be given a "Verify by postcard" and maybe also a "Verify by phone" option. Click the one that you prefer or is available to you. The advantage of the phone method is the fact that it's more or less instantaneous, but it isn't always given as an option. Google will give you a number to enter and this verifies that you are a legitimate business and that specific address.


Once you receive the verification postcard or phone call from Google, enter the PIN number they give you and click "Go".


A verification notification will pop up. Click "OK".


Your business is now listed, but we're not quite done just yet. Now it's time to fill out some extra information in addition to the details you initially provided (step 5). At this point you can add your business's website, email address, photos etc. The more complete your listing, the better for your business. You can add images, logos and get client feedback as well.
NOTE: Google+ Local is a souped-up version of Google Places for Business. Google+ Local is simply your Places listing integrated with your business's Google+ page. This will happen automatically within a few hours if you've already got a Google+ page under the same email address as your Pages listing. But if you don't have a Google+ page yet, it's well worth considering; Google+ Local retains all the benefits of Places but also harnesses the power of social media (reviews, blogs, and connection with your local customers). At the bare minimum, you should list your business on Google Places, but if you can spare a little extra time, Google+ Local is probably the way to go. (Simply create a Places listing, then set up a Google+ page [requires a Google+ account first] using the same email address and the two will merge within a few hours.)