Scheduled Ordering is designed to meet the needs of a range of businesses looking to sell online. With Scheduled Ordering enabled in your online shop, you can specify set times and days to take orders from your customers. 
You need to set up your online store to utilise Scheduled Ordering. Please use this quick start help guide as a checklist to get ready. 
Before you make your setting choices from the guide below we recommend that you check out industry-specific examples to see how scheduled ordering can be adapted to suit your requirements.  We have specific examples for restaurants, cafes, bakeries, fast food takeaway, butchers, and florists. 
During user testing we encountered the same FAQ's from our live testers so if you still have questions after reading the help guide below, check out our scheduled ordering FAQ's. 
How to get access to Scheduled Ordering
The customer experience at checkout
The shop owner's view of orders
How to get access to Scheduled Ordering
If you don't already have a Rocketspark trial or paid account, start a 30 day free trial.  If you already have a free trial or paid account, complete the following steps.
Set up Scheduled Ordering
You can follow the steps below to set up Scheduled Ordering:
1. Log into your Rocketspark dashboard, click on Manage Store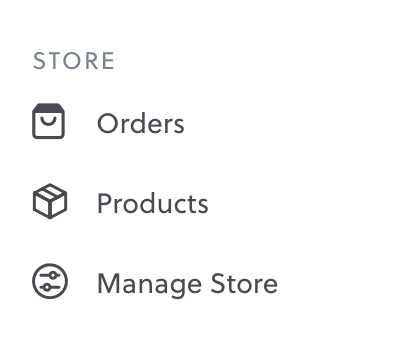 2. Navigate to Store Preferences down the bottom of the menu on the left-hand side. 
3. Go to the Scheduled Ordering section and click Enable scheduled ordering. 

4. Select how you want your customer to get their order. You can have Pickup or Delivery only, or offer both methods at the same time. 
5. Select the minimum wait time for Pickup and/or Delivery to allow yourself enough time to prepare for the order. For example, if you set the minimum wait time to be 1 hour, your customer won't be able to see any available slots before 8pm if they order at 7pm. 
Our system will automatically adjust the available slots for people as they progress at checkout, which means if they hold too long in finalising an order, their selected time slot will become unavailable and they will have available slots pushed out to ensure you have enough time to prepare the order.
In some scenarios, you may want to use the minimum wait time to set up your order cut-off time. For example, if you only offer delivery on the same date when customers send orders through before noon and your store closes at 3 pm, you'll need to have a minimum 3-hour wait time.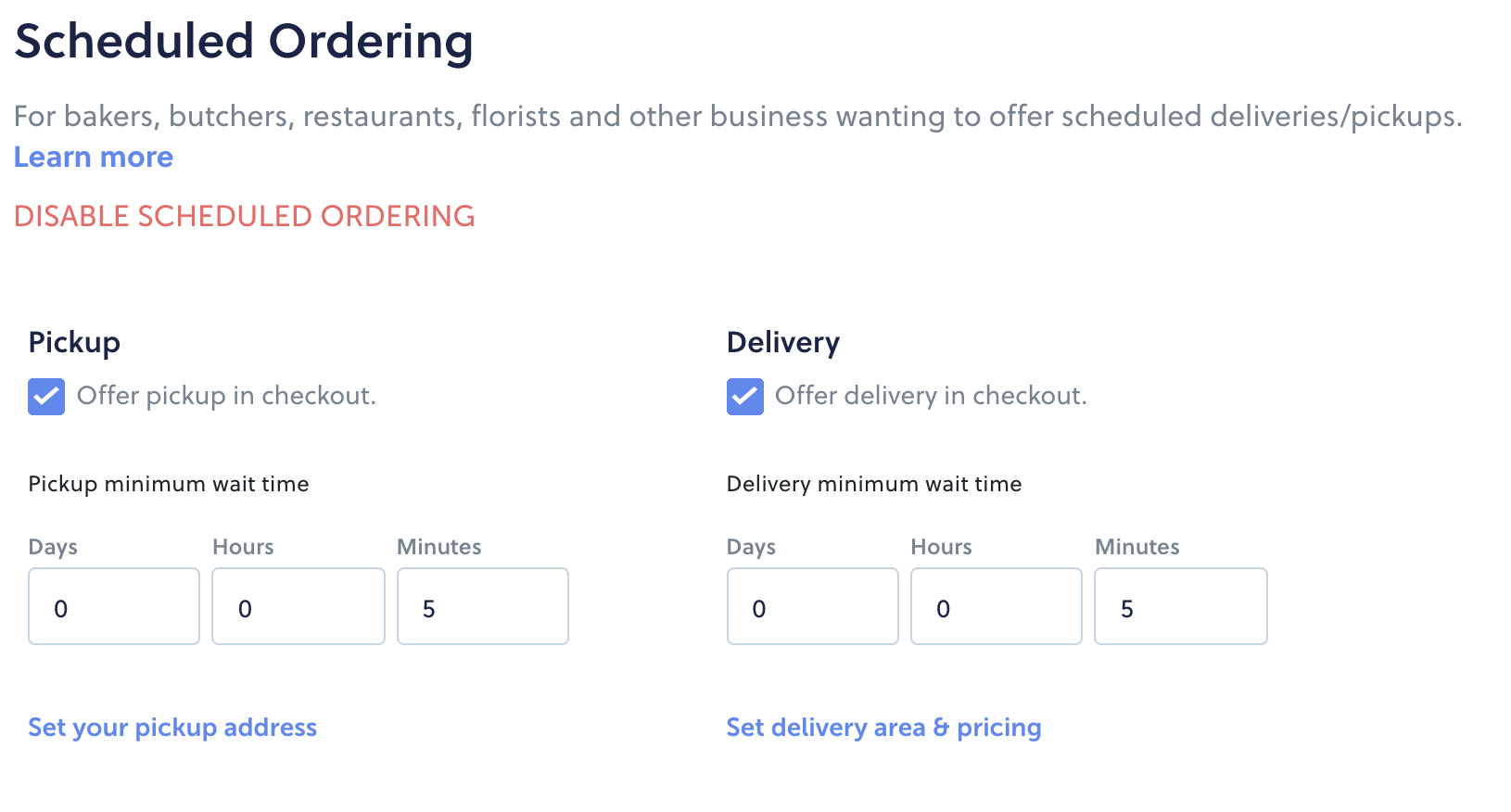 6. The next step is to set up your weekly ordering schedule. Please note these are the days/hours that customers will be able to order from you which may differ from your opening hours if your service isn't available for the full length of your opening hours. 
You can specify the date only or the date & time. See how scheduled ordering can be adapted for different industries if you are not sure what option to choose.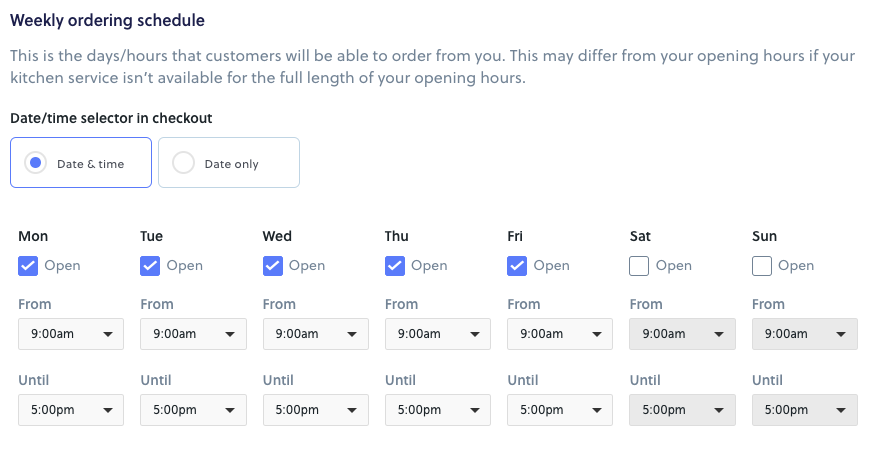 7. Edit the delivery/pickup checkout messages which will appear on the checkout, payment complete page and on the order confirmation email that's sent to your customer (to see an example of this order confirmation email, check out this help guide: What do the order confirmation emails look like?).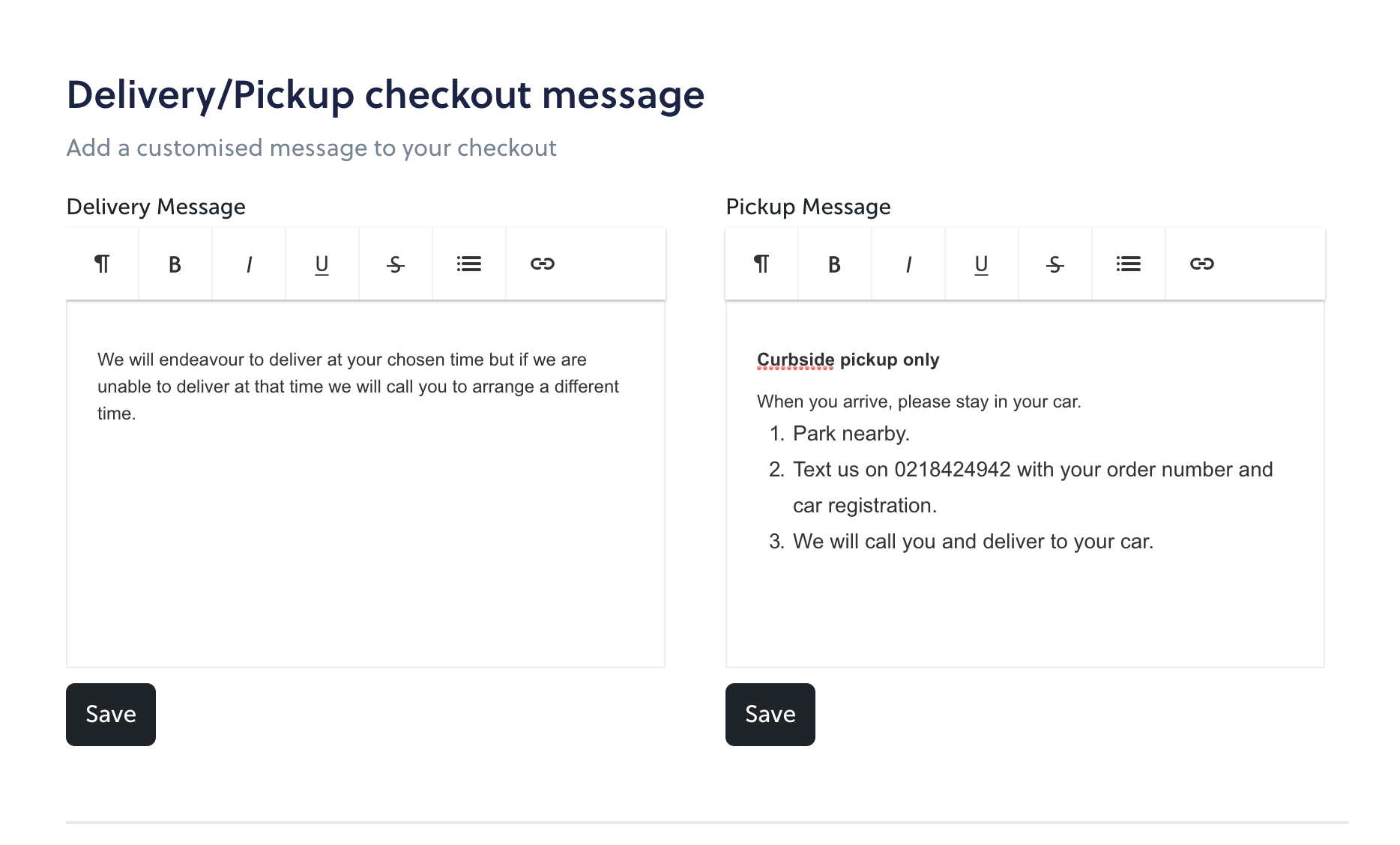 8. At the very top of your Store Preferences, you can also add multiple alternative emails if you have specific staff managing orders for you who use a different email address from your website admin email address.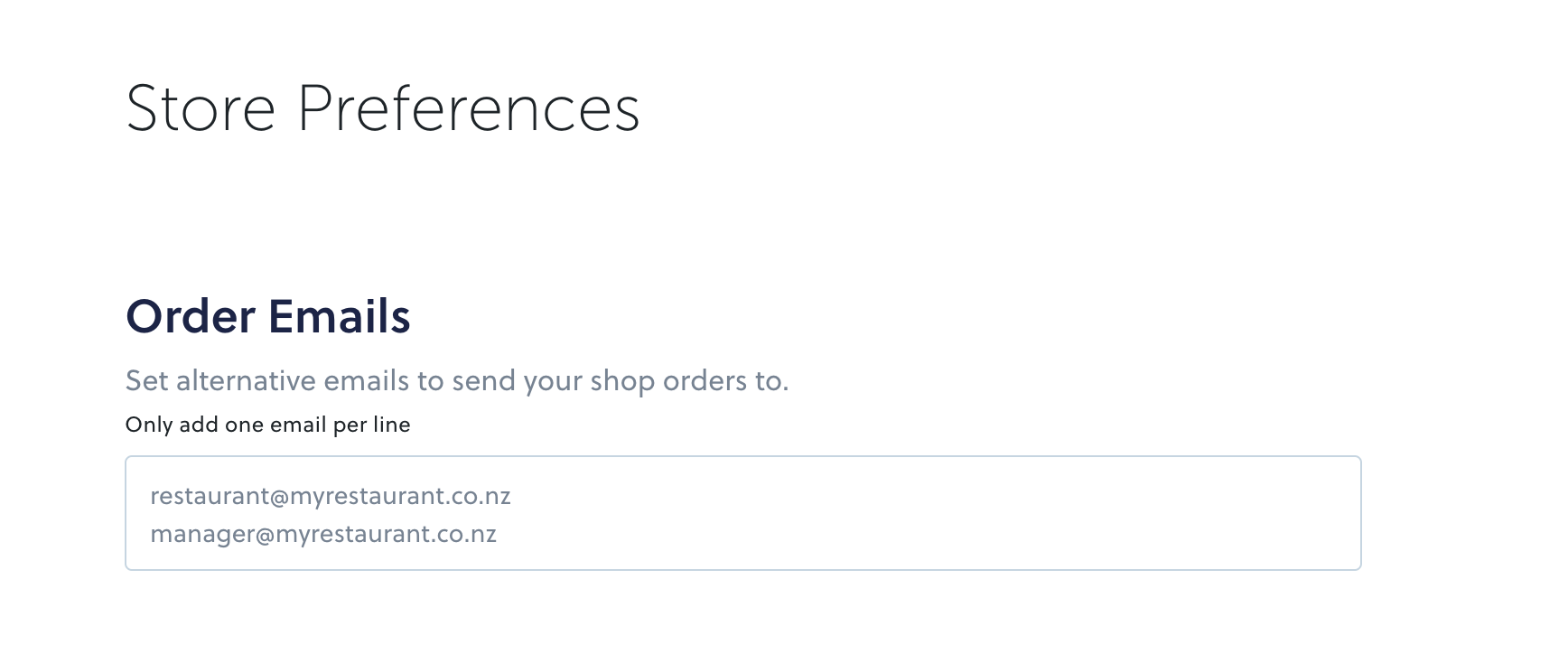 If you have different spots for order processing and orders from different areas that need to go to different email addresses, you can create an email filter or a couple of different filters to direct order notifications that include certain words or phrases (e.g., name of the region/city) to a specific email address. Please refer to your email provider's instructions for how to add an email filter. If your email is with Rocketspark, check out this help guide.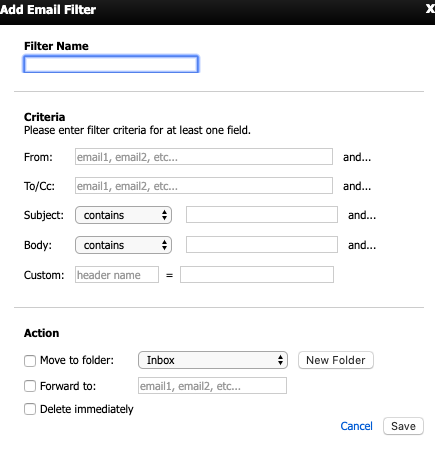 The customer experience at checkout
When your customer goes to check out, they will need to enter their email address and select the delivery method. They will also need to select the date and the time slot if you have selected date & time in your Store Preference weekly ordering schedule where they will see the delivery or pickup message you set up in your Store Preference.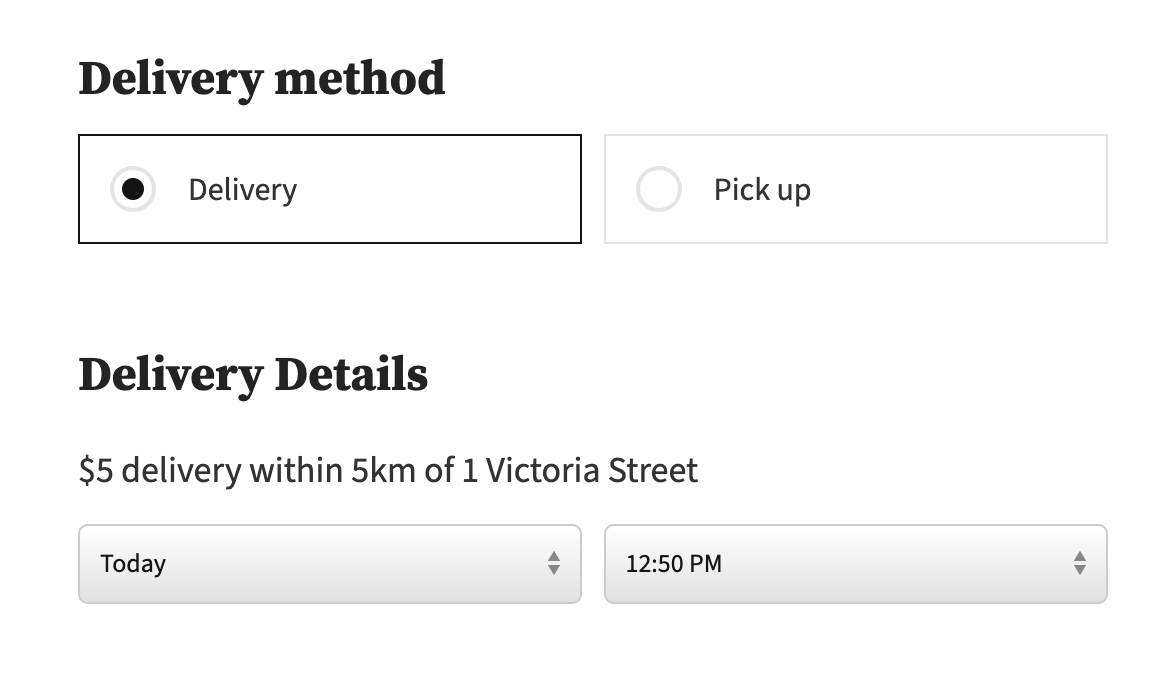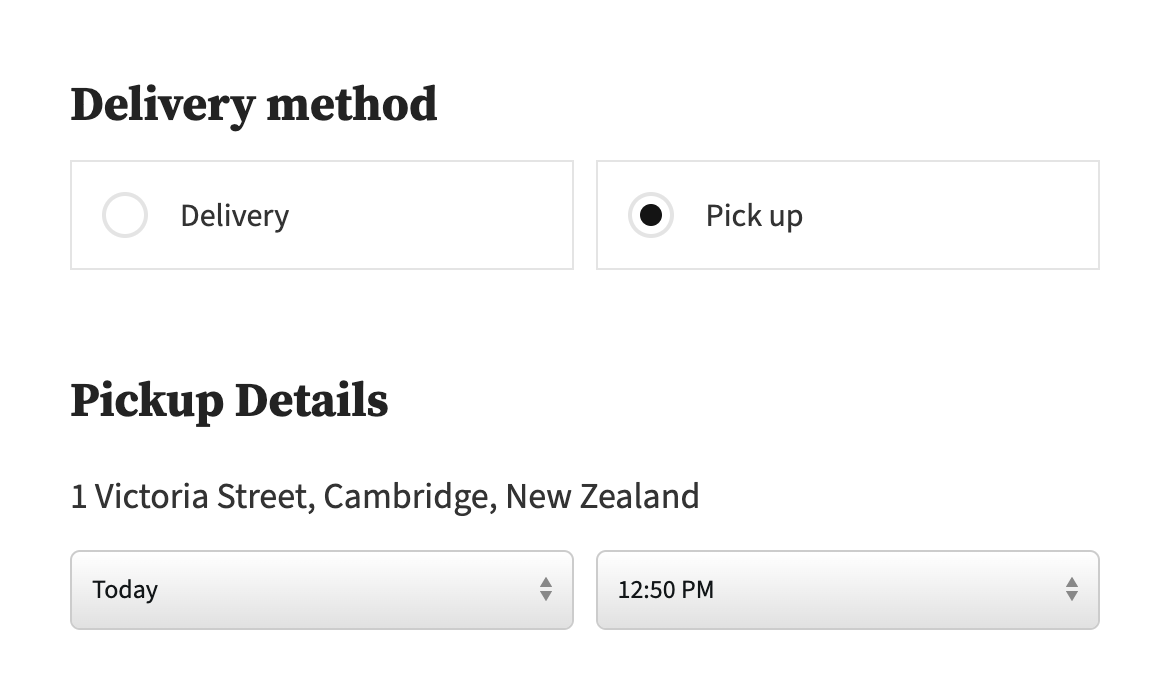 If you have multiple locations for delivery and/or pickup, your customer will need to select their delivery area or pickup location from the drop-down selector first before getting to select their preferable delivery or pickup date and time. If you select a date only in your Store Preference weekly ordering schedule, there will be no time slot available at checkout.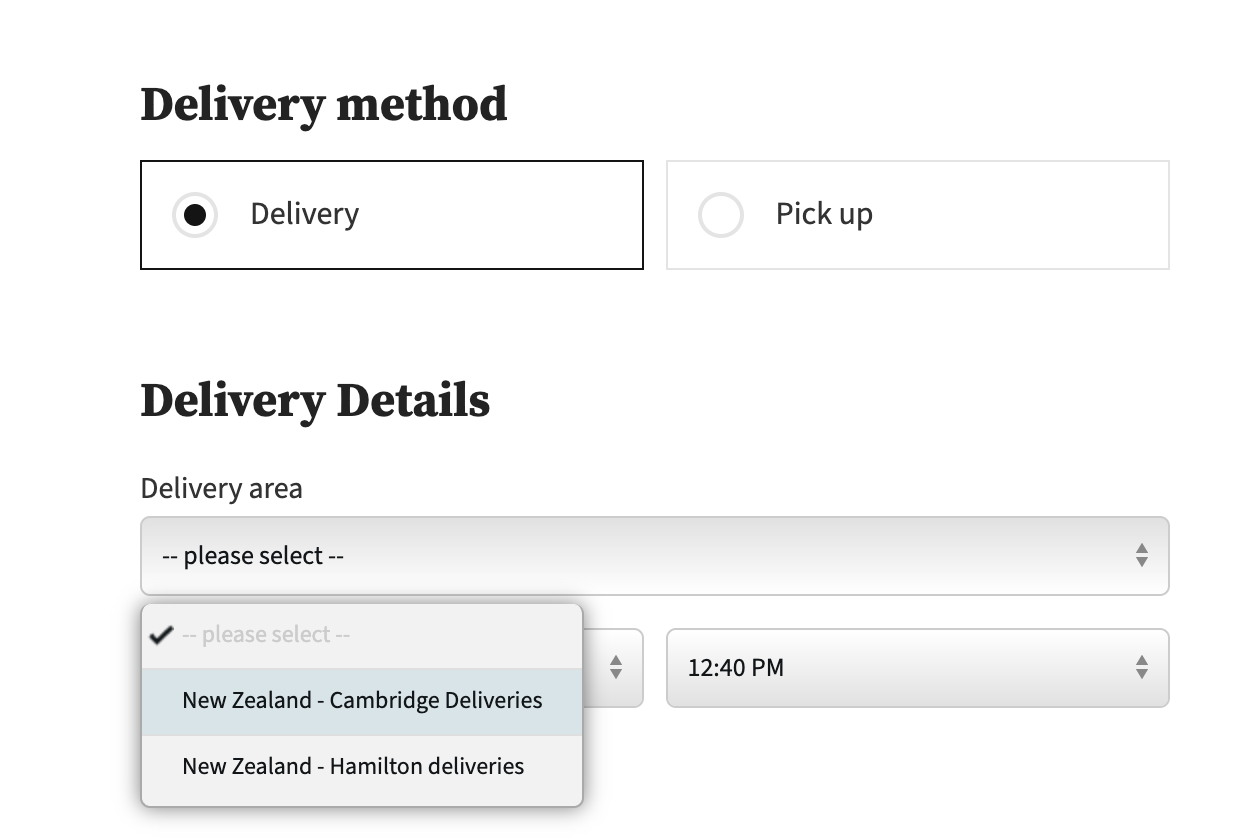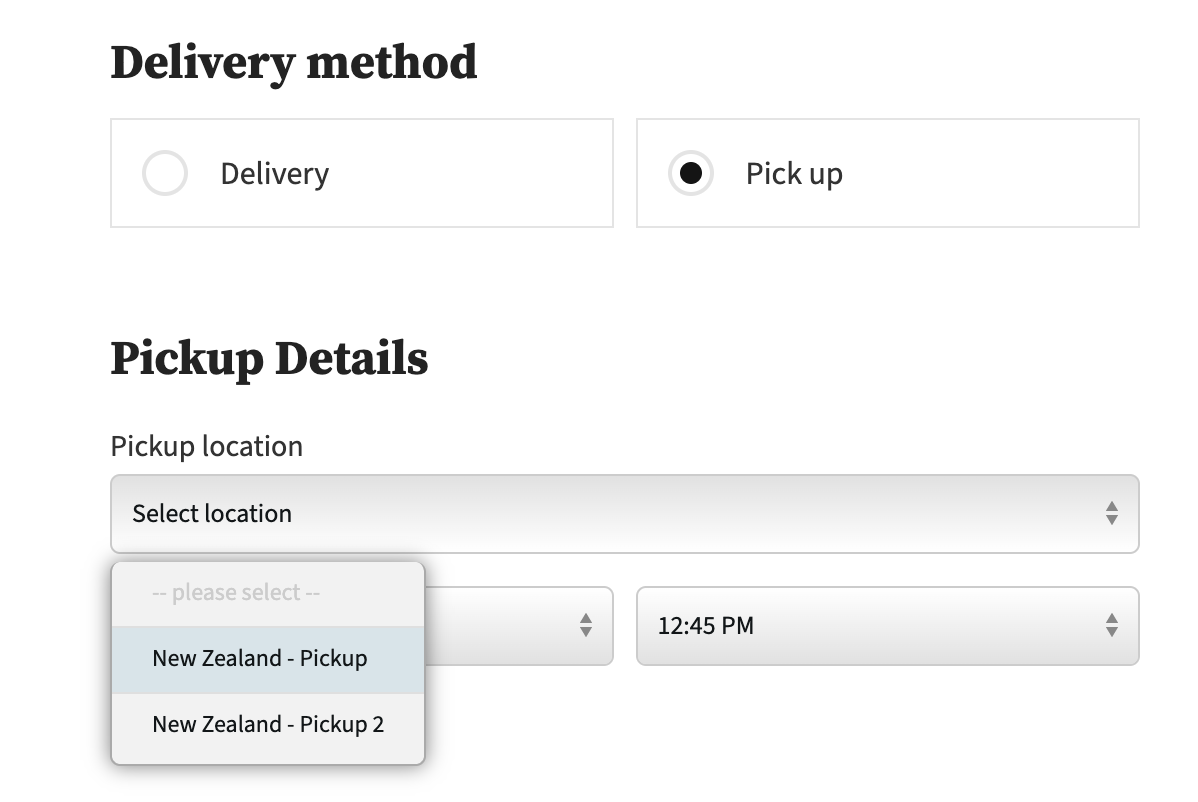 Your customer can then fill in their personal information including their name, address, phone number, and any additional notes they want to add. You can edit some of the checkout field labels in your Store Preferences if they are irrelevant to your customers i.e, Unit/Level, ZIP/Post Code, State/Region, Additional delivery notes (optional).
Your customer can then review the order and proceed to payment.
The shop owner's view of orders
You can check and manage your orders in the Orders section in your Store settings. 
View our help guide about the different ways you can manage orders during service
Note: Before Scheduled Ordering is enabled, the date shown on your Orders screen is the date the order is placed. When Scheduled Ordering is enabled, you will see a blue clock on your Orders screen after the date and time slot selected for the order delivery/pickup by which you'll need to get the order ready to deliver. 

You can customise and send shipping/pickup messages to your customer's email address manually once the order is on its way/is ready to pick up.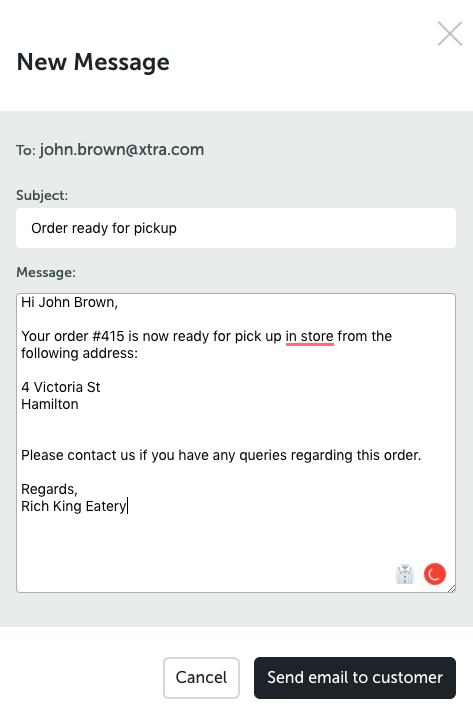 On your Orders screen, you can click on the pencil icon to open the order for more details, change your order status, and print your order by clicking the printing machine icon. 
Relevant help guides:
Check out the following help guides (coming soon) to see how to best adapt Scheduled Ordering to your business scenario:
We're keen to hear your feedback or any ideas about how we can better help you operate your business. Please also don't hesitate to contact us should you need any assistance in setting it up.