Rocketspark allows you to easily link your Instagram account with your website so your visitors can search and view your photos via your profile.
+ For steps on how to reconnect your Instagram account, see here.
How to link your Instagram with your Rocketspark website
NOTE: You'll need an Instagram account if you don't already have one. You can create an Instagram account at https://instagram.com
Log into your Rocketspark dashboard using your email address and password.

Click on the 'Social media' link on the left-hand menu





Next to Instagram click the add button.



Sign in to your Instagram account and then click Authorize



Make sure that the slider is turned to on if you want the social icon to appear on your page


This can be linked on your page by using either the social media buttons which can be added in a block on the page or in the social media icons which can be placed in the header, side, page links or footer of the page. Just click on the 'Social Media Design Options' button below for more options.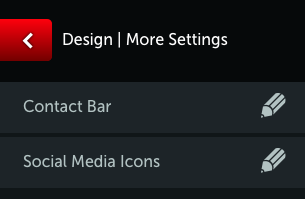 If you want to learn more about why you should use social media to market your business please check out our guide here.
If you're already logged in on an Instagram account on your browser Rocketspark will automatically connect to that one when linking Instagram up with your website. Make sure to log out of any Instagram accounts on your browser before connecting everything up.


Reconnecting your Instagram account with Rocketspark
NOTE: If you connected your Rocketspark website with Instagram before 28 May 2020, you'll need to follow these reconnection steps in order for your Instagram feed to continue to update live on your website.
In your Social Media Settings, click on your Instagram name/handle. A pop-up will appear.
Click the Disconnect button to disconnect Instagram (You must do this in order to reconnect it, have your Instagram log-in details handy).
Now reconnect your Instagram with Rocketspark by following the steps above here.