This guide explores the following topics related to linking to Facebook.
Adding a Facebook feed to your site

Adding Facebook buttons

Add a link to Facebook on your site.
Firstly you need to create a Facebook account with your website so your visitors can visit your Facebook page and see your new posts.

First, you need a Facebook Page. This is different from your personal Facebook profile. To create a Facebook Page, click here. Select the type of business you have, then proceed with creating your own Facebook Page.

When you have created your Facebook Page and have filled it in with information and images, you need to get your Facebook URL. You can get this by going to your timeline page - the page that greets your visitors when they arrive at your page and get the URL from the address bar.

It will look like either www.facebook.com/*yourbusiness* or www.facebook.com/page/*your business*/*numbers*/.
Eg: www.facebook.com/rocketspark or www.facebook.com/pages/rocketspark/104203677582.
Log into your Rocketspark Dashboard using your email address and password.
Click on the 'Social media' link on the left-hand menu

Next to 'Facebook' click the 'add' button.


Paste the URL gathered earlier into the area provided, then click the 'Connect with Facebook' button.
Adding a Facebook feed to your page
**Please note, there is enhanced security for the 'Safari' browser which means this Facebook widget currently does not load when you use Safari. To avoid any disruption, we would recommend creating call-to-action links to Facebook posts and adding any media via a Grid Galley or Carousel Slider***
You can display your Facebook posts on your page by adding them as a block on your webpage. Go to the editor

add a block, and click on either Facebook Feed or Social Buttons.

You can now have your Facebook Feed on your website. This automatically updates, so when you post on Facebook, it instantly appears on your website too.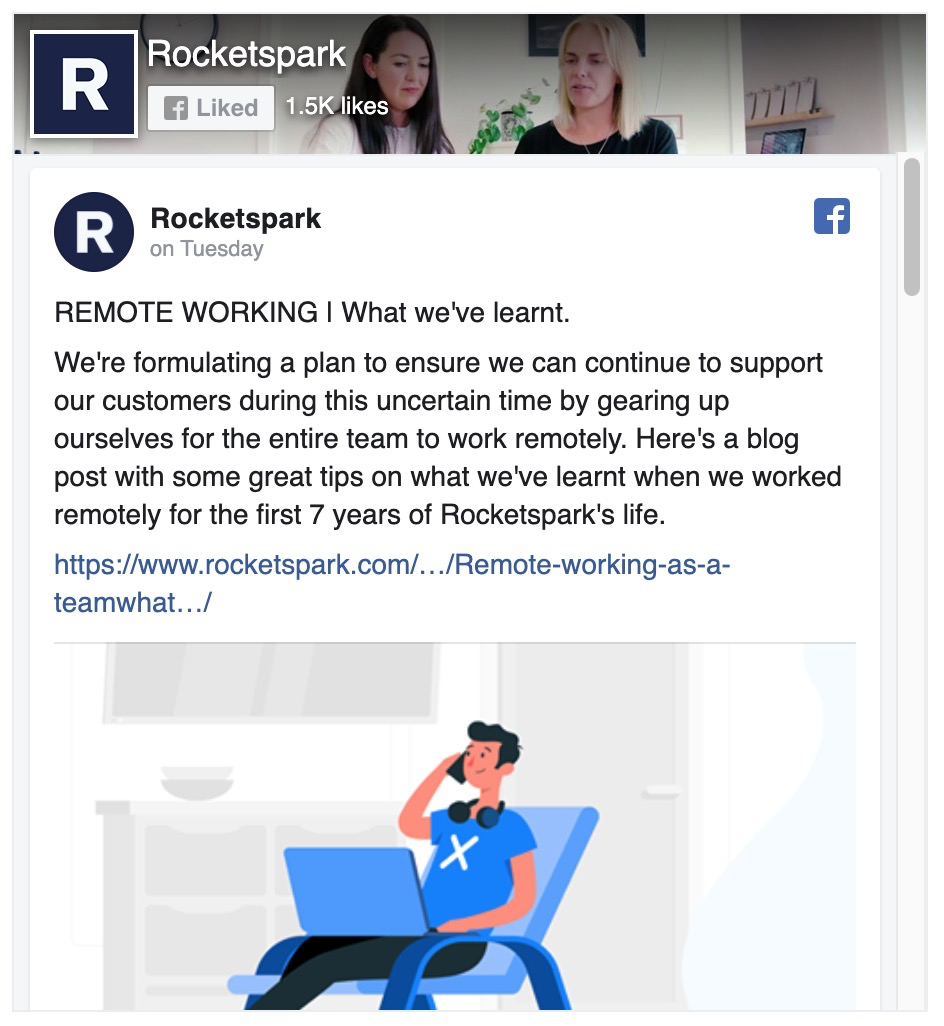 Add Facebook button to your page
Follow the steps above for adding the Facebook feed.
From the Add Block popup choose "Social buttons"


Add Facebook icon to your website
Once connected you can now easily add a Facebook icon/links to your site.
This provides an automatic link on your page to your Facebook page. Do this by using either the social media icons which can be placed in the header, side, page links, or footer of the page.  Just click on the 'Social Media Design Options' button below for more options.
 From your Dashboard -> Social Media settings click the Social media design options or alternatively from editing your website click the Change Design button.


From here choose the Social Media Icon settings and choose where you would like your icons to display and other design settings.



If you want to learn more about why you should use social media to market your business please check out our guide here.
 
Having Issues?  
Why is my Facebook feed on my website blank? If your Facebook feed on your website is blank please note that your feed will only display posts from the past 6 weeks.

Why can't I link Facebook with my website?