Meta tags (or simply tags) are pieces of text that describe your page but aren't actually on the page itself—they're in the page's code. Tags are behind-the-scenes—largely hidden descriptions that help search engines figure out what your page is about. They also form the basis of what searchers will see when your website shows up in their search results.
Done well, these tags can significantly improve how many users find your website. And while adding tags is usually best left to the experts, our clever system makes it as easy as typing an email—no special skills required! You can find out more about
tags and other techniques for search engine optimisation here
.
Here's how to add tags to your Rocketspark website:
NOTE: To add tags, you need to be logged into your Rocketspark Dashboard.
Step one: go to the tags editor
Click on
Get Found (SEO)
, found on the menu located on the left side of the Dashboard window. It will take you to a new page, which is where you add tags for all your pages.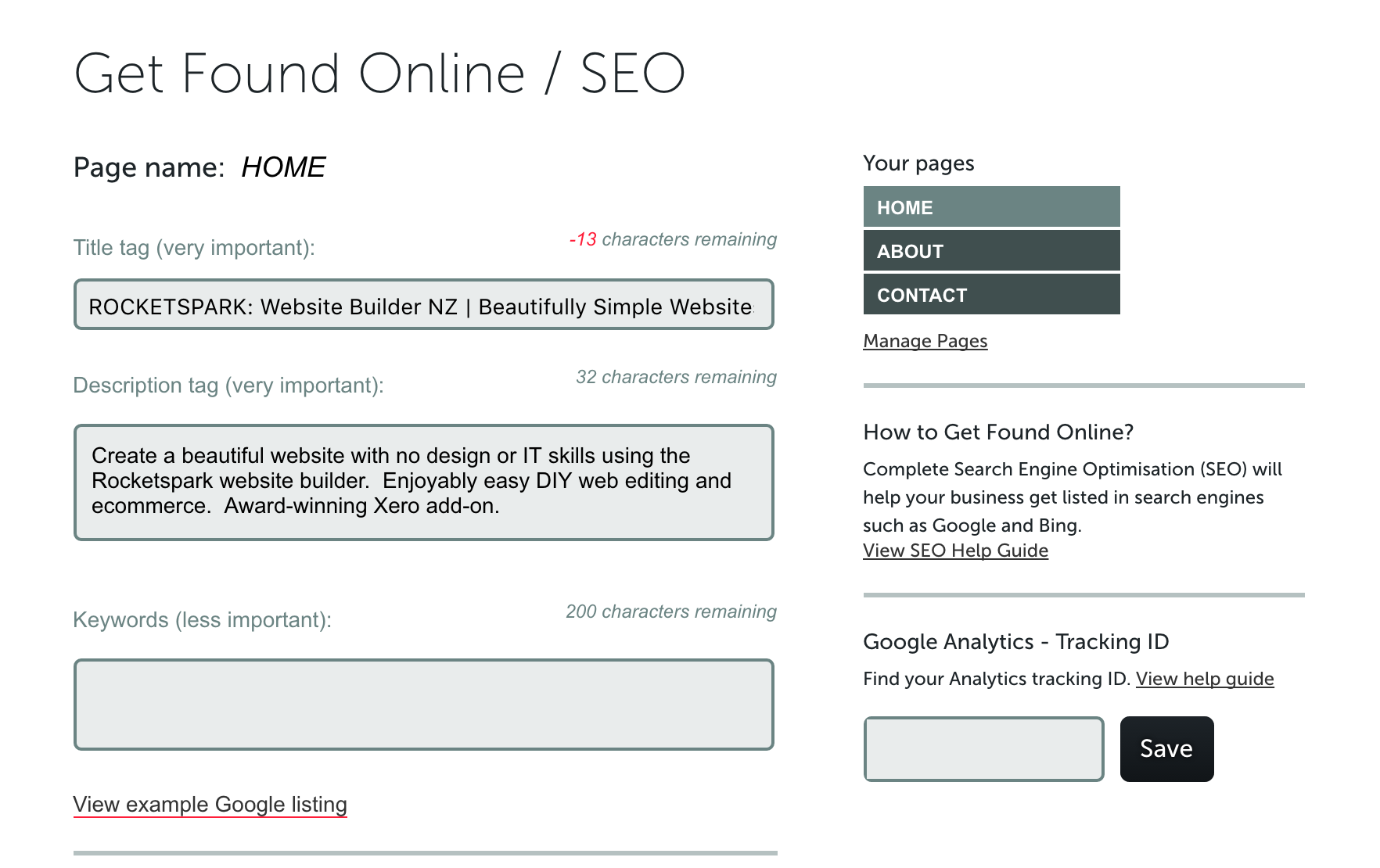 Step two: select the page
To select which page you want to add tags to, click the applicable page on the Your pages menu located on the right side of the Dashboard window. (Tags should be unique to each page. If you simply copy-and-paste the same tags for different pages, search engines like Google will possibly penalise you and your search rankings may take a hit.)

Step three: type in your tags
Type your tags into the following fields:

Title tag: This is (some of) the text that will appear in the title of your listing in the search results. It will also be the heading that appears at the top of the browser window for that page. Make sure this is rich in keywords.
Description tag: This is the text that will appear in the preview snippet of your listing in the search results (beneath the title). Make sure this is a good, enticing description—this is your chance to really "sell" your website to searchers. Make sure this is also rich in keywords.
Keywords: (Less important) These are the words or phrases your potential visitors are most likely to type into a search engine. Google no longer uses these as a ranking factor in search results. You can type in up to 10, separated by commas. Use Google's Keyword Planner to research your keywords (learn how here).
Company Name: This is the name of your company/website, which is added to all page titles and shown in search results. You can specify whether the company name is placed to the left or right of your page titles, or not included at all. We recommend adding your company name to the right of the title, and also keeping the company name reasonably short.
Want to know what your page will look like in Google's search results? Click the
View example Google listing
link (beneath the
Keywords
field) for an approximation.
Your page is now "tagged".
Learn other ways to improve your site's search engine rankings here.

Shop and blog meta tags