Use this help guide to learn how to access Flint, Rocketspark's SEO helper). We also created a FAQ section based on questions we've received so far. If you have another question, contact our team at support@rocketspark.com.
Where to access Flint?
Log into your Rocketspark Dashboard.


There are two ways to access the Flint helper:

2.1. In Manage Pages

, you'll see an

SEO

column. The

SEO

column will initially show a

pencil icon,

meaning that you haven't yet used Flint to help set up your SEO for that page. Once you start using Flint, a wheel will appear with traffic-light colours indicating how far along in your SEO set up for that page you are.




2.2. Go to the Editor mode by dragging the slider to Editor in the middle top of your screen. In Editor, hit the lightning bolt in the top right corner, you'll see the following window popping out from the left which is the starting point of Flint. From there, you can follow through the instructions and get SEO advice from Flint.



By default, if you access Flint from your dashboard homepage, clicking on the lightning bolt, it'll give you advice for your homepage. If you have other important pages you want specific keywords on, you'll need to go to that page first and hit the Flint bolt from there.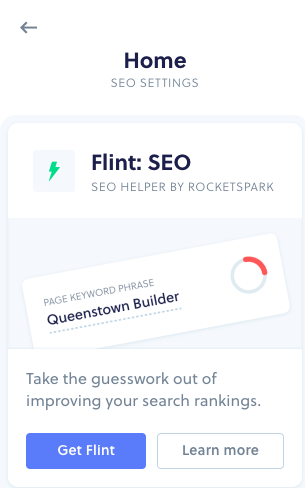 How to use Flint?
Watch the video to see how to use Flint in 2 minutes!
You'll be asked to select your industry, your target market, and if targeting your local market your primary service area, and your Company name. What to do if Flint isn't currently optimised for your industry?




You can then follow the process to select your keyword phrase, complete your title tag and description tag.



Once the above is done, you can then add the selected keyword on your page 3 times. The suggested text content will generate when you hit the flashing pencil icon.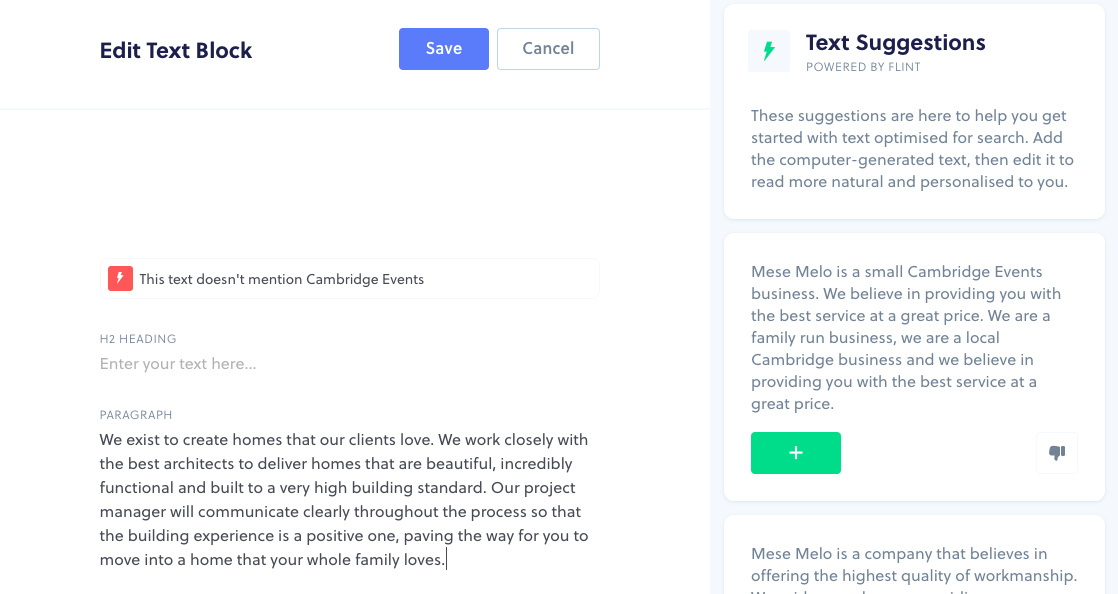 FAQ:
How can I get access to Flint?
All new trialists have access to Flint for now, but don't worry it won't be long and all Rocketspark customers will be able to use this industry-leading feature.


Where to find Flint in my Rocketspark dashboard?
There are two ways to access Flint. 1. From Manage Pages in your Rocketspark Dashboard. 2. Switch to the Editor mode to see a lightning bolt on the top right-hand corner of your site. Click the bolt to start using Flint and follow the instructions to get SEO advice for the particular page you are on.


Why is Flint not optimised for my industry?
As a computer brain, Flint is still learning and so hasn't yet perfected text content for your industry. If your business doesn't fall within one of the currently optimised industries, we'd suggest that while Flint is still learning, you use a keyword phrase you are more confident with from doing your own research. Once the keyword phrase is confirmed, you can still use Flint to assist with generating your meta tags and web page content.


What if I think the recommended keyword phrase is inaccurate?
Flint, as a computer is still learning and has only been trained on a limited number of industries so far including bookkeeper, builders, homeware, restaurant, accommodation, schools. If you are not designing a site for one of those industries, it's likely you will get inaccurate recommendations.


Will Flint make suggestions for the whole site or just a particular page?
Flint will suggest different keyword phrases, meta tags and descriptions for the page you are on. When you complete the process for one page, it's recommended to switch to another menu page on your site and start using Flint again by clicking on the lightning bolt or in Manage Pages for page-specific suggestions.

How do I get the generated text paragraphs?
Followed the instructions above, you'll need to complete answering the questions on the pop-ups and complete the first step "Choose main keyword phrase" to be able to activate "Keyword on page 3 times". Click open keyword on page 3 times, you'll see some pencil icons flashing on your page. Click into one of them to see the suggested text which you can use on your page. You can tweak the wording on your page to suit.

Can Flint suggest content for my blog and shop pages?
Unfortunately, Flint doesn't work for blog and shop page SEO optimisation at the moment. If you think it's a critical feature for you, please let our Customer Success team know for our future development.


Once the keyword phrase/title tag/description tag has been done through Flint, do I still need to make changes in the Get Found (SEO) section?
No, there is no need for that.

Does Flint Pick up the content in my Feature Area?
Currently, Flint ignores feature area content including H1 headings.
Can I hide a page from being found on Google?
Yes, you can now hide your page from being found in Google searches. Check out our help guide here.
This is a good feature when creating landing pages and when you want to know that the only way someone could get to that page is direct ad campaign traffic and not organic SEO traffic.