Selling digital goods is more popular than ever, and opens up a range of eCommerce options even for businesses that don't traditionally sell online. Here's how to sell digital products through your Rocketspark website.
Using Mailchimp eCommerce
One method for selling digital goods through Rocketspark is by using our Mailchimp eCommerce integration.
First, you'll need to get your Rocketspark store set up with the products you want to sell online. This help guide goes through how to add products and get everything set up: Setting up your Online Shop.

Once you've set your Rocketspark store up, you'll need to connect it with Mailchimp. You can do this by following this help guide:

How to connect your Rocketspark store with Mailchimp Ecommerce?

Once you have your store connected, you can log into your Mailchimp dashboard.

From your Mailchimp Dashboard, click on

Create -> Email


Select 'Automated' then go to the Ecommerce section where you should be able to find 'follow up on purchase'

You'll now need to adjust the trigger setting in your workflow:
Change the trigger to specific product


Once you click on begin you will be able to click on Edit next to trigger. Here you will be able to choose when this is sent out and what product this is for. The delay is when it is sent out and the settings is what product it is.





Once you're happy with your settings, you can go ahead and click on

Design Email. Fill out the information and choose a template. To add a download link, add a button and set it to link to a file:



Mailchimp will then take you to the

My Files section of your account, where you can upload and choose the file you want to link to. Alternatively, you can link to files in other places by selecting Web address instead. This is useful if you have the file uploaded somewhere already like Dropbox, Google Drive, or Youtube/Vimeo.
After selecting the file, you'll be taken back to the design page to put the finishing touches on your email.


Once you're happy with your email, press

Next

then

Confirm

. You're all done!
You'll need to repeat through steps 4-11 for each separate product you want to sell digitally.
Keep in mind that when using Mailchimp for digital downloads this way there's nothing stopping people from simply sharing the link and accessing the file.
Using e-junkie
Another solution is to use e-junkie. Selling through e-junkie means you don't need to worry about people sharing the link as you do with Mailchimp; it's all secure.
To integrate with e-junkie you will need to sign up and subscribe to their service. You will have to manage all of your products, payments and orders through e-junkie rather than through the Rocketspark shop.
With this option, you don't need to upgrade to the Ecommerce Grow or Ecommerce Pro plan.
Once your store is set up in e-junkie, simply set up a page for your product on your Rocketspark site, and embed the Add to Cart or Buy Now buttons by copying the code from eJunkie and pasting it into an HTML block (How to add custom HTML code to your website - embed widgets?)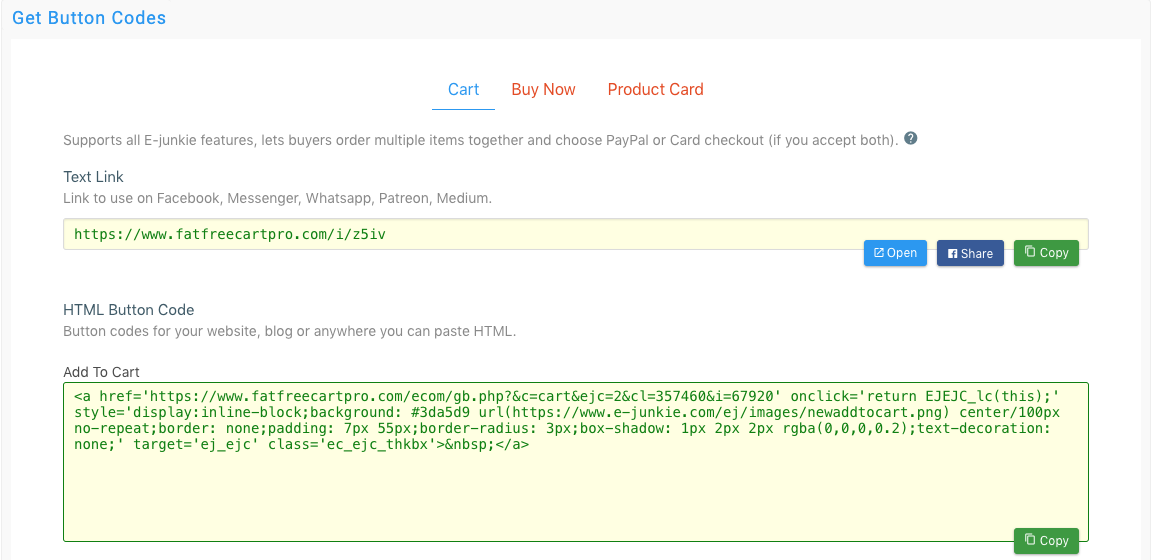 Check out https://www.sharpreading.com/page/short-stories/ for an example of a Rocketspark site using e-junkie to sell eBooks.
Happy selling!