Previously, all content on your website was limited to a standard fixed-width (except for stack backgrounds) but with Full-width stacks you now have two new content width options:
Slightly wider fixed width
Full window width (adjusts with the window size)
We've also released two new design controls that compliment Full-width stacks:
Internal column spacing (width between columns)
Reduce the space between columns in a stack, a handy way to take your content right to the edge on any screen.

Vertical content alignment (within a stack)


Vertically align content to the top (default setting,) middle, or bottom of the stack.
How to access Full-width stacks options

1. In your dashboard Editor, hover your mouse over the stack you want to go full width with.
2. Click on the stack-specific design controls colour wheel.
If you see the following popup, it means that you have some custom code applied to your website. Scroll down in this guide to the "Full-width stacks early access" heading to learn more.

If you go straight to the Stack Specific Design Options controls: Click "Width & Spacing".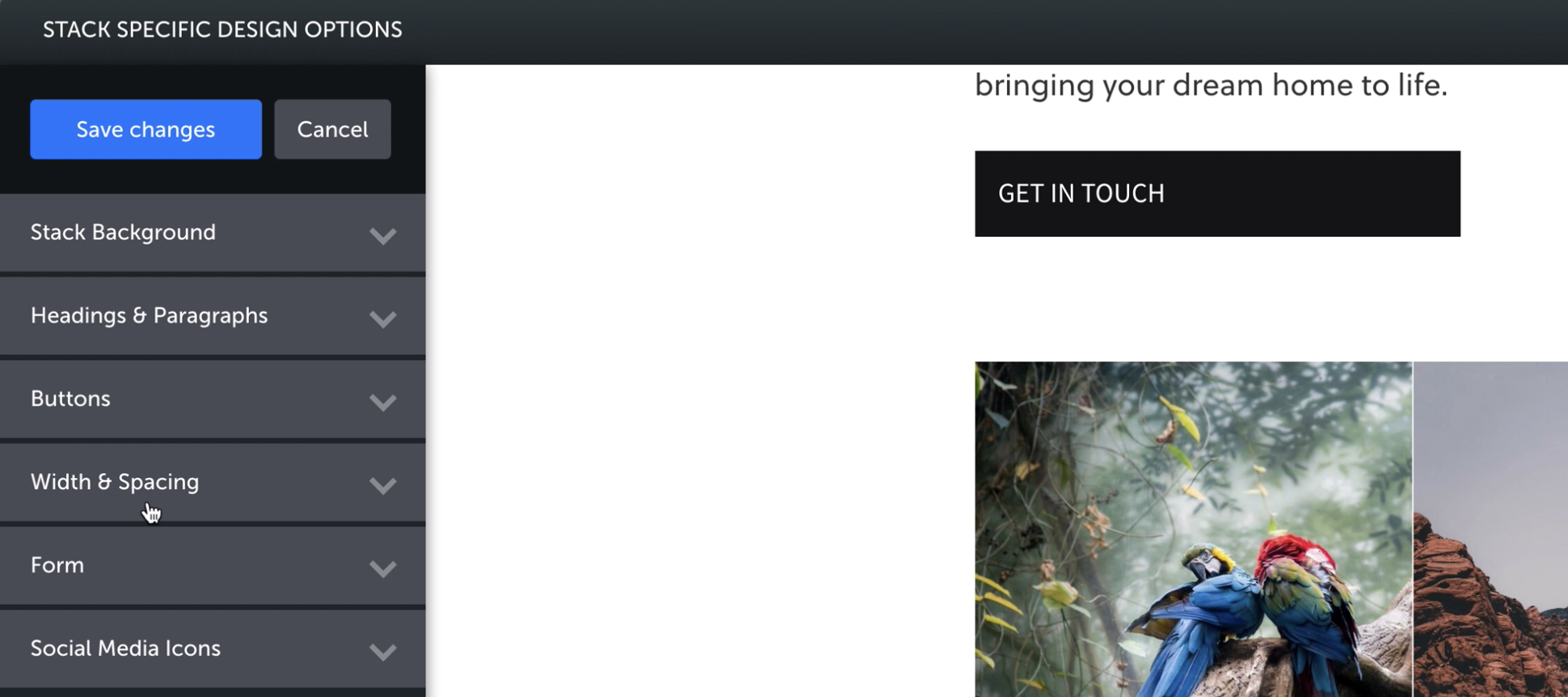 3. Drag the Content Width slider to:
adjust to the middle width which will go slightly wider than standard

adjust to the far-right width which will make that stack content to touch the edge of your window and adjust to the size of the window fluidly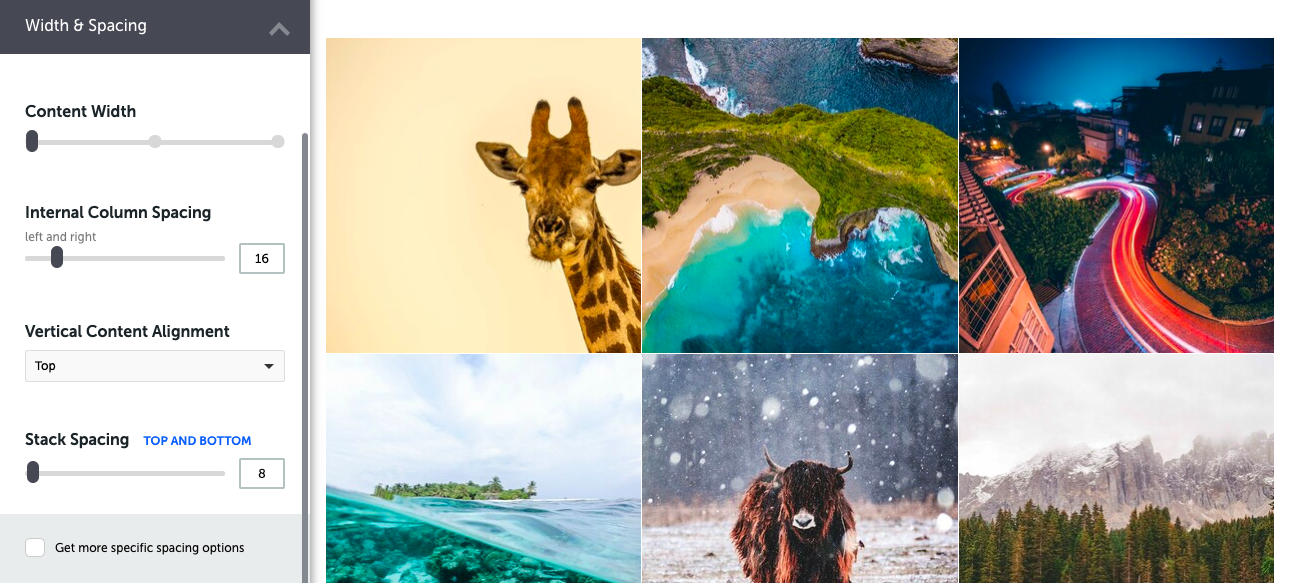 The Internal Column Spacing slider enables you to adjust the gap in between columns within a stack. It is important that you reduce the Internal Column Spacing to 0 when you want to have your stack extend to the edge of the screen.
In the Vertical Content Alignment dropdown, you can align text to the top, middle, or bottom of the stack. This is used often when you have a two-column layout and when you want to align text (in one column) to the image (in another column).
Full-width stacks early access (for sites with custom code)
If your site has custom code on it, you have control to opt in to the new version at a time that suits you, anytime in the next few weeks. When you toggle on Full-width stacks, we aren't expecting any issues—but on the off chance something isn't quite right, you can roll back instantly to how things looked before and let us know to look into it for you.
How to toggle on Full-width stacks early access
1. When the popup appears, click learn more.
You'll go to the Full-width stacks early access page where you can toggle on the new version.


2. As soon as you toggle on the new version, click the Check my site button that appears.
3. Confirm that the design looks ship-shape.
If there are any issues visually: click back to your dashboard home page and click Learn more in the blue box there.


When you click Learn more, you'll see the screen below. Toggle Full-width stacks OFF and then contact us for support. Here's how to get in touch.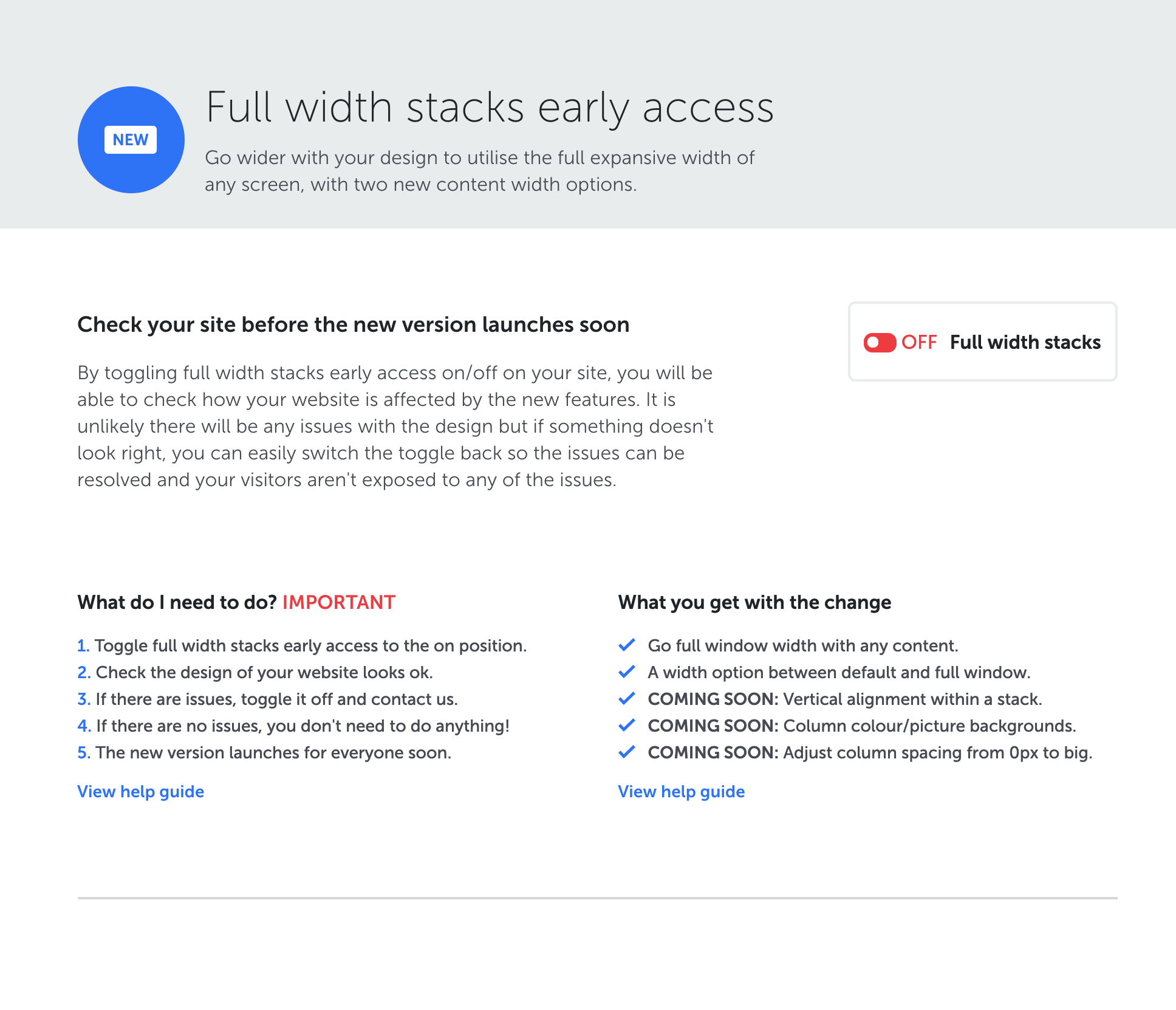 If it all looks good:

You're on the new version and there's nothing else you need to do.
Do I have to opt in to Full-width stacks early access right away?
You don't have to opt in to Full-width stacks early access right away and your site will work perfectly as it did before. You just won't be able to access the "go to middle or full width, internal column spacing, and vertical alignment" options until you opt in to Full-width stacks early-access.
What happens if I don't do anything now?
In 1-2 months, the early-access period will come to an end and all Rocketspark clients will be moved to the new version automatically. The early-access is your opportunity to check things look great on your site with the new version, with the option to roll back to the old one instantly if something doesn't look quite right, and then contact us so that we can resolve any issues for you.