Blog meta content like title and description tags and keyword-rich page URL's are important for SEO.
The great news is that we automatically create placeholder content in these fields for you when you add a name for your blog post and at least one paragraph in the post itself. However, if you're wanting to fine-tune this to be more customised, read on.
If you need more information on how to add a new blog, please refer to Get Started With Your Blog.
In the Metadata on blog posts, you will find a few different fields, these include:
Description

Author

URL

Tracking code
You will be able to find these fields at the very bottom of each blog post while you are editing it.
Why you should utilise Metadata for Blog Posts:
Improved search engine visibility: Metadata provides search engines with valuable information about the content of a blog post. This allows search engines to understand what the blog post is about and index it appropriately in their search results.



Higher click-through rates (CTRs): Meta titles and descriptions are often displayed as snippets in search engine results. By creating attention-grabbing and relevant Metadata, you can entice users to click on your blog post when they see it in search results.
---
What each SEO section means in a Blog post:
The Metadata settings will be automatically generated from your current blog content. However, you can customise and optimise the Meta Data for more SEO relevance.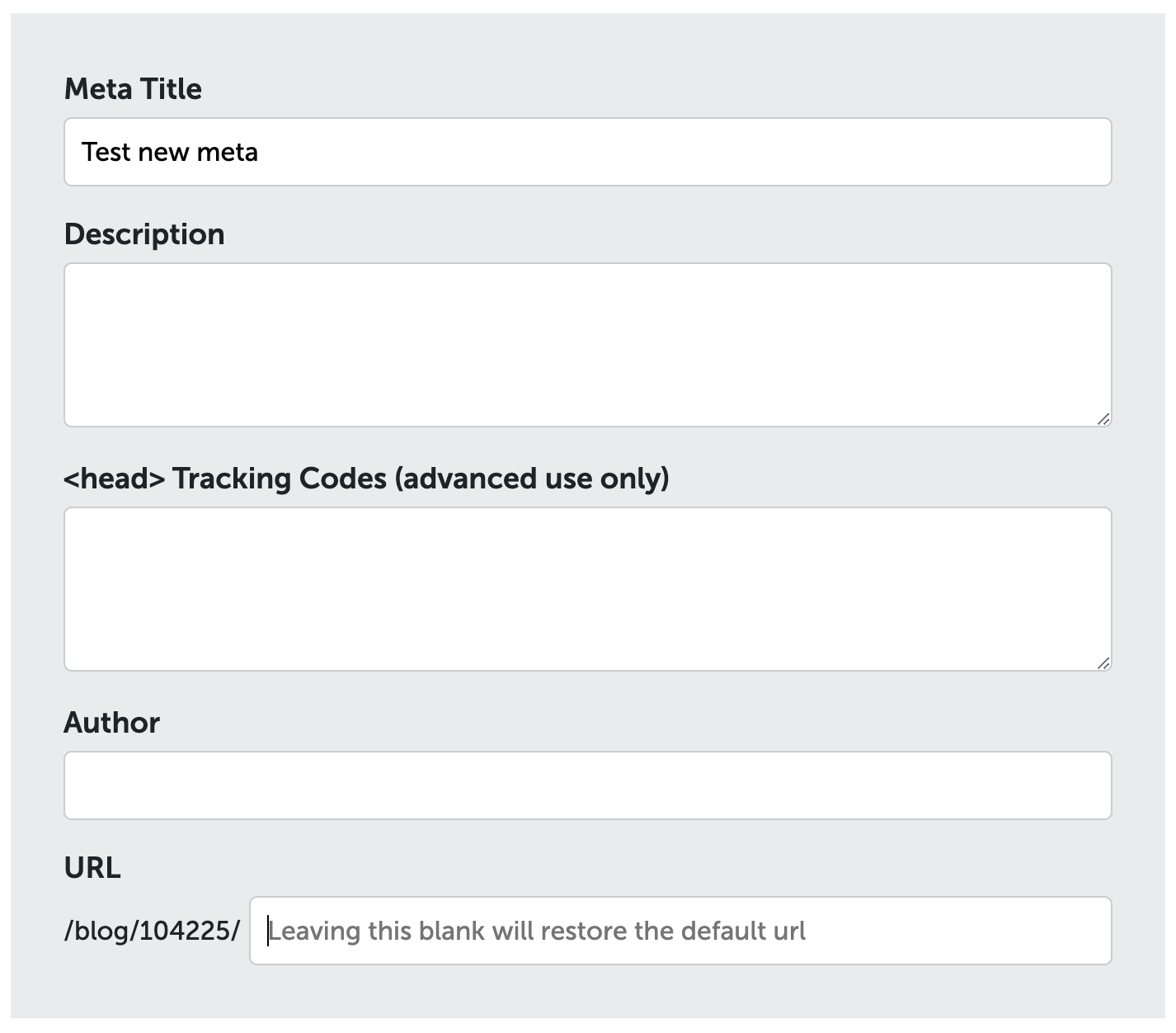 Meta title:
The meta title is what shows up to users as the clickable headline within Google.
If you leave this blank, it will use the default from your post title.


The Importance of a Meta Title
A meta title is important for blog SEO as it helps search engines and customers understand what your post is about within a sentence.

What should you include in your Meta Title?
Relevant keywords and phrases that describe what the page is about.

Potentially add the Website/Company Name at the end of the title - Focus on the message first.

Meta Titles should be between 50-60 characters long.
---
Description:
Meta Descriptions are a short summary of the content within the blog post.
The Importance of a Meta Description
Meta Descriptions inform Google and readers about the content of the blog. While Meta Titles can be very limited, Meta Descriptions give readers a compelling reason to click on the blog post.
What should you include in your Meta Description?
Compelling summary of the blog post.

Inspire curiosity with a catchy end phrase that forces users to click on the blog.

You can include a call to action.

Descriptions should be between 150-160 characters long.
---
<head> Tracking Codes:
This is where you can install any kind of tracking code to run in the <head> section of the blog post.
If you are doing advanced tracking yourself or with the support of an SEO expert, you can add the blog-specific tracking code here, such as:
Facebook pixel tracking code

Google Ads tracking code

Google Analytics code
---
Author:
You can give credit to the author of the blog by inserting their name within this option.

The author will appear at the very bottom of your blog post.


---
URL:
You can change the URL text for the blog post, otherwise, this will default to the blog title.
---
Remember:
While Metadata is important for SEO, it should always accurately represent the content of your blog post. Misleading or irrelevant Metadata can lead to negative user experiences and may harm your overall SEO efforts.