Your Terms & Conditions outline precisely what your customers are agreeing to in purchasing from your online shop. You can find your Terms and Conditions under your store settings.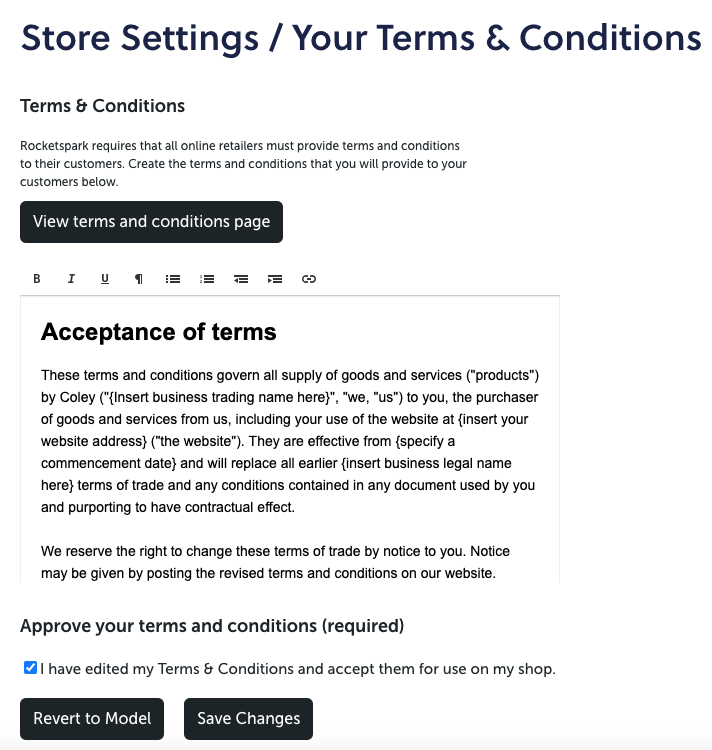 Write and edit your Terms & Conditions in the editor box. Formatting tools are available in the toolbar at the top of the editor.
Note: To make this process easier for you, we have included model Terms & Conditions designed only for sellers located in New Zealand selling to New Zealand customers. Be aware, however, that you are entirely responsible for your Terms & Conditions; we, therefore, advise you to revise these carefully and tailor them to your needs. You may wish to seek independent legal advice. Even if you decide to use the model Terms & Conditions provided, you'll need to, at a minimum, replace all text in bold font with the relevant details and you'll need to delete the initial few paragraphs (which are instructions for you only) so that they are not visible to the customer.
Tick the box labelled I have edited and saved my Terms & Conditions and accept them for use in my shop.
Click the Save Changes button.
Once you have saved your changes above you can then control whether it is required for your customers to tick to accept these terms in the checkout. We have this setting turned on automatically for new websites as a large majority of Payment Gateways require this option to be turned on.