You can create a pickup location in your Shipping Settings if you are wanting to allow your customers to purchase online and pick up in-store. This is sometimes called Click and Collect. A customer can choose a Pickup location during checkout instead of the item being shipped to them.
Creating a Pickup Location
Before you can create a pickup location you must make sure you have added a Shipping Country. As the pickup locations must be added under a specific shipping country.
Navigate to your Shop Settings, Shipping area. Go to Dashboard Home, click on the shop settings icon in the left-hand menu. Then click Shipping.


Click on the country on the Right that you would like to add your Pickup location in. Or add the country first.





On the left hand half of the page under the Shipping rates you will find the Add a Pickup location" button. Click on this.





Once this is added, a box will appear where you can enter the address details of the pickup location. Leaving the Address and City fields blank will disable this pickup location from showing. This address will be shown to your customers during checkout and on the order confirmation email once an order is placed using a Pickup location instead of shipping.




You may want to click the Edit button next to the title of the Pickup location to give it a more meaningful name.


You're all done, the fields will automatically save as you type and once both City and Address fields are set this will be active in your checkout.


You can add more Pickup locations under the same country, or click on a different shipping country to add the pickup locations for that country there as well.
Add a Pickup Message
You can also add a custom pickup message to your checkout to instruct your customers further on your pick up location or letting
Navigate to

Store Preferences

down the bottom in the menu on your left hand of your store settings.


Navigate to

Delivery/Pickup checkout message.


Edit the pickup checkout messages which will appear on checkout, payment complete page and on the order confirmation email that's sent to your customer (to see an example of this order confirmation email, check out this help guide:

What do the order confirmation emails look like?).


Set Specific Times and Days when your Customers can Pick up
If you would like to set specific times and days you want to allow your customer to pick up from you you can do this by turning on our Scheduled Ordering feature (available on one of our eCommerce plans).
Navigate to

Store Preferences

down the bottom in the menu on your left hand of your store settings.


Navigate to the Scheduled Ordering area and click to Enabled Scheduled Ordering


Here you can choose to offer Scheduled ordering on Pick up and/or Delivery and set your times and days. For more information check out our full Scheduled Ordering setup guide.
Customer Journey
The customer will see the Pickup location as an option on the Country drop downfield. Once this option is selected a summary of the address details will be displayed below the Country selector. This option is only available on the Billing details fields and choosing a Pickup location will disable the ability to have a separate shipping address.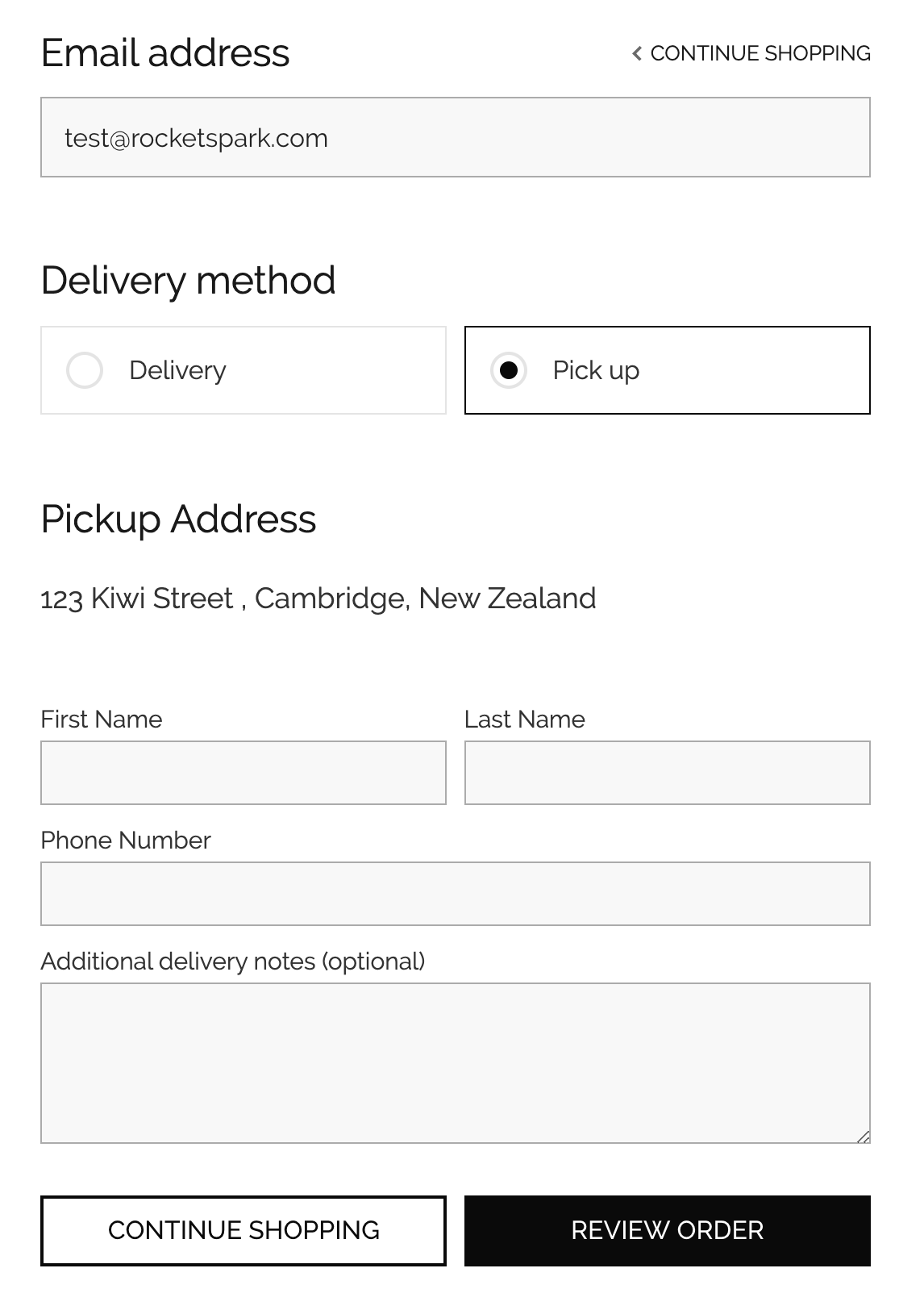 Managing Pickup Orders
When an order arrives that has been set to use a Pickup address it is handled slightly differently on your Order History area of the Dashboard.
We also communicate to the customer that they will be notified when the order is ready to be picked up. This is to eliminate any situations where the product might be on backorder or not ready to be picked up.
Once you receive an order, you will be notified in the normal way by an email alert. On this email, it will clearly say that it is pickup order as there will be a heading "Pickup location set" with instructions on what to do next.
Navigate to your Dashboard -> Shop Settings -> Order History page.
Once the order is ready for pickup, you will find a drop-down next to the order in the Picked up column.





Choose the "Send pickup message" This will allow you to customize a message to your customer and send this to them.





Once the customer has come into the shop and picked up the item. Mark the order as Picked up. This simply keeps track of which orders have already been picked up.