There are a few reasons why Facebook won't link with a website:

Firstly, you must link with a business Facebook Page rather than a Personal Profile page. A business Facebook Page is different from your normal personal Facebook page and is designed to represent a business or organisation.

In order for the linking process to work your page must be visible to the public. Test if your Facebook Page is public by copying the web address of your Facebook Page and log out of Facebook. Now paste the web address into the address bar of your browser. If you can view your Facebook page while logged out of Facebook this means your page is public.

To allow your Facebook page to be linked to your website AND have a Facebook feed displayed on your Rocketspark website there cannot be any restriction settings (Age, Location, etc.) on your business's page. You may find that your Facebook may link to your website but you won't be able to add a Facebook Feed block to your website, or it will show as a blank block.

How do I get around this?
Having no restrictions on your Facebook account is the best option. Here's what you need to do: Once you have logged in to Facebook, and are viewing your Facebook page admin, click Settings near the top right corner of the page. Under the "General" settings, you'll see "Age Restrictions" and "Country Restrictions". Click edit on these items to view and remove any restrictions you may have.

If your account has any restrictions on it your Facebook page may not be able to be viewed unless the user is logged into their Facebook account and meets the restrictions.

To allow your Facebook page to be viewed and displayed on your Rocketspark website there cannot be any location settings associated with your business's page. Make sure that your Facebook page does not have a location set or is connected to any groups that have a defined location.

It is recommended that you have a custom Facebook Username setup for your page. This makes the URL nice and short too! Check out Facebook's guide on how to create a custom Facebook Username

If your Facebook page is not public please check your Facebook page settings:
At the top of your page, click Edit Page and then click Edit Settings.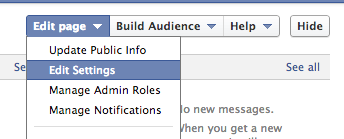 Check that Page Visibility setting where it says "Unpublish page" is not ticked.
Make sure the Age Restriction is set to Anyone 13+