Yes, you can sell products based on the weight you need to set up a product variant table. This is a table that lists all the possible weights available to order and the different prices associated with them.

To do this edit the product you wish to sell by weight and make sure variants are enabled. This is done by clicking the toggle/slider next to the Price, Inventory & Variants heading to green, you can change this just by clicking the toggle.





Enter a new option type named Weight, under the options enter the different weights that you wish to sell the product at, e.g 100g, 200g, 500g, 1kg.






Once you have entered all the weights you would like to sell your product at click the Setup all variants button. This will create a grid of all the possible alternatives of the product, it will look something like the image below.






Assuming that different weights cost different amounts now you can change the pricing of each variant, under the Price column click the pencil icon in the rows you would like to edit. Enter the price you would like to sell the product at and click the Save button.






Once you have set all the variants up correctly click the Save Changes button at the top of the screen.





Now when a customer goes to order an item from your shop they will be given the choice of which weight they would like to select.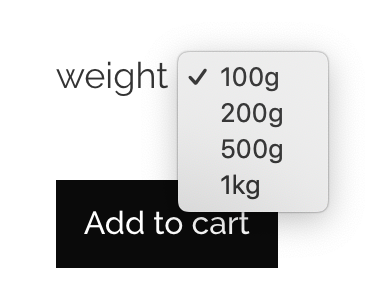 Related Guides:
Enabling Product Variants - Editing variants
Turn off Variants when connected with Lightspeed