The if stock reaches zero field is used to determine what happens when the stock reaches zero, this can be handy if there is limited stock as you can set this to mark as sold out, or you can choose to continue selling which is handy if it's easily restocked.

The stock zero settings are used to control what happens to the product when it sells out or there is no stock remaining.
Continue selling: will allow the product to still appear on the website when it reaches zero.

Hide product: will hide the product from your shop when it is sold out.

Mark as sold out: will still show your product in the shop but it will be displayed as sold out and won't allow any further purchases.
If set to Hide or Sold out, when the product comes back into stock the system will set the status back to For Sale in some circumstances.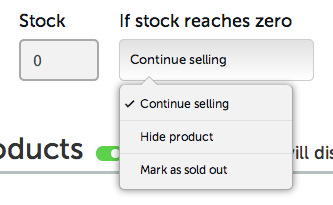 ​