Tags can be used as a quick way to group products together. To add a tag to a product click Edit on that product and find the Product tags area. As you start typing tags that have been used before on other products appear and you can click these to make sure you are assigning the same tag. This is an optional field.


Once you add a tag, these can be shown on the main store product page where customers can filter the results by tag/filters.
There is no limit to how many tags can be added to a product.
You can manage the visibility of your tags when visiting your store home in Editor.
Reorder tags by dragging them up and down.

Hide tags by hovering over them and clicking the X icon.

Show tags by clicking the +SHOW TAGS button and selecting the tag from the list to show.

Edit the tag name (on all products) by hovering over the tag and clicking the edit pencil.

Some common uses for Tags could be Male, Female, Gluten Free, On Sale, etc.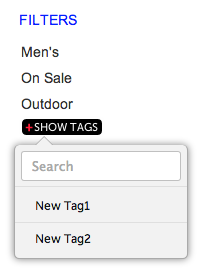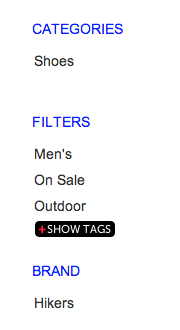 Quick Tip: You can set up call to action buttons and external links to your tags page. Simply cut and paste your URL from your browsers' address bar. For example www.mywebsite.com/shop/#tags=129