Learn more about Rocketspark websites for schools and preschools.
Document Sharing
Documents can be created using Google apps such as Google Docs and Google Sheets and placed in a read-only format. This creates a dynamic environment where school admins can edit these documents in a recognizable environment. These documents look professional and are easy to manage.
These documents can be easily linked to your website using the button features built into Rocketspark. This allows parents to view all the information available without the need for additional pages added to the website for information.

Blog tagging for different schooling levels
The blog features allows a school to share important events and information with the school community through the addition of blog posts. The blog posts allowing the addition of text, images, videos and file attachments. If you would like to read more on the blog features you can find our comprehensive guide here.
Rocketspark has the feature of blog tagging built into it. This allows a school to split their blog posts into distinct sections that parents can browse through. For example you can have a separate sections for Senior, Middle and Junior so people can search for their children's relevant information quickly.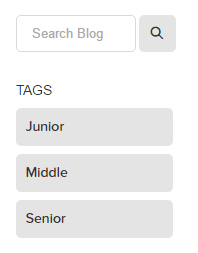 Shop for school payments
As part of a Rocketspark website, you can have a shop attached to your website. For a school, this can be perfect for parents wanting to pay for school expenses without coming into school to pay. School expenses such as school camps or fees throughout the year can be added as a product to the shop allowing parents to pay online through one of the payment gateways Rocketspark offers.
As the school year continues shop items can be added and removed to reflect the current events and payments that can be made.
You can see what we have to offer with the shop features here.