You can turn on variants for each product to allow multiple variations per product. This is commonly used for products such as clothing where you need to display a selection of Colours and Sizes. We provide a maximum of three attributes per product (e.g. Size, Colour, Texture). We recommend a maximum of 150 variant combinations as having large amounts of variants can cause the product to load slowly.

To turn this on simply flick the Variants enabled toggle to green.


Once you have enabled your variants, make sure you take advantage of our Variant builder. This allows you to enter in the options for a product and we generate all the SKU lines for you.

Tip: Enter your variant options separated by a comma and then click Add and all of the variants for each variant option will be added.


Once you turn on Variant mode the SKU, Price and Stock is managed at the SKU level.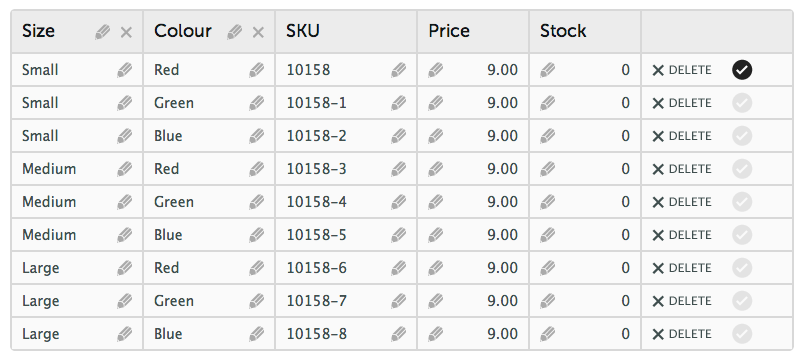 The setup above will result in the following drop-downs on your product page. As you select Size the drop-down for Colour will automatically update with the available options in that Size.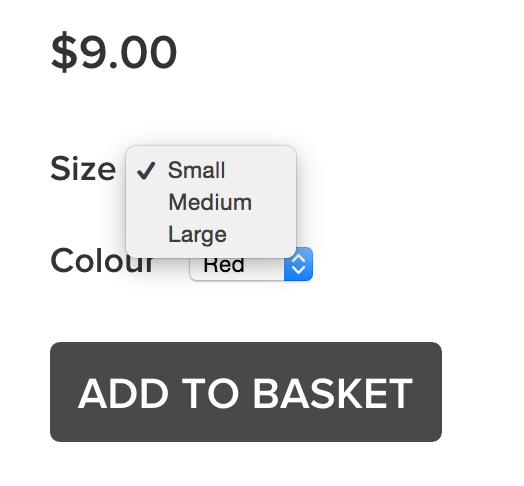 Removing/Editing Variants
To remove a Variant option or option type click the small cross to the right of the label. If you remove an option type all the related options will also be deleted.





To edit the option type click the pencil button next to the label, then correct it to what you would like. You cannot edit options, instead, delete the unwanted label and create a new one.