Linking Vend to your Rocketspark eCommerce website using our direct Vend integration allows you to import and sync your products and stock levels from Vend to your online store (Rocketspark), as well as push your online sales to Vend where they can be managed in an all in one streamlined system.
First, make sure you have a Vend account:
Before you get started, you'll need to make sure you have a Vend account. Visit their website to sign up: www.vendhq.com.
Next, go to the Vend Settings area in the Dashboard:
This is where you can control all the settings for the Rocketspark and Vend connection.
Log into your Rocketspark Dashboard.
On the menu (left-hand side of the page) click on "Manage Store"

From the sub-menu, choose "Vend Settings".

Section 1: Connect to Vend
The first phase involves connecting your Rocketspark site with Vend. You'll find this section under the Vend logo, and it must be completed first.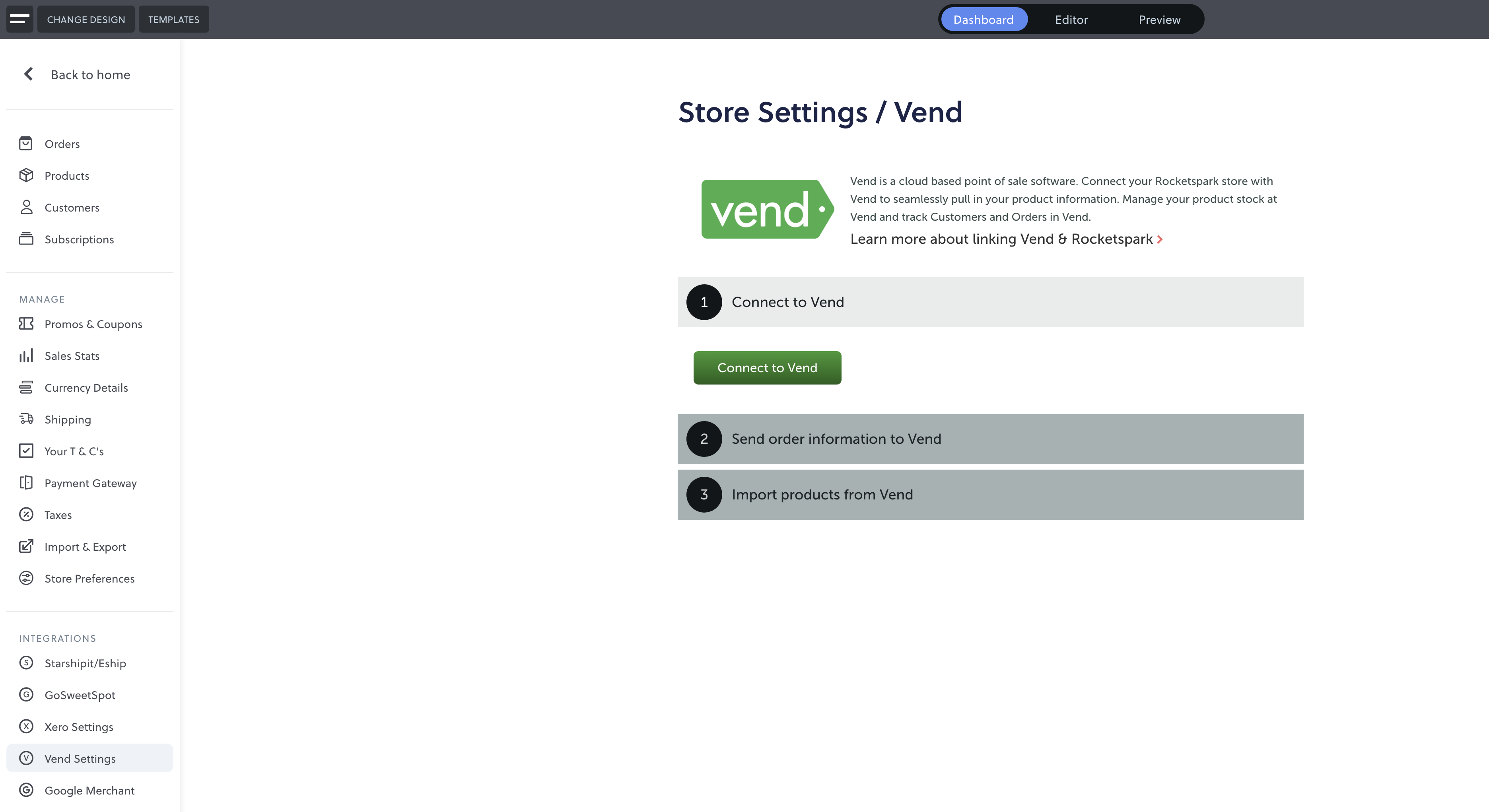 Click the green button titled "Connect to Vend".


A window will appear, headed "Sign in to Vend POS Software". Proceed as prompted, which will be one of the following two possibilities:





If it's your first time logging in from this browser, it will first ask for your Vend store address. This is the address you created when you set up your Vend account, which takes the form: [store name].vendhq.com. You'll also be required to enter the username (which may simply be your email address) and password associated with the account.


If you've logged in from this browser before, it will usually have remembered your login information, in which case there are no fields to fill out.



Click "Allow Access". The pop-up window will disappear, returning you to your Dashboard, which will refresh at this point. Your Rocketspark site is now connected with your Vend account. To disconnect the two at any stage, simply flip the green toggle that you can now see, which will then prompt a confirmation box to appear.


Section 2: Send order information to Vend
This section contains settings for handling your order information, which you'll need to complete if you want online orders to be pushed to your Vend account (if you don't want orders pushed to Vend at the moment, you may wish to skip this and move onto Section 3). For this section, choose from the following menus: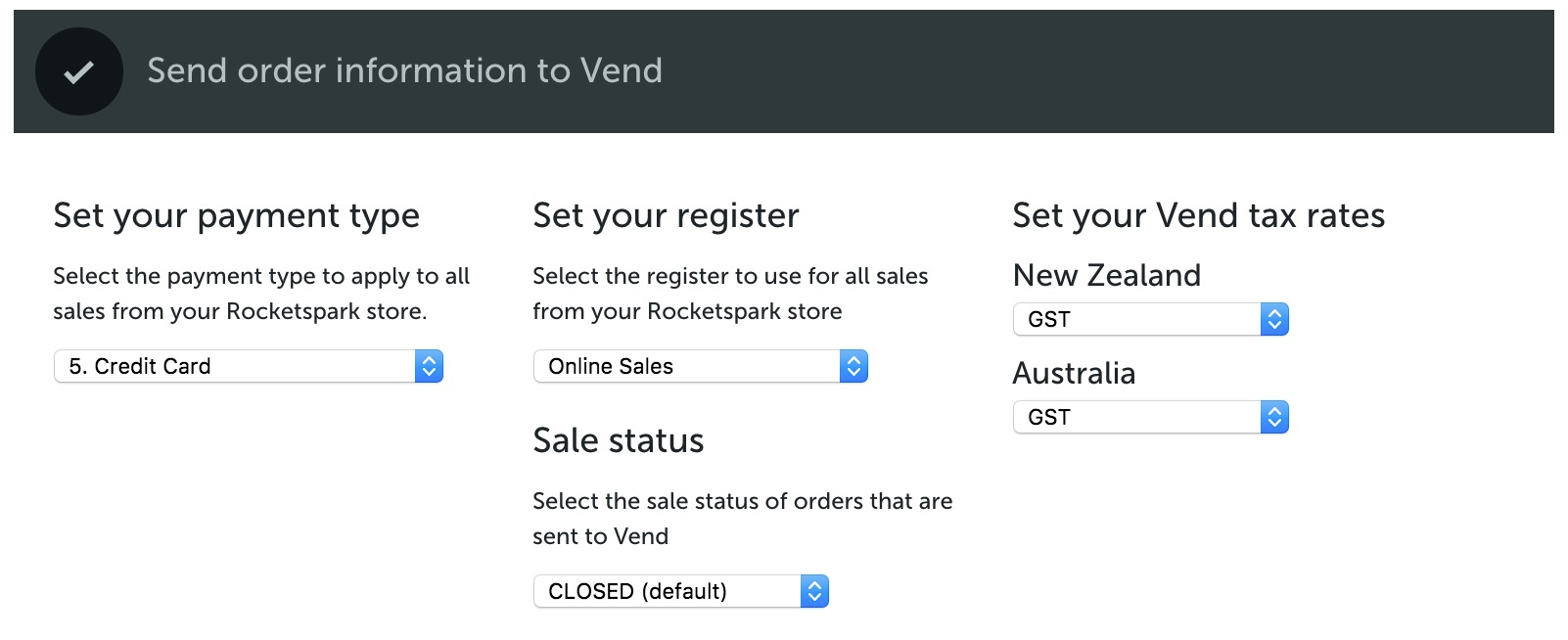 "Set your payment type". Select from the menu the payment type you want to be used for your online shop sales. This menu is drawn from a list of payment types available on your Vend account. For online sales, you will generally want to select "Credit Card" or some other web-only payment type.


"Set your register". Select from the menu the register through which your online shop sales are to be placed. We recommend that you add a register in Vend to put your website sales through. You could call this register "Rocketspark" or "Web Sales" etc...

We recommend setting up a new register in Vend in the outlet you want to link to Rocketspark. This is because sales received in Rocketspark after you close your register for the day will re-open the register. Setting up a separate register helps to ensure all your reporting is clear and your physical store registers aren't re-opening.


"Sale status" This controls the status of the orders that are pushed through to Vend from Rocketspark. By default, this is set to CLOSED.

It is recommended that you use CLOSED in most circumstances. Setting this to ON ACCOUNT will push the orders through to Vend without a payment assigned to them, which allows payments to be manually reconciled in Xero.


"Set your Vend tax rates". Select the best sales tax rate from the menu for each of your shipping countries. We do our level best to apply the best tax rates when you connected, but these may need adjusting. The taxes can also be adjusted on Taxes page but the actual percentage values are pulled in from Vend.
Note: You can add, delete, and edit payment types, registers, and tax rates from your Vend account under the "Setup" menu.
Section 3: Import products from Vend
This phase involves bringing products from your Vend account to your Rocketspark site. For this section, choose from the following menus: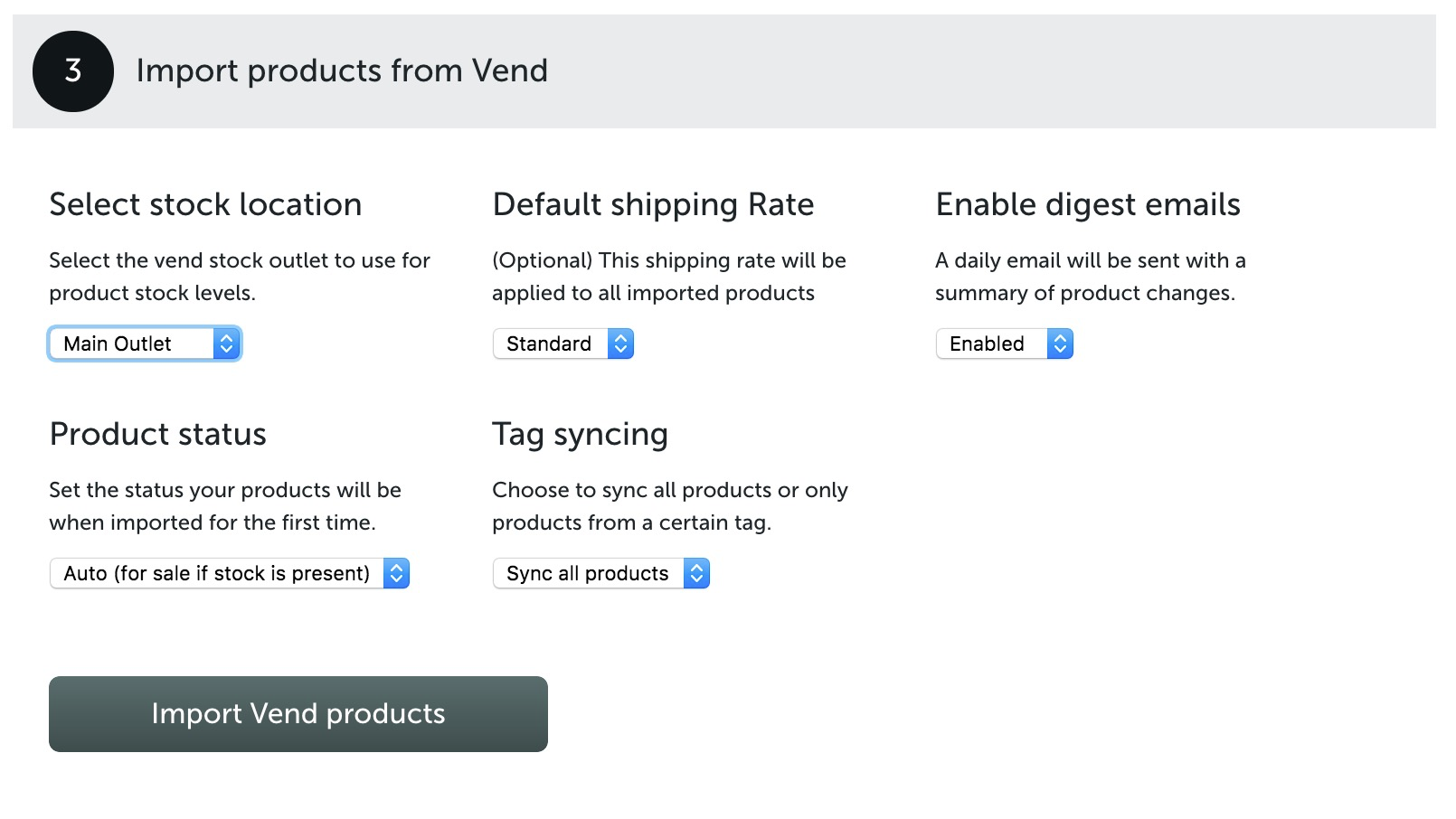 "Select a stock location". Select from the menu the Vend location you want to be used for your product stock levels when importing to Rocketspark.


"Default shipping rate". Select from the menu the default shipping rate to be applied to all imported products. This is an optional feature. (You can manage shipping rates here: Dashboard > Store Settings > Shipping.)


"Enable Digest". This enables a daily email summary of changes that have happened to your website due to updates from Vend. This includes Products added, Products deleted, Products back in stock, Brands added as hidden, Categories added as hidden and Tags added as hidden. Learn more about the daily digest email.


"Product Status". Control the status of all new imported products from Vend when brought into Rocketspark. Leaving this as auto is the default option. Alternatively set all imported products to be hidden on your online store until manually marked as For Sale.


"Tag syncing". The standard setting is to sync all products from your Vend account to Rocketspark. However, some stores may only want to display and sell a selection of products on their Rocketspark website. This can be done by firstly tagging your products in Vend with any tag of your liking. On the "Tag syncing" drop-down within Rocketsparks Vend settings page change from Sync all products to Tag syncing, a popup will appear where you can then choose the Tag you'd like to sync. More information can be found in our Vend Tag Syncing Products guide.


Click "Import Vend Products" when you are happy with all the settings and ready to start importing your products into Rocketspark. If you've already done an import an option to Re-Sync all products from Vend is available.



A confirmation box will appear. Click the "Start product import" button to begin the import process.




A notification will appear informing you that your products are being imported with useful tips for the next steps—you may close this box.




Back on the Vend Settings page, the status of your import will appear momentarily on the "Import products from Vend" bar. It may take a minute or so for the import to begin showing you progress.

The importing process itself may take several minutes to complete (1300 product variants per hour)—so now might be a good time to grab a coffee :). Once the import status notifies you that the importing process is finished, your products have been successfully imported. For the best experience, we ask that you don't make any changes at Vend during this import.
Note: You can add, delete, and edit locations and products from your Vend account under the "Setup" and "Products" menus respectively.
How the Synchronisation Works
Now that your Vend and Rocketspark accounts are linked and your products have been imported, it might help you to know a few of the ins and outs of how Vend and Rocketspark are synchronised.
The following product data is synced with Vend: Title, Descriptions, Variations, Pricing, SKU Codes, Picture (from Vend), Categories (Automatically setup from Product Types in Vend), Tags, Brands, and Stock levels.
Product syncing:
Products can be updated at either Rocketspark or Vend and the update will be synced to the other location. This is a two-way sync.
Selective Tag Syncing, if Tag Syncing is enabled only products with the specified tag will sync.
Products added to Vend will be automatically added to Rocketspark.
Products from Vend are shown in your Rocketspark shop as being For-Sale or Hidden depending on your product status setting. If set to auto, products are only set as For-Sale if there is stock available. If there is no available stock, the product is hidden. The product returns to being For-Sale once stock is replenished in Vend.
Products added to your Rocketspark shop will also be added to Vend. (optional)
Products deleted from Vend will be deleted from your Rocketspark shop.
Products Inactive in Vend will be hidden on Rocketspark.
It's possible to create web-only products on your Rocketspark shop. Just click the "add product" button, fill in the details, and set the green Vend Sync toggle to not sync to Vend.
If you delete a product from Rocketspark, you can choose to either keep the product in your Vend account (which it will do by unlinking the product) or have the product deleted from Vend too. (Please note that if the product still exists in Vend it may reappear on Rocketspark if a change at Vend occurs. You may want to hide the product on Rocketspark instead).
For any products, you do not want to sell online, set the "Product Status" menu to "Hidden" on the Rocketspark product page.
Tags imported from Vend will not automatically appear on the online shop's filter list. If you want the tags to appear, then they must also be set manually to appear (see step 8).
To assign different shipping rates to different products, visit our "Setting up your Online Shop" guide (start reading at point 5).
You can have additional product images in your online shop. Rocketspark will attempt to import the images from Vend, but the Vend images will not overwrite any images uploaded directly to Rocketspark. Images uploaded to Rocketspark will not be added to your Vend account.
Sales / Orders:
When sales are placed at Rocketspark these will appear in Vend, viewable at Vend's "Sales History". And stock levels are adjusted at Vend also. You must have "Step 2" in Dashboard Vend Settings complete for this feature to work.
When sales are placed at Vend, adjustments to the stock levels are updated at Rocketspark. But the orders will not appear in your Rocketspark Dashboard.
For Website only products, Shipping costs, and Coupons the sale lines in Vend are associated with special products that we set up. Please look out for products called "Web-only sale", "Shipping" and "Discount". We create these as needed in your vend account so we have something to assign the order against. Please leave these in place for the best performance.
Vend Loyalty, Rocketspark currently doesn't allow the syncing of loyalty credit from online orders, please register your interest in this feature with the support team by sending us an email at support@rocketspark.com.