There may be a time where you may wish to add a link to a heading which would take your visitor to another page by them simply clicking on the heading. Here's how to do this:


1) Make sure that you're logged in to your website dashboard using your login details
2) Click on 'Editor' so that you're in Editor mode, then go to the page you'd like to add the link to
3) Add a text or big heading block. Here's how to add a text block and here's how to add a big heading block.


4) Create the link. This part looks a bit techie, but it's not too hard. In the Block Title, add the following text which is HTML code:
<a href="
URL
">
HEADING TEXT
</a>

5) Replace the URL part of the code with the website address of the page you wish to link to. If the link is on your own site, please just include the web page address from your first forward slash.

For example, if the address of the page you wish to link to is www.myhotnewwebsite.com/page/success/ you just need to enter the part address as shown in green and don't enter the whole address of the page:
<a href="
/page/success/
">HEADING</a>


6) Replace the HEADING TEXT part of the HTML code with the actual text that will be displayed as your heading.
E.g. <a href="/page/success">
Succeeding in your business
</a>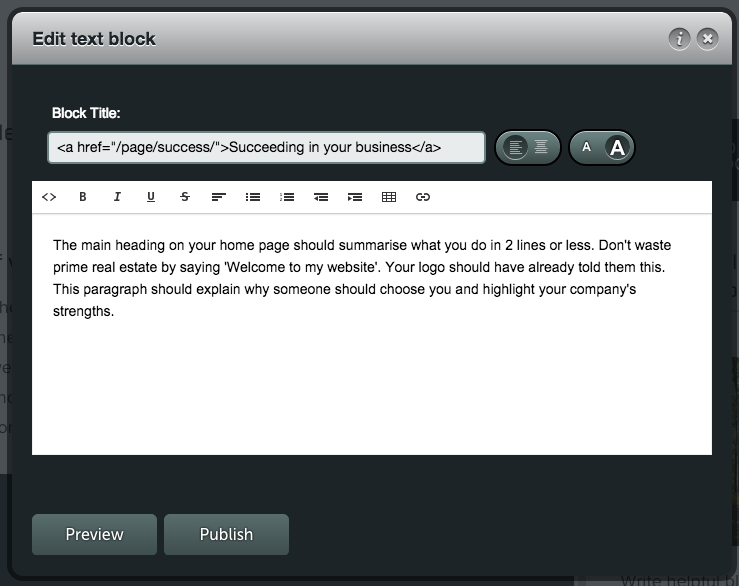 7) Once you're done making your adjustments to your heading and custom code, click Publish.
8) Now test it! We recommend that you test the link next to make sure that it was set up properly. If the link isn't working please check that your HTML code matches the example above including the "speech marks" around the web page address part of the code.