When you create a website in the trial version of your site, all the links you create through the use of buttons or text links will be automatically directed to a URL such as yourshortname.rocketspark.co.nz, however, when you go live your pages' URLs will change to your domain name (yourdomain.co.nz/page/your-url).
The only case where these links won't change over on upgrade is if you've 'baked' the URL into the link by linking using the 'website' option instead of the 'page' option: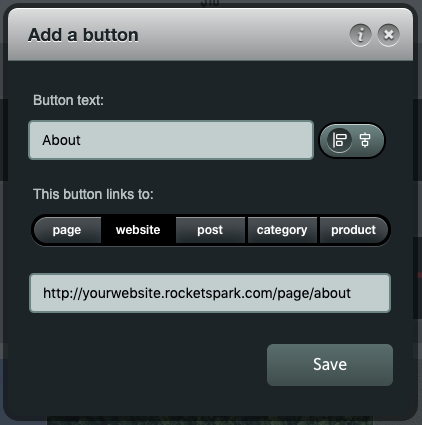 It's good practice to use the built-in 'page', 'post, 'category' or 'product' options when linking within your website. If you do need to use a URL with your shortname (such as when creating anchor links), ensure to remove everything to the left of /page/ to ensure your links work as well on your live site as they do on your trial (e.g. only the bolded part of http://yourdomain.rocketspark.com/page/about/ should be used).
Changing your websites' shortname
Your trial website address is what we call a 'shortname' where your dashboard and trial website is kept. If you look at your URL on your trial website it will look like:
www.shortname.rocketspark.co.nz
We can change your shortname for you - just get in touch with us at support@rocketspark.com.